iFIT is an interactive workout app that will help you to transform your home into a gym.
You will have access to live workout sessions in your house through your smart TV, laptop, or smartphone. Though, in order to take advantage of these services, you will have to download the iFIT app from the Apple store or Google Play store. But how much will iFit app membership cost?
How much does an iFIT membership cost?
iFIT offers interactive workout training sessions with instructors at a cost of around $20 per month per person, while the cost of a family membership is $45 per month. So, the price depends on the type of membership you choose. Obviously, the individual membership is the cheapest, while the family membership will cost you more than double.
You might also like our articles on the cost of other apps like Fitstar, Aaptiv, or BeenVerified.
In the table below you will find the average costs of different types of iFIT memberships.
| | |
| --- | --- |
| IFIT membership types | Membership costs |
| Individual (Yearly) | $180 |
| Individual (Monthly) | $15 |
| Family (Yearly) | $400 |
| Family (Monthly) | $45 |
You are able to choose between monthly or yearly subscriptions for both individual and family memberships.
iFIT Family Membership Cost
The cost of the family membership subscription starts at around $45 and can go up to $400. To make it clear, the lowest cost is for one month and the highest price is for the yearly subscription.
This type of program includes five individual memberships, and the live workout session classes can be attended by more than one user.
iFIT Individual Membership Cost
The iFIT individual membership is the most cost-efficient option if you are not interested in signing up for the family membership. You will have to pay around $20 per month for the individual membership.
In case you want to sign up for the yearly subscription you will have to pay around $200 for the individual membership. However, the costs for both monthly and yearly subscriptions are less than the costs of the family membership.
iFIT Monthly Membership Cost
With the iFIT monthly membership, you will have access through the app to workout sessions held by an instructor on a monthly payment basis. There are two types of monthly payments. These are, again, for family memberships and for individual ones.
The individual monthly membership program is intended for only one user who is able to ger live outdoor training classes through the app. With this program, an individual can go through a whole workout in her/his own house.
On the other hand, the family membership program includes five individual users and costs more than double that of the individual membership.
iFIT Coach Membership Cost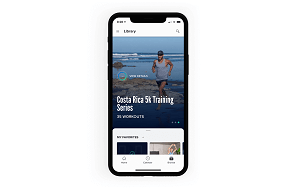 You will get a free yearly-trial coach membership if you purchase any iFIT compatible device from FreeMotion, NordicTrack, and ProForm. Some of the devices you can purchase from these platforms include vaults, bikes, treadmills, and so on.
Though, the free one-year trial coach membership is available only when you buy an iFIT-enabled device from one of the platforms mentioned above.
 You will not be included in the free-trial coach program if you can get one of these devices from other sources.
Is there a free iFIT membership?
Yes, you can get a free iFIT membership for one month. All you have to do in order to get access to the free membership program for one month is to download the app from Apple AppStore or Google Playstore to your smart device.
Once the download is finished, you will get a free 30-day membership so you can attend the live workout training sessions.
You will be asked if you want to continue to use the app when the free membership program comes to an end.
If you want to continue working out with iFIT, you will have to choose between those four options we presented above.
How can I sign up for an iFIT account?
You need to sign up for an iFIT account before paying any penny and getting the free 30-day trial. You will have to follow the next steps:
Go on the iFIT official website;
Look for the sign-up for a free trial section on the homepage;
Click on that section;
The page for creating an account will appear;
Fill the empty spaces with your e-mail, residence, and a password;
Accept their agreements;
Click on the create account section.
These are all the steps you need to follow in order to sign up for an iFIT account. After that, you can download the app and enjoy the free trial.
Can I cancel my subscription to iFIT?
Yes, you can cancel your subscription on iFIT at any point. All you have to do is go on their official website, log in, go to the "Membership Plan" section and click on "Manage my membership" on the same page. After that, a new page will be opened on which you will find the "end membership" button; click on it to cancel your subscription.
Is an iFIT Membership worth it?
The iFIT membership is definitely worth the cost as a single membership program provides both on-demand and live workout classes.  Some of the advantages offered by iFIT include:
The free 30-day trial;
The possibility to easily download the app from Appstore or Playstore on your smartphone, any smart TV, or laptop;
Four different membership options;
There are more than a thousand on-demand and live classes;
Free one-year membership option;
Yoga classes.
Conclusion
iFIT is a good way to get in shape from the comfort of your home. With this app, you have access to many live or on-demand workout training sessions. There are four different iFIT membership plans and the individual one will always be cheaper than the family program. Also, you can get free access for 30 days.
https://www.thepricer.org/wp-content/uploads/2022/05/ifit-membership-cost.jpg
380
610
Alec Pow
https://www.thepricer.org/wp-content/uploads/2022/01/thePricer.png
Alec Pow
2022-05-13 08:12:36
2022-05-11 21:36:59
iFIT membership cost