iFIT is an interactive workout app that will help you to transform your home into a gym.
You will have access to live workout sessions in your house through your smart TV, laptop, or smartphone. Though, in order to take advantage of these services, you will have to download the iFIT app from the Apple store or Google Play store. But how much will iFit membership cost?
How much does iFIT membership cost?
iFIT offers interactive training sessions with instructors at a cost of around $15 per month per person, while the cost of a family membership is $39 per month. So, the price depends on the type of membership you choose. Obviously, the individual membership is the cheapest, while the family membership will cost you more than double.
You might also like our articles on the cost of other apps like Fitstar, Aaptiv, or BeenVerified.
In the table below you will find the average costs of different types of iFIT memberships.
| | |
| --- | --- |
| IFIT membership types | Membership costs |
| Individual (Yearly) | $180 |
| Individual (Monthly) | $15 |
| Family (Yearly) | $400 |
| Family (Monthly) | $45 |
You are able to choose between monthly or yearly subscriptions for both individual and family memberships.
iFIT Family Membership Cost
The cost of the family plan starts at around $45 and can go up to $400. To make it clear, the lowest cost is for one month and the highest price is for a yearly subscription. So if you pay $400, you will be enrolled in the yearly family plan.
This type of program includes five individual memberships, which means you can add up to four other people, and the live workout session classes can be attended by more than one user.
iFIT Individual Membership Cost
The iFIT individual plan is the most cost-efficient option if you are not interested in signing up for a family membership. You will have to pay around $20 per month for the individual membership.
In case you want to sign up for the 1-year iFit subscription you will have to pay around $200 for the individual membership. However, the costs for both monthly and yearly subscriptions are less than the costs of the family membership.
iFIT Monthly Membership Cost
With the iFIT monthly subscription, you will have access through the app to workout sessions held by an instructor on a monthly payment basis. There are two types of monthly payments. These are, again, for family memberships and for individual ones.
The individual monthly membership program is intended for only one user who is able to get live outdoor training classes through the app. With this program, an individual can go through a whole workout in her/his own house.
On the other hand, the monthly family plan includes five individual users and costs more than double that of the individual membership.
iFIT Coach Membership Cost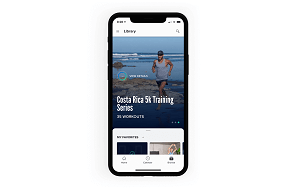 You will get a free yearly-trial coach membership if you purchase any iFIT compatible device from FreeMotion, NordicTrack, and ProForm. Some of the devices you can purchase from these platforms include vaults, bikes, treadmills, and so on.
Though, the free one-year trial coach membership is available only when you buy an iFIT-enabled device from one of the platforms mentioned above.
 You will not be included in the free-trial coach program if you can get one of these devices from other sources.
Is there a free iFIT membership?
Yes, you can get a free iFIT membership for one month. All you have to do in order to get access to the free membership program for one month is to download the app from Apple AppStore or Google Play store to your smart device.
Once the download is finished, you will get a free 30-day membership so you can attend the live workout training sessions.
You will be asked if you want to continue to use the app when the free membership program comes to an end.
If you want to continue working out with iFIT, you will have to choose between the four options we presented above.
What Is an iFit Account?
iFit is one of the most popular interactive fitness apps, that is designed to bring both live and on-demand workout studio classes right into your home. It will enable its members to access all kinds of workouts through Connected Fitness, which will transform their TV or mobile devices into iFit-enabled equipment.
As you know, only a few popular fitness machine brands will have internet-connected tablets built in. There are exercise bikes, treadmills, and other pieces of fitness equipment that come fitted with an iFit subscription. If you come across this sort of iFit-connected machine, then your instructor might be able to adjust it to better fit your workout.
Although for some workouts you will need to use exercise equipment, there are others, and quite a few actually, that can be done using the strength and flexibility of your own body. This means that you will have the possibility of choosing the option that best fits your individual needs.
Using their iFit account, members will be able to train at their own pace, while taking part in immersive fitness experiences. The best part is that when you can use the iFit app anywhere you are and at a time that suits you best. You will also be able to do the workout routine from home, having no need to take a trip to a gym.
The app contains studio classes and global workouts, along with events, live workouts, and even challenges you can take part in. So having an account gives you the convenience of completing the workouts according to your schedule and being able to choose the workout you want to go for. You'll also get rid of the annoying commuting required for a traditional gym experience.
How can I sign up for an iFIT account?
You need to sign up for an iFIT account before paying any penny and getting the free 30-day trial. You will have to follow the next steps:
Go on the official iFIT website;
Look for the sign-up for a free trial section on the homepage;
Click on that section;
The page for creating an account will appear;
Fill the empty spaces with your e-mail, residence, and a password;
Accept their agreements;
Click on the create account section.
These are all the steps you need to follow in order to sign up for an iFIT account. After that, you can download the app and enjoy the free trial.
Can I cancel my subscription to iFIT?
Yes, you can cancel your membership on iFIT at any point. All you have to do is go on their official website, log in, go to the "Membership Plan" section and click on "Manage my membership" on the same page. After that, a new page will be opened on which you will find the "end membership" button; click on it to cancel your fitness subscription.
What Benefits Does an iFit Account Include?
The iFit account comes with an important variety of benefits. As said above, you will get access to all kinds of events, live workouts, challenges, global workouts, and studio classes.
You might not know this, but you will also receive access to cooking classes, which are great if you're also interested in losing weight through proper dieting. You will be able to access all of the content through the iFit app. This makes it really easy for you to track the workouts and save your progress. You will also get a log of all the fitness activities you have completed.
iFit also offers the benefit of a personal trainer to its members. This is a feature already included in your membership, so you won't pay anything on top of the cost of your subscription. This makes the app very different from traditional gyms.
Some of the most important iFit benefits are:
Live workouts
Incline endurance workouts
Strength training sessions
Bodyweight workouts
Pilates and yoga classes
Over 12,000 workouts
Of course, quite a few fitness studios and gyms will specialize in one type of workout, like boxing, HIIT, or yoga. But when it comes to iFit, you will get access to a complete library of options, which means you will be able to choose classes based on your goals. You will need equipment when rolling in classes as cross-training, fitness mirrors, rowing, cycling, and running. You will find over 65 types of workouts inside the app.
iFit also has the advantage of offering goal-based training. Using the help of the world-class iFit trainers, you will be able to expedite and enhance your exercise routine, by completely personalizing your workout regime.
Is an iFIT Membership worth the cost?
The iFIT membership is definitely worth the cost as a single membership program provides both on-demand and live workout classes.  Some of the advantages offered by iFIT include:
The free 30-day trial;
The possibility to easily download the app from Appstore or Playstore on your smartphone, any smart TV, or laptop;
Four different membership options;
There are more than a thousand on-demand and live classes;
Free one-year membership option;
Yoga classes.
Conclusion
iFIT is a good way to get in shape from the comfort of your home and enjoy the experience of having a home gym with a personal trainer. With this app, you have access to many live or on-demand workout training sessions. There are four different iFIT membership plans and the individual one will always be cheaper than the family program. Also, you can get free access for 30 days.
https://www.thepricer.org/wp-content/uploads/2022/05/ifit-membership-cost.jpg
380
610
Alec Pow
https://www.thepricer.org/wp-content/uploads/2023/04/thepricerlogobig.png
Alec Pow
2022-05-13 08:12:36
2023-09-15 12:17:09
iFIT membership cost