J. Alexander's Menu Prices
J. Alexander's is an American restaurant well-known for its wood-fired cuisine. Their menu includes many American classic options such as steaks, prime rib of beef, entrée salads, fresh seafood, and sandwiches. Each restaurant menu includes a rotating selection of food items such as Chicken Milanese, Seafood Czarina, Grilled Fish with Mango Papaya Salsa, and Tuscan Steak. Also, this eatery has a full-service bar which includes a great selection of glass and bottle wines.
Even though at J. Alexander's the food is served in an upscale atmosphere, it is not over the average American budget. But to get a better idea about the costs, in the table below you will find their latest menu prices.
Food
Size & Price

Soups & Starters

Chicken Pasta Soup
$6.29
Mexico City Spinach Con Queso

Served with warm tortilla chips

$13.29
Fire-Grilled Artichokes

Seasoned with herb butter. With rémoulade

$14.19
Calamari

Seasoned, breaded and deep-fried with marinara sauce

$17.69
Avocado Bomb

Hand-cut Hawaiian tuna with seasoned seafood, wrapped in sliced
avocado with tortilla chips

$17.69

Salads

Alex's Salad

Bacon, cheese, tomatoes, cucumbers and croutons

$9.69
Original Caesar Salad

Croutons and Reggiano Parmesan

$9.69
Grilled Chicken Salad

Feta cheese, olives, tomatoes with white wine vinaigrette

$15.89
Cypress Salad

Chopped chicken tenders, pecans, avocado, bacon, cheese, croutons
and ranch dressing

$16.79
Thai Kai Salad

Chicken, mixed greens, peanuts tossed in a cilantro vinaigrette with Thai peanut sauce

$16.79
Asian Ahi Tuna Salad

Seared rare with field greens, wasabi in a cilantro vinaigrette

$19.39

Burgers, Sandwiches & Small Plates

Veggie Burger

Made in-house, topped with Monterey Jack

$14.19
Old Fashioned Cheeseburger

With Tillamook cheddar

$14.99
Steak Burger

Ground beef tenderloin and ribeye, Tillamook cheddar, grilled onions
and Kiawah Island dressing

$14.99
French Dip

Sliced Prime Rib, baguette and horseradish

$19.39
Hyde Park

Grilled chicken breast topped with Monterey Jack

$14.19

Steaks & Prime Rib

Steak 'N' Fries

A French Brasserie style steak with garlic, served with french fries

$22.89
Filet Kabob

Marinated medallions with hardwood-grilled vegetables. Served on Louisiana rice

$28.89
New York Strip

Beef with NYO mac & cheese

$35.09
Steak Maui

Marinated ribeye with smashed potatoes

$35.09
Filet Mignon With Béarnaise

Center cut, baked potato

$36.89
Slow Roasted Prime Rib

Mid-Western beef served au jus with smashed potatoes

$32.99
Extra cut – $35.00

Specialties

Grilled Salmon
$27.19
Ahi Tuna Filet

Topped with wasabi mayonnaise. Served with smashed potatoes, tomatoes
and a Toro dipping sauce

$27.19
Rotisserie Chicken

One-half chicken roasted and seasoned with our special herb blend.
Served with smashed potatoes

$20.29
Mr. Jack's Crispy Chicken Platter

South Carolina low country recipe with french fries and cole slaw

$20.29
Roasted Pork Chop

Hardwood-grilled double pork chop with apricot horseradish sauce.
Served with smashed potatoes and broccoli

$26.29
Barbecue Baby Back Ribs

Served with Plum Creek bbq sauce, french fries and cole slaw

$27.19
Brand History
The history of J. Alexander's restaurant starts back in 1971 in Nashville, Tennessee when the three businessmen John Neff, Jr., Jack C. Massey, and Earl Beasley, Jr. founded the Volunteer Capital Corporation company. In the beginning, this focused mainly on leasing equipment, but moved pretty quickly to the food industry and bought a family-style dining restaurant chain named Mrs. Winner's Chicken and Biscuit.
You might also like our articles on the prices you will find on the menus of American Deli, Dick's Last Resort, and Sizzler.
Volunteer Capital Corporation changed its name to Winners Corps in 1982. Throughout the late '80s, the Winner's restaurant faced many difficulties and began to lose money. So, in 1989 the company was sold to RTM, Inc. and Lonnie J. Stout II became the chairman. The name of the company was changed again to Volunteer Capital and started to focus on the opening of a new line of restaurants with casual dining specific.
The first J. Alexander's restaurant was opened in May 1991, in Nashville, Tennessee. It was located on a road that was known by the locals as "Death Row". It had this name because many previous businesses on the road have failed throughout time. But this was not the case for J. Alexander's restaurant as it was very successful almost immediately.
The company continued to open new restaurants and grew exponentially during the 90s. The name of the company was changed to J. Alexander's Corporation in 1997 and in 2012 it was sold to Fidelity National Financial.
Our review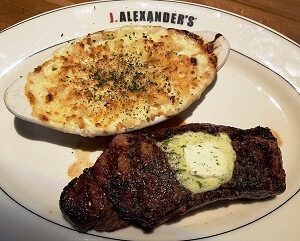 J. Alexander's restaurant offers a great variety of menu options you can choose from, the most popular being the tender prime rib and the marinated steaks. If you are not a fan of red meat, there are excellent chicken and seafood dishes. For example, a popular item is their Rattlesnake Pasta, which is made with chicken, peppers, and a combination of Southwestern spices.
Even though this restaurant is officially classified as a casual dining place, it has a more high-class vibe, which can be seen at more upscale restaurants, but with prices you can afford. For instance, you will have to pay anywhere between $8 and $15 for an appetizer, the main entrees cost $18 to $37, sandwiches and burgers cost $15 to $25, salads are priced at $12 to $24, and a dessert costs anywhere between $10 and $13. Expect to pay anywhere between $15 and $17 for a drink or cocktail.
The service at this restaurant is very friendly and attentive. Plus, the food is delicious, flavorful, and well-presented.
There are more than 40 J. Alexander's restaurants throughout the South and the Midwest, so you can find a location close to you and enjoy some good food in a pleasant ambiance.
J. Alexander's FAQs
At what time does J. Alexander's open?
In general, J. Alexander's restaurants open at 11:00 a.m. every day. However, this may vary from one location to another and it is recommended to check this information on their official website.
At what time does J. Alexander's close?
Most of the J. Alexander's restaurants close at 09:00 p.m. from Sunday through Thursday and at 10:00 p.m. on Friday and Saturday. But it depends on the day of the week and the location. So, you should check their official website to see what are the operating hours of each location.
Which is the difference between J. Alexander's and Redlands Grill?
J. Alexander's and Redlands Grill have the same level of service and the same menu items, but Redlands Grill has expanded its offerings to target a larger range of customers.
Who owns J. Alexander's?
J. Alexander's is owned by the J. Alexander's Holdings, Inc. company.
When was the first J. Alexander's restaurant opened?
The first J. Alexander's location was opened in 1991, in Nashville, Tennessee.
https://www.thepricer.org/wp-content/uploads/2022/07/j-alexander-s-menu-items.png
380
610
Alec Pow
https://www.thepricer.org/wp-content/uploads/2023/04/thepricerlogobig.png
Alec Pow
2022-07-31 10:48:09
2022-12-22 17:15:30
J. Alexander's Menu Prices