When talking about an Aggie, we refer to a current or graduate student at the well-known and prestigious University of Texas A&M.
Generations of the A&M family are united by this ring through connecting past students with each other and their Alma Mater. The Aggie Ring is like a milestone in the undergraduate career of each student. This jewelry is very important and has great symbolism for Aggie's traditions because all the elements present on it represent a value that each Aggie must keep.
Thousands of Aggie students apply and "fight" to have an Aggie ring on their finger, every year. All Aggie graduates wear the same ring, except for those in the class year. Former students are linked through it.
How Much Does an Aggie Ring Cost?
There are two types of Aggie rings the students can choose from: 10k gold or 14k gold. Depending on their category and type, the price of Aggie rings will range between $71 and $1,455.
In the table below you will find the average costs for some of the most common Aggie rings.
Category
Type of Ring
Price
Women's
10k gold
$531
14k gold
$645
Polara
$201
White gold
$531
Women's Diamonds
10pt
$242
3pt
$71
5pt
$114
Men's
10k gold
$1,072
14k gold
$1,455
Polara
$304
White gold
$1,072
Men's Diamonds (optional)
30pt
$989
25pt
$776
20pt
$519
10pt
$242
Aggie Ring – short presentation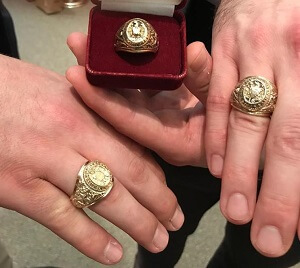 From the official website of the Association of Former Students, you can read that the Aggie ring has thirteen stripes in the shield that refer to the original thirteen states and symbolize the deep patriotism of undergraduates and graduates of A&M.
Also, in the shield are five stars that refer to the student's development phases: integrity of character, intellect or mind, emotional poise, body, and spiritual attainment. The five-pointed star is surrounded by a wreath of laurel or oil leaves that symbolizes a wish for peace and the strength to fight.
At the bottom, a circled ribbon is placed in order to point out the need to join these two characteristics for accomplishing one's desire to serve. The eagle symbolizes power and agility, and the ability to reach great goals and ambitions.
The seal of the State of Texas that was authorized by the Constitution of 1845 is placed on one side of the ring. On the other side is an ancient saber, rifle, and cannon, which means that the men from Texas decided to defend their homeland and fought for their nation. The saber means confidence and valor, while the cannon and rifles symbolize defense and preparedness. The dual allegiance between Texas and the United States is recognized by the crossed flags.
In order to be eligible to buy an Aggie ring, a student must not be on academic probation, dismissal, suspension, or in any violation of the principles of the university or the honor code of Aggie Land. Also, an undergraduate must have good academic results, with minimum credit for the master's programs and a minimum GPA of 2.0.
Three times a year, in November, September, and April, the Aggie Ring Day is organized, an event where the Aggie rings are offered to eligible students. During that day, students receive an Aggie ring ticket and other identification documents that prove their eligibility to get the Aggie ring.
What are the additional expenses?
If you are living in Hawaii or Alaska, you will have to pay around $40 for shipping, while in the 48 contiguous states, the shipping fees are around $30.
Important things to consider
Getting an Aggie ring is not as easy as buying it from a jewelry store. In order to purchase it a student has to meet the specific minimum requirement presented above. These conditions were defined in 1933 by the Official Senior Ring Committee. This committee has the responsibility to protect the integrity of the Aggie ring and to make sure that it is offered only to those who deserve it. Every year, the committee issues approximately nine thousand Aggie rings after they verify the eligibility of each student.
There is also the Aggie Ring Organization where you can make a donation for the Aggies. They use this money to uphold school traditions and to fund student scholarship programs, and organizations.
Tips for saving money
Current students may benefit from loans and scholarships for ring acquisition offered by the Aggie Land Association.
It is not absolutely necessary to buy a yellow gold ring. You can also buy a Polara finish, which is 25% palladium and 75% sterling silver. This is around $350 cheaper for women and around $750 cheaper for men.
https://www.thepricer.org/wp-content/uploads/2023/02/aggie-ring-cost.jpg
380
610
Alec Pow
https://www.thepricer.org/wp-content/uploads/2023/04/thepricerlogobig.png
Alec Pow
2023-03-01 06:56:51
2023-02-23 11:25:51
Aggie Ring Cost