Beef short ribs are one of the most popular cuts in beef because they tend to be much larger and more tender than their pork counterparts. While it used to be considered a cheap cut, people have found that if cooked properly these pieces can create an amazing taste. Unlike typical ribs you're probably accustomed to, these ones contain tough tissue throughout which is why cooking them correctly will yield better results.
Short ribs are used in a variety of cuisines, including French and Korean. The most popular cut of short rib is butterflying it.
How much do beef short ribs cost?
You will usually find beef short ribs at your local grocery store at prices anywhere from $5 to $9 per pound. The exact price will be dependent on factors like where you live, the type of beef you go for, and where you will be purchasing it from. If buying from your local butcher, be prepared to spend more than this average, sometimes even as much as $10 per pound.
EggheadForum.com members cannot seem to agree on the price per pound of beef short ribs, with some claiming they were quoted $11 and others saying it should be around $5-$7 at your local grocery store or wholesale club such as Costco.
You might also like our articles about the cost of bacon, pork belly, or alligator meat.
Costco sells short ribs by the pound, but they come in 70-pound cases. This is a USDA choice product with prices averaging close to $5 per lb at any given location. Sam's Club offers 50 or 85 lb cases of these delicious cuts and their average price hovers around $4-$7 per lb depending on your area.
BBQ-Brethren.com members had a few things to say about what they paid for short ribs in their area, and some were able to score very great deals. One member found $2.99 per pound at the local butcher where no one wanted the cuts while another was paying close to $7 per pound at the Food Lion grocery store.
Beef short rib details
At the grocery store, most short ribs will be labeled as beef chuck ribs. However, you can find plate or prime meats at specialty stores such as oriental markets and butchers. Most local butcher shops offer one to ten-pound packs of meat while wholesale clubs sell by the case in 50-100lb bags.
Beef short ribs are one of the most nutrient-dense meats you can eat. A single three-ounce serving has nine grams of protein, 180 milligrams of sodium, and 70 grams of protein while being low in fat (3 grams) due to its high nutritional content such as vitamins B6, B12, Phosphorus, and Selenium.
Important things to consider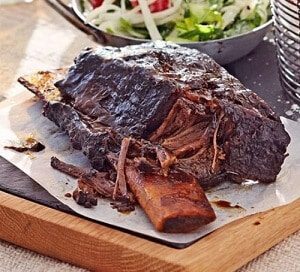 The cow's chest, known as the plate, is where you'll find these short ribs. They're near the bottom and are much shorter in length than traditional back-ribs; they usually range from two to four inches long. Compared to those more lengthy ones on top of them, they will have a little bit more meat on them.
Boneless short ribs are sold, but those who have cooked it claimed that these will often lack flavor. Once unthawed, the meat can be refrigerated for up to five days.
To ensure the best quality meat, check out butcher shops in person and pay close attention to what you're buying. Some butchers may try to slip lean bones inside the package of ribs as a way for them to inflate their weight. For serving size, make at least three or four hefty slabs per person with an eye towards keeping servings down around six ounces each to make sure everyone gets some good protein without going overboard.
Is there any way to spend less?
Grocery stores are always holding sales on meat. That's why you should pay close attention to their ads! If they have a sale and you're able to score the deal, consider freezing the meat you aren't eating, to cook in another day.
https://www.thepricer.org/wp-content/uploads/2021/07/beef-short-ribs-cost.jpg
380
610
Alec Pow
https://www.thepricer.org/wp-content/uploads/2023/04/thepricerlogobig.png
Alec Pow
2021-07-12 07:08:32
2021-07-12 07:08:32
Beef Short Ribs Cost