In the ever-changing world of technology, cable TV has become a staple in the majority of the United States-based households. Without this service, Americans are generally limited to online services like Hulu or Netflix or to local programming that offers little for those who want more than just what's on their screen at any given time.
How Much Does Cable TV Cost?
The price of a cable TV package depends on a few factors including the company, the type of package, and the selected channels. Though, the average monthly price of a cable TV package is anywhere between $25 and $220. For example, the basic package offered by Cox Communication costs around $25 per month, while Comcast will charge almost $30 per month for their packages.
The average cost for basic cable TV is around $70 per month according to a Federal Communications Commission report.
In the table below you will find the monthly costs for different cable TV packages offered by some of the most popular cable companies from the United States.
Provider
Costs (per month)
CenturyLink

$50 for 150+ channels
$55 for 200+ channels
$55 for 310+ channels
$95 for 340+ channels

AT&T U-verse

$60 for 145+ channels
$65 for 150+ channels
$70 for 175+ channels
$80 for 220+ channels
$85 for $240+ channels
$135 for 315+ channels

COX

$15 for starter (10 channels
$45 for 220+ channels (Contour)
$90 for 50+ channels
$94 for 280+ channels
$125 for 340+ channels
$175 for 380+ channels

Charter

$40 for 125+ channels
$59 for 175+ channels
$79 for $200+ channels

DISH Network

$65 for 190+ channels
$75 for 240+ channels
$85 for 290+ channels

DirecTV

$60 for 145+ channels
$65 for 150+ channels
$70 for 175+ channels
$80 for 220+ channels
$85 for $240+ channels
$135 for 315+ channels

Google Fiber TV
$130 (not available on its own; you must purchase -Fiber 1000 plan)
Frontier Vantage

$80 for 200 channels
$95 for 250 channels
$135 for 300 channels

Windstream

$50 for 120+ channels
$60 for 200+ channels
$70 for 250+ channels

Verizon Fios

$85 for 50 Mbps Internet and custom TV
$100 for 50 Mbps Internet and preferred TV

Xfinity/Comcast

$35 for local programming only
$45 for 45+ channels
$50 for 140+ channels
$60 for 220+ channels
$110 for 260+ channels

WOW!

$45 for small
$110 for medium
$135 for large
Note: The prices presented above are available only for one year. In order to avoid an increase of 30% to 40%, you have to negotiate with the company. Also, in this price point, you won't have additional television or other premium channels included.  Take the costs you find in the table above as just estimates.
What is going to be included in the estimate?
Each package will have only the programs you choose from the start. Usually, each of them has a fixed, limited number of channels presented on the company's website.
In order to get the channels provided by the cable company, you will receive a standard box that is going to be connected to your TV. The company will also provide the cables needed to connect to the TV.
There might also be DVR and HD boxes included, but usually, you have to pay an additional fee for these.
In most cases, the cable companies will install everything at no charge, but it depends on the company. It is recommended to ask about the costs of this service before signing the contract.
What are the extra costs?
If the installation service is not offered for free by the cable company expect to pay anywhere between $60 and $210.
You will have to pay a little more for DVR boxes in your entire home, but this will allow you to pause, rewind and record TV. The average price of one of these units is anywhere between $7 and $15 per month.
You might also like our articles about the cost of a T-1 internet connection, voice and data cabling, or fiberoptic cabling.
Every TV needs its own box, so if you want to add an extra TV to the network you will have to pay an extra fee for each box, which would be $7 to $20 per month.
There are situations when the cable hardware may fail and a service technician has to come to your home to fix the problems, so you should budget around $100 for the house call.
Some companies like DirecTV offer HD channels for an HD TV at no cost, but others will charge you more than $12 each month for this service.
If you want to add some of the premium channels like HBO, Showtime, or Cinemax to your package, you will have to budget around $9 per month for each.
Your local programming might not come for free as some companies will charge for it. However, you can cut these costs by installing a digital indoor antenna.
Important things to consider
Make sure you read the contract carefully before signing it. Many people get excited when they see the advantageous prices, but these are just for the first 12 months and after that, they have to pay considerably more.
There are cable companies that will charge for each TV you want to add to the service, so be sure you choose the right one.
How can I save money?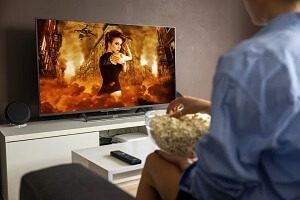 Think about giving up cable TV and enjoy services like Amazon Prime, Netflix, Hulu Plus, or Sling TV. Compared to the local channels, there will be more content and you will have to pay less than $15 per month. Moreover, major channels like ESPN and HBO let you watch their content directly on their website at no charge.
You may be able to get a discount from most cable companies if you bundle in the same package your phone, the TV, and the Internet. Also, look for savings like auto-pay and more.
Most of the cable companies offer a basic cable package for free to those who subscribe to a cable Internet package.
You should take advantage of 6 to 12 months promotions.
Compare the costs before choosing one company. Most of them have the prices listed on their official website.
Also, you should order this service only directly from the company if you want to save some money. Due to their own commission, the cost would be a little bit higher at the authorized retailers.
https://www.thepricer.org/wp-content/uploads/2021/12/cable-tv-cost.jpg
380
610
Alec Pow
https://www.thepricer.org/wp-content/uploads/2023/04/thepricerlogobig.png
Alec Pow
2021-12-02 20:51:09
2021-12-02 20:51:09
Cable TV Cost