How much does Car Wiring Harness Replacement Cost?
Last Updated on August 14, 2023 | Written by CPA Alec Pow
First Published on December 13, 2021 | Content Reviewed by

CFA Alexander Popivker
Electrical faults are the most common in the operation of a car as a result of the fact that cars are increasingly "smart". Automation has become commonplace for the modern car since it takes care of so many tasks like closing the doors, operating the windows, mirrors, seats, engine management, brakes, etc.
Troubleshooting electrical problems can be a frustrating and daunting task, but there are a few simple rules: every circuit needs a power supply; most electrical devices require a minimum voltage to function properly; all circuits require continuity. Therefore, most electrical problems are caused by exceeding minimum and maximum voltage limits, as a result of excessive resistance or a loss of continuity.
Sometimes problems are easily solved by replacing a fuse, other times only after hours of checking the entire car wiring harness and sensors. This is why the initial assessment of labor costs is practically impossible.
How much does Car Wiring Harness Replacement Cost?
The cost to replace the car wiring harness is anywhere between $1,400 and $1,800, plus $450 to $550 for the labor cost. The prices are higher for wiring harnesses for a complex fuel injection system and for Power Braiding.
The cost is dependent on the make and model of the vehicle. If it is a car with a wiring harness that is hard to access and the work put on it results in many hours of labor, the cost will reflect it.
This job shouldn't take more than one hour if the wiring harness is easy to get to, but if the car has a complex engine system, which is hard to work on, then it would take 10 to 20 hours to replace the car wiring harness.
The price of the wiring harness itself is anywhere between $110 and $350 and the minimum labor costs are almost $420. This price is for 3 to 4 hours of labor, but it would be the same for 6 to 8 hours of labor. On the other hand, If you need to replace a wiring system that takes between 10 to 20 hours of labor to complete, you will have to pay anywhere between $830 and $1,550.
Expect to pay a higher price for luxury cars and large vehicles. In the table below you will find the average costs for the parts themselves and for the labor for different types of vehicles.
| Vehicle | Parts | Labor |
| --- | --- | --- |
| 2018 Chevrolet Silverado | $400 | $1,100-$1,700 |
| 2015 Honda Civic | $120 | $650-$900 |
| 2019 Acura | $350 | $1,200 |
| 2019 Mercedes-Benz | $550 | $2,500 |
| 2019 Ferrari | $1,500 | $2,500 |
| 2019 Chevrolet Camaro | $450 | $900 |
| 2019 Chevrolet Suburban | $220 | $1,400 |
Car wiring harness details
Every car wiring harness needs, among other things, a continuous circuit to operate. Vehicles have these fuses placed along the electrical circuits to prevent possible damage due to overheating or overloading. When the bulb, fan, or windscreen wiper requires more power than normal, the fuse will melt, interrupting the circuit and protecting the car. Always replace the faulty fuse with one of the same power values.
What are the extra costs?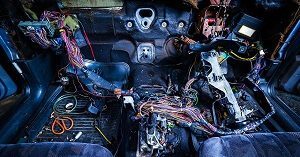 Be prepared to pay some additional fees in order to remove the old wiring harness. The costs will greatly increase if the engine has been damaged due to the failure of the existing wiring harness. It is recommended to talk with the mechanic and ask how much it would cost to repair the other damaged parts of your car as well.
Most of the repair shops and dealerships can give you an estimate in the form of a flat fee for the removal of the existing wiring harness beforehand, but there are some that charge per hour of labor.
This cost depends on the type of wiring harness and the make and model of the car as well. For example, luxury cars that need unique tools for installation and removal have to be taken at a dealership for this job, resulting in an extra cost that can reach hundreds of dollars.
You may also have to replace some additional wiring parts that could fail and their cost depends on the make and model of the car. In the table below you will find the price estimates for replacing some of these parts.
| Car part | Labor Cost | Parts Cost |
| --- | --- | --- |
| Door wiring harness | $100 | $60-$110 |
| Battery and engine harness | $200-$400 | $600-$1,000 |
| Airbag harness | $100 | $50-$100 |
There might be situations when the damaged wire harness has led to the damage of other electrical systems in your car. If this is the case you should budget around $55 for a diagnosis of the wiring issues.
Before taking your car to a mechanic to verify if there are any problems with the wiring it would be a good idea to check if the battery is still working in good condition. This way you will avoid spending some money on the wiring issues diagnosis.
You might also like our articles about the cost of rocker panels and cab corners replacement, car battery terminal replacement, or car battery replacement.
In order to replace the battery, you don't have to go to a dealership or mechanic. This job can be done as a DIY project or directly at the retailer. Though this may not be available for luxury cars and vehicles that don't work with standard batteries.
The cost to fix your issue if the battery is the problem will be much lower than replacing the entire wiring. In the table below you will find the average cost of the battery for different types of cars.
Important things to consider
The prices also depend on the warranty and whether this job is done at a small garage or at a dealer. However, you should pay attention to the cheap car services because it may result in a bad job and a waste of money for you.
In order to avoid any major damage, you must replace the wiring that is worn out as soon as possible, especially the engine wire harness.
Before you begin the process of finding and choosing a new car battery, you need to consult the car manual and follow the instructions given there.
How can I save on the wiring harness cost?
Make sure you do some research about the cost of car wiring replacement beforehand. Ask for price offers from a few dealerships and repair shops and compare the prices.
https://www.thepricer.org/wp-content/uploads/2021/12/Car-Wiring-Harness-cost.jpg
380
610
Alec Pow
https://www.thepricer.org/wp-content/uploads/2023/04/thepricerlogobig.png
Alec Pow
2021-12-13 13:42:33
2023-08-14 11:01:22
How much does Car Wiring Harness Replacement Cost?