Last Updated on December 22, 2022 | Written by CPA Alec Pow
First Published on September 3, 2020 | Content Reviewed by

CFA Alexander Popivker
Do you have swelling inside your lower or upper eyelid that simply does not disappear? Do you feel unpleasant with your swollen-looking eye even without experiencing unbearable pain? If you said yes to both of these questions, then you might have a chalazion and might need to get the chalazion surgery.
All about Vision classifieds chalazia as benign, pain-free swellings that appear within your eyelids. They pop up after internal stys have actually recovered and are no longer harmful. They generally form around the meibomian or oil gland, which is around your eyelids. It is the reason you would have inflamed eyelids.
Chalazia can be fixed with a warm compress, antibiotic lotion, or a steroid injection. However, much like stys, chalazia will disappear by themselves even if you do not use any sort of treatment. That being said, do not try to squeeze the swelling. The pus, which comes out from it, might contaminate the surrounding tissues of your eyelid, aggravating the condition.
Nevertheless, there are cases when chalazia do not disappear even after using medications. They often grow larger to the point where you can't see correctly. For this reason, clients turn to the last alternative, which is going through surgery to eliminate the chalazion.
General Prices of Chalazion Surgery
A chalazion surgical treatment is also described as an eyelid bump elimination, eyelid swelling elimination, and meibomian cyst removal. Regardless of how you wish to call it, the cost to remove a chalazion generally varies from $100 to as much as $1,000. It will substantially differ, depending upon numerous aspects such as the state where the surgery is carried out, the capabilities of your physician, the hospital or clinic, and whether you have health insurance or not. Naturally, the chalazion surgery is more cost-effective if you have insurance protection.
We also have interesting articles about the cost of strabismus surgery, LASIK eye surgery, and Walmart eye exam.
So, exactly what are you spending for? According to ChalazionTreatment website, an eyelid swelling elimination is a one-day treatment that is finished within 15 minutes. It utilizes an incision-and-curettage treatment in which the client is at first administered with regional anesthesia. When the anesthesia is taking full effect, the cosmetic surgeon makes a little cut, then drains out the pus from the blemish.
When all the thick yellow-colored liquid has actually been eliminated, the physician puts an eye pad on the damaged eye, covering it for 6 to 8 hours. Most of the time, the healing period takes 1 to 2 weeks, however, it can take longer if there are any problems. Otherwise, you'll have normal eyes in no time.
Extra Costs to Think About
In addition to the common expenses, you also have to prepare for the preliminary consultation with a dermatology professional or an eye doctor (eye surgeon) prior to getting the operation. The normal consultation price without insurance coverage can vary from $65 to $110 per visit.
Presuming that the surgery has actually been finished, you will be offered an eye drop prescription as a post-surgical medication to accelerate the recovery procedure. This extra expense is around $25 or lower if you have insurance coverage.
Chalazion Surgery Prices in Other Nations
If you think the chalazion surgical treatment expenses in the U.S. are too high, you can have the surgery done in other nations where the rates are fairly lower than in the states. In the UK, for instance, the eyelid swelling elimination costs ₤250 (around $310), which consists of the consultation charge of ₤75 and the treatment charge of ₤175.
However, according to the research of Medigo, the most budget-friendly chalazion removal price is at KCM Center in Poland where you can pay around $105. Next on the list is Turkey, having a typical rate of $582, while the 3rd place goes to India where the typical expense is $620. Here are other prices for the removal surgery in other countries:
United Arab Emirates (UAE) – Cedars Jebel Ali International Medical Facility: $626.
United Arab Emirates (UAE) – Medeor 24 × 7 Healthcare facility: $1,380.
Spain – Policlinica Ntra. Sra. Del Rosario: $1,006.
Russian Federation – European Medical Center (EMC): $1,012.
Israel – Herzliya Medical Center: $2,679.
Tips to Lower Chalazion Surgery Rates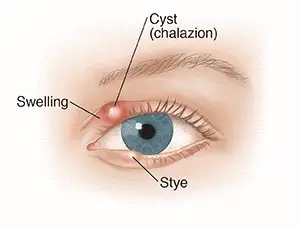 Although you can pay lower costs in other nations, it would still be useless if you don't have the money to travel there.
And the worst part is that, aside from not being able to travel, you can't cover the expenses in the U.S. either. It's challenging to be in such a circumstance, especially when you actually need to have the chalazion surgery, and you have no insurance coverage to aid you to cover the expense. However, it's not the end. There are other methods in which you can pay lower prices for surgery. Here are some suggestions you can think about:
Prior to going through a chalazion elimination surgery, you ought to know exactly how much you can afford to spend for the entire surgical treatment. Make sure to have a talk with your doctor prior to the operation.
If you do not have any insurance plan, try to ask your doctor if you can split the cost like on a monthly basis or every 2 months. By doing this, you aren't forced to pay a one-time payment, which can burn a hole in your wallet.
In cases when staggered payments do not work, ask your medical professional if you can get discount rates if you pay the full price. The majority of the time, you get discount rates from 5 to 15 percent of the overall expenses if you pay everything before or after the surgery, however, that will only depend on your doctor and hospital of choice.
For those who have a Health Maintenance Organization (HMO) insurance coverage, you might have lower expenses for your chalazion surgical treatment. Nevertheless, you require to check your policy and see if a chalazion surgery is covered by the HMO. Find out if you are forced to pay a deductible for this specific surgery.
This is still connected to your HMO insurance coverage. Be sure you know whether your surgeon is part of your policy's network of service suppliers or if you have to work with another medical professional under the network of HMO. For the most part, getting the services of HMO-accredited medical professionals will enable you to save money in case you need to make copayments for a chalazion surgery.
https://www.thepricer.org/wp-content/uploads/2020/09/chalazion-surgery-cost.jpg
380
610
Alec Pow
https://www.thepricer.org/wp-content/uploads/2023/04/thepricerlogobig.png
Alec Pow
2020-09-03 07:38:20
2022-12-22 18:29:46
Chalazion Surgery Cost