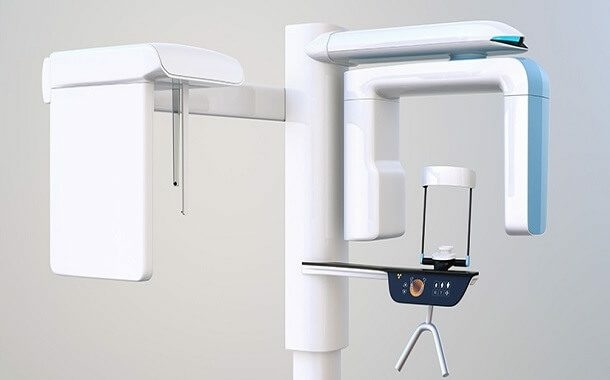 The Cone Beam Tomograph (CBCT) is a state-of-the-art imaging technology that allows three-dimensional visualization of scanned areas.
Using a conical X-ray beam, the CBCT scanner needs a single rotation around the patient to capture hundreds of images of the area of interest, which are then reconstructed using imaging software to obtain the patient's 3D virtual model.
The whole procedure is very short, and the degree of radiation exposure in the case of a computed tomography scan performed with CBCT is very low compared to conventional CT scans.
How much does a cone beam CT scan cost?
The price of a cone-beam CT scan is influenced by many factors, including the geographical location, whether or not it is covered by an insurance plan, and the doctor you choose. On average, a cone beam CT will cost you anywhere between $270 and $640, without insurance. In case your health or dental insurance policy is covering the costs for the regular x-rays or CTs, it might also cover the price of a CBCT. In this situation, you will only have to co-pay or cover the deductibles.
You can get a cone beam CT scan for a higher price, of approximately $410 at Charlotte Oral Surgery, but for this cost, you will get more clinical data that would help the dentist put the correct diagnosis and figure out the treatment plan easier.
You might also like our articles about the cost of a HIDA scan, MRCP scan, or X-ray technician school.
At the Kazemi Oral Surgery, located in Maryland, you would pay around $260 for a cone-beam CT scan.
The cost of the Dental Cone Beam CT machine itself is anywhere between $62,000 and more than $100,000. For instance, on the BuyDentalEquipment.com website, you will find a wide range of machines that can be purchased directly. According to Webdental.com, the average price for a dental cone beam CT machine is $142,000.
Cone beam CT scan details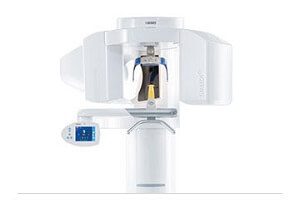 Regardless of the reason why you need a CBCT scan, whether it is required for periodontal disease, orthodontic planning, oral surgery, or implant anchorage, the price estimates presented above are only for the scan itself. If there are other tests and procedures necessary, you will have to pay for them separately.
The procedure is very simple. Before positioning the device, you will be asked to remove any metal objects from the body: chains, earrings, staples, glasses, piercings, mobile prosthetic items (prostheses).
Then the operator will put a special lead apron on you and you will be invited to sit in front of the CBCT device in an orthostatic position, or sitting. You will be asked to hold the handles of the device with your hands and the radiologist will position your head in relation to the reference plans, after which you will be asked to stay still.
The operator will leave the room and start the exposure. During the exposure you will notice an audible signal and the X-ray beam will rotate around your head, a process that takes several tens of seconds, depending on the type of scan you want.
It is important that you do not change your position at all during this time. You will not feel any discomfort during the procedure. After the device has shut down, you will be invited to the waiting room to wait for the results to be released.
What are the extra costs?
After a diagnosis of tooth decay, many dentists will recommend a scan. This X-ray examination gives them more information about the condition and its severity before deciding on any course of treatment for you as their patient. So, there will be more office visits needed, and they usually cost $60 to $110 per visit.
After the CT scan, the dentist can see if there are any problems. If this is the case, more visits will be required in the future.
Important things to consider

The difference between the CBCT scans and the traditional radiology techniques such as computed tomography (CT) scans is that the last one uses up to 100 times higher amounts of harmful radioactive material. Meanwhile, modern exams emit only minimal doses so they're much better on patients' health over long periods of time.
CT scans are a more advanced way to image the human body. Unlike regular X-rays, CT scans differentiate between many types of tissues including soft tissue, bone, nerves, or teeth.
A cone-beam CT is a fast, painless way to get an accurate picture of your insides. All that's required before the scan starts is removing any metal objects from skin-contact areas.
How can I save money?
It's always best to get a scan before you go in for treatment, so ask your insurance company if they cover the costs. This way you might be able to save some money. If you are uninsured, consider checking out your local health insurance companies to see if they offer coverage that will fit your needs.
According to the University of Michigan, the majority of health insurance companies will cover the CBCT scans only in cases of sinus, pathology, or trauma evaluation.
https://www.thepricer.org/wp-content/uploads/2021/11/Cone-Beam_Ct_Scan.jpg
380
610
Alec Pow
https://www.thepricer.org/wp-content/uploads/2023/04/thepricerlogobig.png
Alec Pow
2021-11-02 07:00:53
2021-11-02 07:00:53
Cone Beam CT Scan Cost