Cost to Convert a Wood Fireplace to Gas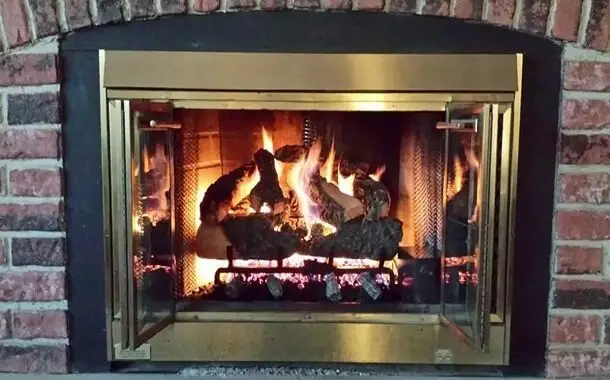 Given that a home is more than just a living space, the fireplace is a functional and aesthetic design element, which contributes to the expression of the personality of each of the owners.
The wood-burning fireplace has been the main method of heating homes for years, and in many cases, it is the piece that is considered to turn a building into a real home. But due to environmental concerns more and more people start to convert wood fireplaces into gas ones.
Unlike the classic wood fireplace, the gas fireplace is not so well known, but that does not mean that it is less efficient or more difficult to use. On the contrary, a gas fireplace can become a more inspired choice for homes connected to the gas network or another source such as LPG containers.
The environment will benefit from the use of natural gas. Not only is it environmentally friendly, but a fireplace with this fuel does not require any wood and can be more efficient than one that uses firewood or coal for heat.
How Much Does it Cost to Convert a Wood Fireplace to Gas?
The expenses with converting a wood fireplace to gas are influenced by some factors such as the distance from a gas line, the type of gas you want for your fireplace, the place where you are living, and the professional you are hiring to do this job.
You have the possibility to choose from three types of gas fireplaces: vent-free gas log, gas insert, or vented gas log.
You might also like our articles about the cost of a wood stove, a wood pellet stove, or a chimney cap installation.
Before converting a fireplace from wood to gas, a gas line has to be installed and extended to the fireplace location. You should budget anywhere between $220 and more than $1,250 for this operation, depending on the distance and the complexity of the job.
After that, depending on the gas type you choose, vent-free or vented gas log, setup may cost anywhere between $550 and $3,100, without including the gas inserts which will set you back another $2,100 to $5,100. If you have a complex setup expect to pay even more.
Taking into consideration all of these factors, be prepared to pay anywhere between $2,750 and more than $10,500 for an entire conversion, including the installation of a gas line.
According to Washington Post, you should budget around $880 for a vent-free gas fireplace or a gas log kit. It must be said that these prices are only for projects that won't require structural changes. The gas fireplace insert is a popular choice because it will eliminate most of the fire risks, and can change the look of your home. However, this option costs more than an open flame – about $3,100 on average.
In the table below you will find the average prices for those three types of gas fireplaces.
| Type | Average Price (not including gas line or installation) | Description |
| --- | --- | --- |
| Gas fireplace insert | $2,200 to $4,800 | This fireplace option is the most used, being the most realistic and also the most appealing of the available options. This type of fireplace will keep the by-products away from your home and will be a little more efficient than the other two options. |
| Vent-free gas longs | $120 to $1,750 | Using this option you won't get the roaring fire effect that most people love about a fireplace. You should also know that this type of fireplace is banned in a lot of geographical locations. |
| Vented gas logs | $120 to $1,750 | This option is the closest to a real woodfire fireplace. Unlike other options, this one won't provide a lot of heat and you will have to open the chimney damper each time you are using the fireplace. You will notice the same open combustion, which means you will basically face the same hazards as with any open flame. |
What are the extra costs?
If you're thinking about converting your old fireplace into a gas one, it's important to clean out any built-up soot or other debris from the chimney properly. This way you can be sure that all of the parts work as expected and you have a safe installation process. Also, the expert doing the chimney sweep will be able to say if the old setup is suitable for a gas fireplace. You should budget $110 to $210 for the chimney sweep.
In order to keep your inserts in perfect condition, it is important that you inspect them every year.
Important things to consider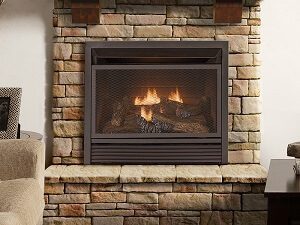 There are three types of gas fireplace inserts you can choose from, a standard gas insert, vented logs, or vent-free. A standard one or a vent-free gas log will create heat for your home but it might cause allergies in some people because of the unburned combustion products which linger inside and around houses during use. Moreover, it is recommended to check the laws of your local state as there are states where these setups are banned.
On the other hand, vented gas logs are a great choice for those who want an attractive but inexpensive fireplace in their home. These fireplaces burn more fuel and send it up the chimney, rather than just using heat from combustion like other types of fires do. This means that they're perfect if you don't need to conserve energy or have concerns about safety.
When converting your fireplace, it is important to contact the local government so that you can find out about any restrictions or permitting requirements. You may also be eligible for rebates and incentives if conversion work has been done by an agency.
How can I save money?
If you don't need heat from your fireplace, an electric version is cheaper and much more aesthetically pleasing. Expect to pay anywhere between $510 and $1,550 for an electric insert.
https://www.thepricer.org/wp-content/uploads/2022/01/convert-wood-fireplace-to-gas.jpg
380
610
Alec Pow
https://www.thepricer.org/wp-content/uploads/2023/04/thepricerlogobig.png
Alec Pow
2022-01-03 10:59:19
2022-03-14 08:26:49
Cost to Convert a Wood Fireplace to Gas