Crip Mac is an American rapper bet-known for his "Keep it 55th Street" and "55th Street" songs. Both of these tracks refer to the same thing, namely the gang 55th Street Crips. He releases his great rap tunes mainly on YouTube.
What is Crip Mac's net worth?
The rapper Crip Mac has a net worth of approximately $1 million at the time this article is written. However, according to some sources he has a large net worth, while others claim that his net worth is lower. But there is no doubt that Crip Mac has earned a huge amount of money from his music career.
How old is Crip Mac?
Currently, Crips Mac is thirty years old as he was born on 28 February 1993. This information was a mystery for a long period of time because Crip Mac is a very secretive and private person, and doesn't make any information about his private life, public.
Though, the guesswork regarding his age ended in 2021 when he said in an interview on No Jumper that he turned 28 on 28 February that year. So, it was easy to assume that Crip Mac was born on 28 February 1993 and is 30 years old.
Career beginning and success
Crip Mac, who is also known as C Mac Da Loc, grew up dreaming about being a sportsman, but Snoop Dog's music made him change his mind. Crip started to take music seriously when he was in jail.
Crip was born in Los Angeles but moved to Texas with his mother and her boyfriend. After a short period of time, he moved back to California and lived with his aunt. But he never settled in one place and moved from one neighborhood to another.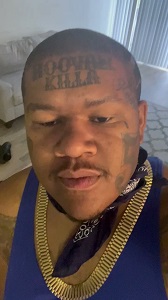 As he was never affiliated with a neighborhood, Crip didn't have problems where he lived. He even had legal jobs such as working as a mechanic assistant. But all of this changed when Crip moved to 55th Street and joined the 55-street gang. He was in jail several times since he became a member of this gang. Crip Mac took his rapping work more seriously after he was locked up in 2017.
Crip was still in prison when he started to write, in 2017, and even his rivals appreciated his work. The rapper was still behind bars when he went viral with his video which was a diss track aimed at Cardi B. Crip Mac recorded this video in his cell and uploaded it on YouTube.
Once he was free, Crip Mac started to post videos on YouTube with his cat and people just loved it. He started to gain online visibility, post music, play local shows, and get interviews.
In 2021 Crip Mac appeared on Andrew Callaghan's Channel 5 YouTube channel and with this appearance his number of followers and fans skyrocketed. Following this success, Crip Mac also appeared on different YouTube videos with millions of views.
In 2022, Crip Mac released his debut album called "5Mous", which lasts 30 minutes and 9 seconds, and includes 14 songs such as "Western Wriggle", "Pushing C's", "Bluetiful", "5 on it" and "Ride on Emm".
You might also like our articles about the net worth of Playboi Carti, Future, or Bad Bunny.
Also, in 2022 he launched on Spotify some EPs and singles including "Why You Acting Like A Citch (feat. Indecent The Slapmaster)", "Never Commit Suicide (Everything Gone C Alright)", "55Th St. General", "Crazy", "Hatred & Sin.", "5Night Fuhk", "Catch Da Fade", "Crip Crazy".
How does Crip Mac earn his money?
If you are wondering how Crip Mac managed to make a fortune, here are some of his main income sources:
Rap career
The main source of money for Crip Mac is his rap music career. He launched his debut album, "5Mous" in 2022. This is available on Spotify and includes 14 tracks. Also, you can find other of Crip Mac's Eps and singles on Spotify.
The earnings from Spotify depend on the percentage of the total stream per month. On this platform the average payout per stream is anywhere between $0.004 and $0.006, meaning that you will get $4 to $6 for every 1000 streams.
Crip Mac has more than twenty-one thousand listeners on Spotify and tens of thousands of streams. So, he earns a lot of money from Spotify.
Interviews and shows
Crip Mac charges around $800 per interview, according to his Twitter account.
Social Media presence
Currently, Crip Mac has more than 22 thousand followers on his Instagram account, which always gets deleted due to different reasons. For example, Adams from No Jumper said that Crip's account has been deleted ten times since he knew him.
Also, Crip's YouTube page and all his social media accounts are shadow banned or deleted constantly. However, Crip Mac made some money from his social media presence.
Clothing company
Crip Mac launched the clothing company "Ratfood clothing company" in 2021. There is not much information available about it, but we assume the rapper earns some money from this business.
Interesting facts about Crip Mac
The rapper's real name is still unknown. He decided to keep it secret. Actually, his fans invented the names C Mac Da Loc and Crip Mac.
Crip Mac lost his front tooth during a fight in prison.
In his teenage years, Crip Mac was diagnosed with a mental illness named schizophrenia. This condition makes Crip hear voices. Also, the rapper suffers from bipolar disorder, which determines his anger problems.
In January 2022 Crip Mac was beaten up by his homies because he claimed in an old Facebook video, from January 2013, that he is from a different gang. He said he was from the Oakwood Gangster gang.
https://www.thepricer.org/wp-content/uploads/2023/04/crip-mac-net-worth.jpg
380
610
Alec Pow
https://www.thepricer.org/wp-content/uploads/2023/04/thepricerlogobig.png
Alec Pow
2023-04-11 10:44:37
2023-04-06 13:38:58
Crip Mac's Net Worth