Adolescence is the period in which the child amplifies its personality, is developing physically, but also mentally. Therefore, the teenage years are very important and parents need to watch over them as much as possible. Recently, drug and alcohol abuse got intensified among adolescents. It is a very big temptation for young people first of all, but also for society in general. There are many reasons like a delicate family problem, the need to be accepted by a certain group, or simply curiosity.
A quick at-home test costs from $10 to $50.
A laboratory test costs from $50 to $80 or maybe more.
For a blood or hair test expect to pay from $100 to $650 or maybe more.
About drug and alcohol tests
Usually, drug and alcohol tests are used to track down any sign of drug and alcohol use, by testing saliva, urine, blood, and hair.
Testing for doping and alcohol became regnant also in the sports industry. Some schools, especially public ones began to start testing students and as news, there are companies that manufacture tests for parents to test their children.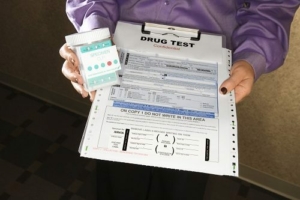 There are several types of tests, but the most common is the urine test. Saliva or blood tests detect only the drug used in the last 24 hours, and blood tests are expensive and are rarely done. An urine analysis shows all drugs administered within 4 days, so if you want to see if a person is under any drug influence a saliva or urine test is enough.
Traces of substances disappear quickly from blood, urine, or saliva, but they permanently remain in the hair's structure. Hair analysis can give information about the drugs administered in the last 3 months or more. They are more difficult to implement and they are not as accurate as of the urine test if they aren't done in professional laboratories. To be tracked down, drugs should have been consumed at least 3 or 4 times.
If your option is the urine test, the trace periods are:
For alcohol in the first 12-24 hours;
For amphetamines from 2-3 days;
For buprenorphine from 2-3 days;
For cannabis from 2-7 days to a month for those who regularly use it;
For cocaine from 12:00 – 3 days;
For diazepam from 1-2 days;
For ecstasy from 2-4 days;
For heroin from 1-2 days;
For LSD from 2-3 days;
For methadone around 2 days;
For temazepam from 1-2 days (or longer if it was injected).
Typical costs:
The average price of an alcohol or drug test ranges from $10 to $50 or maybe more, depending of course on the type of test, if the urine test is for a single illegal drug or for more if it is a saliva test strip or a digital breath monitor for alcohol, but also it depends on the brand.
Depending on the type of package, the number of illegal drugs tested plus alcohol test, in a professional laboratory, the urine test for drugs and alcohol costs from $50 to $80 or maybe more.
A blood test or hair test for drug and alcohol testing can go from under $100 to $650 or more. For this amount of money they can check the drug use in the last 90 days, or the history of alcohol use in the last 6 months.
Try to spend more time with the person in need, give him the attention and comprehension he needs, in order to keep him away from all these temptations.
https://www.thepricer.org/wp-content/uploads/2015/04/Drug-Test.jpg
380
615
qSign
https://www.thepricer.org/wp-content/uploads/2020/08/coststudylg.png
qSign
2015-04-02 00:52:03
2020-08-15 15:11:56
Drug/Alcohol Testing Cost