One of the most popular names in the golf carts market is EZ-GO. If you are looking to purchase a golf cart, you should take into consideration this premium brand. This producer is well-known among customers for reliability and quality. EZ-GO produces both electric-powered and gasoline gold carts, as well as both small and large models.
How Much Does an EZ-GO Golf Cart Cost?
Expect to pay anywhere between $5,000 and $12,000 for an EZ-GO Golf Cart, depending on the size of the cart and its characteristics.
For instance, the price of an EZ-GO 2 Five would be anywhere between $8,000 and $9,000. This model is street-legal and can reach a top speed of 25 miles per hour.
For the EZ-GO Freedom, with a capacity of 2 seats, you will have to pay anywhere between $6,000 and $8,000. This is available either electric or gas and includes features such as hub caps, a brake light, headlights, and a windshield.
The cost of the 2011 EZ-GO Express model, which has four seats and includes the features mentioned above, would be anywhere between $8,000 and $10,000. This is available in a 48-volt electric model or a 13-horsepower gas model.
Be aware of the fact that the cost can increase considerably, in the hundreds or thousands of dollars to the total acquisition expenses, if you want to add extra features such as DVD players or coolers. The cost of a golf cart may raise to $15,000 very quickly.
You might also like our articles on the cost of golf cart replacement, golf carts in general, or golf driving ranges.
When purchasing an EZ-GO golf cart, one of the most important decisions you will have to make is between a gas-powered model and an electric model. Each of these has its own specific benefits. If you plan to use the golf cart for long periods of time, you should buy a gas-powered golf cart, which is more powerful. On the other hand, electric golf carts have lower operating costs and are quieter.
You should also know that discounts are available for any organization or business which wants to buy a large fleet of EZ-GO golf carts. Make sure you negotiate a lower per-cart cost if you are ordering in bulk.
EZ-GO Golf Carts overview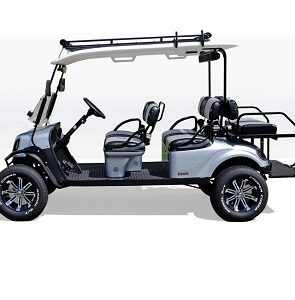 EZ-GO golf carts are very popular among golf players, but they are also used for personal transportation, recreation, and even industrial and commercial application. Moreover, some models are street-legal.
To be more precise, EZ-GO golf carts are used as a mode of transportation around airports, zoos, parks, college campuses, retirement villages, gated communities, industrial warehouses, and on hotel grounds.
There is a large variety of models and sizes of EZ-GO golf carts. Some have enough space to hold two people, while others are large enough to hold four passengers. Also, you can customize your golf cart and choose between features such as hub caps, windshields, headlights, or even DVD players and coolers.
EZ-GO Financing options
EZ-GO offers financial options so almost any client can get the golf cart of his dreams. According to the company's official website, in order to get credit, you have to fill out an application form which is available on their website. If it is complete and approved, you will be offered a designated credit line or loan amount. After that, you will have to just print the certificate and take it to your local EZ-GO Authorized Dealer to purchase your new golf cart.
Some of the financial options provided by EZ-GO for the purchase of golf carts include:
Sheffield financial, which offers a 3.99% interest for a period of 60 months or a 1.99% interest for a period of 48 months, or a 0.00% interest for a period of 36 months.
The Yard Card, which is a revolving credit-card program.
Freedomroad Financial, that comes with a simple interest contract with 0 early pay-off fees or prepayment penalties.
Roadrunner Financial, which offers full-spectrum financing for customers with near-rime or prime credit. The interest is 1.99% for a period of 48 months and 3.99% for a period of 60 months.
https://www.thepricer.org/wp-content/uploads/2022/11/EZ-GO-Golf-Carts-cost.jpg
380
610
Alec Pow
https://www.thepricer.org/wp-content/uploads/2023/04/thepricerlogobig.png
Alec Pow
2022-11-15 06:31:44
2022-11-13 01:56:50
EZ-GO Golf Cart Cost