Hand Controls for Disabled Drivers Cost
Until recently people with disabilities could not benefit from real facilities for driving on public roads, but nowadays there are distributors who have some solutions available to eliminate this injustice. Specialized companies provide a range of products to the public that include manual controls for braking and acceleration, while also keeping the pedals in case another person wants to drive the vehicle. The customization options allow each customer to adjust these controls according to their own needs: changes to the accelerator pedal from the right foot to the left, extension for the seat of the high chair, and button on the steering wheel.
One of the most common devices among drivers with disabilities is hand control. The adapter consists of a brake/accelerator lever mounted to the right of the driver's seat. It is attached to a bracket that is mounted on the driver's seat rail. Two rods come out of the lever. One operates the accelerator pedal and the other the brake pedal. As long as the space allows, it can be installed in an SUV, car, minivan, or truck.
You might also like our articles on the cost of walk-in bathtubs, prosthetic legs, or prosthetic fingers.
Though, standard drivers are not allowed to install hand controls in their vehicle without a rehabilitation specialist's prescription.
How much do hand controls for disabled drivers cost?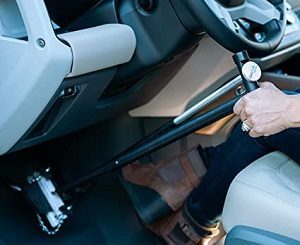 As we already mentioned above, most of the states will require a medical prescription from a local specialist in order to install foot and/or hand control in your car. During this appointment the doctor will run a series of tests to check and evaluate your overall physical functions, how well you perform behind the wheel, your vision, attention, perception, reaction time, and motor function. After collecting all this information, the specialist will be able to decide which controls are necessary and whether you can even drive.
The amount of money you are going to spend for the hand controls will be influenced by some factors such as the complexity of installation, the type of the device you need, the brand of the device installed, and the installer you choose. According to our research, most of the controls cost anywhere between $1,650 and more than $6,000, including the professional installation.
This price range is available only for the hand controls and does not include any extra accessories. The majority of the basic designs cost around $1,700, while for the advanced engineered controls you will have to pay around $3,500. From what we saw, the higher-end devices would have a nicer quality finish and have a better fit.
These price estimates are available mostly for a vehicle with automatic transmission and if you have a car with a manual transmission, you should expect to pay at least 30% to 50% more.
Taking into consideration that there is a large variety of options, in the table below you will find the average cost of some of the most popular types of hand control devices, including the installation.
| | | |
| --- | --- | --- |
| Type of Device | Average Price (includes professional install) | Description |
| Push Rock | $1,700 to $6,000+ | This is a system that would allow drivers to brake and accelerate with the help of a vertical handle. For example, they would have to pull the handle back for acceleration or push it forward to brake. |
| Right Angle | $1,700 to $6,000+ | There is also the right angle system, which would let the driver push either in a downward direction toward their lap to brake or push for acceleration. |
| Push-Pull | $1,700 to $6,000+ | It would take less strain and would only require the thumb and fingers to pull a lever up for acceleration or push it down to brake. |
| Right Hand | $1,700 to $6,000+ | This system is made to be mounted near the ground and will look just like a shifter. The driver will operate it with their left hand and when pushed forward the system will brake the car while pulling it will accelerate it. |
We were able to find hand controls on Amazon at costs starting at around $185 and going up to $340, but in contrast to the parts presented in the table above these parts are portable and designed as a temporary solution. In general, disabled drivers choose this version if it is too expensive for them to pay for a professionally installed method.
For example, MC Mobility System charges around $1,700 for the hand control, including the parts and installation, while the AMS Vans company charges almost $1,400 for the hand controls.
Top hand control brands on the market
Veigel Automotive: This hand control is very easy to use and integrates perfectly with your vehicle's interior.
Guidosimplex USA: This device allows the driver to place both hands on the wheel and brake the car with a natural fingertip "push".
Sure-Grip: This is the leader in the Canadian and U.S. market and was designed to help even those drivers with a high level of disability. Compared to other brands, these controls require very little hand strength.
Menox: These devices are designed for both left and right-handed drivers. Compared to other brands, these controls are rust-free coated, which lengthens their durability and lifespan.
MPS: This device was designed by a driver with disability in 1968.
Important things to consider

According to the AMSVans website, some producers may even help you with the installation costs of the hand controls for disabled drivers. These can be installed as long as there is enough room beneath the steering wheel.
Also, in order to install these devices, in some states you will need a prescription from a doctor, in general, a driver rehabilitation specialist. If you want to know exactly what steps you need to follow to legally install the hand controls, talk with your local DMV.
Hand controls that are installed by a qualified installer can be bought only by the dealers that are certified by the producer of these devices. You should be able to find a dealer on the official website of the brand you prefer, like one of those mentioned in the table above.
https://www.thepricer.org/wp-content/uploads/2022/05/hand-control-cost.jpg
380
610
Alec Pow
https://www.thepricer.org/wp-content/uploads/2023/04/thepricerlogobig.png
Alec Pow
2022-05-20 06:07:35
2022-05-19 08:24:47
Hand Controls for Disabled Drivers Cost