A heart event monitor is a battery-powered device that continuously records, for 24 hours, the electrical activity of the heart (ECG), providing information about the functioning of the heart during a normal day, in conditions of rest, physical effort, stress, and emotions.
This device is used when a patient is confronted with symptoms like chest pain, dizziness, palpitations, or shortness of breath, with the aim to find out which is the cause of these symptoms.
How Much Does a Heart Event Monitor Cost?
The cost of a heart event monitor is affected by factors such as the place where you are living, the data monitoring fees, and your doctor's office. In case you don't have health insurance, you should be prepared to pay anywhere between $320 and more than $870 for an event monitor at a local doctor's office, which you can keep for seven to thirty days.
The non-profit organization St. Elizabeth Healthcare, which serves the Greater Cincinnati and Northern Kentucky region, provides event monitor services using the King of Hearts event monitor device. You should be prepared to pay around $210 for the heart event recording test, plus another $350 for the analysis fee.
According to a member of the Yahoo! Answers online forum, the cost of an event heart monitor is around $1,900, even though his doctor quoted less than $600.
In case you want to buy this device, the cost of a heart event monitor would be anywhere between $470 and $1,300.
Heart event monitor – short presentation
While under heart event monitoring, a patient will have to wear a small, portable cardiac event recorder for some weeks to months, or even longer to register the heart activity. The patient will simply push a button to record and monitor one of the symptoms that may occur. When they turn the device in, this recorded data can be uploaded.
There are many designs for heart event monitors, and these may or may not be attached to the patient's chest with adhesive patches and wires. Also, these can be carried in a purse or pocket or can be in the form of a beeper or wristwatch.
You might also like our articles on the cost of a Holter monitor test, coronary angiography, or heart surgery.
Heart event monitors can be of two types:
The looping memory monitor – which has the size of a pager and can be activated through a push button to record a patient's ECG.
The symptom event monitor – which can be a hand-held device or can be worn on the wrist. It has small metal discs on the back which work as electrodes. The patient places it on the chest and pushes the button when he feels a symptom.
Both of these monitors' recorded data can be sent by telephone to a receiving or transmission unit from a hospital. The patient will be recommended to go to the emergency room if the data shows that there is an emergency.
What are the additional costs?
Depending on the doctor's office, the data monitoring fees and/or the doctor's appointment fees may or may not be included. If not included, you will have to pay another $160 to more than $420 for these fees.
Important things to consider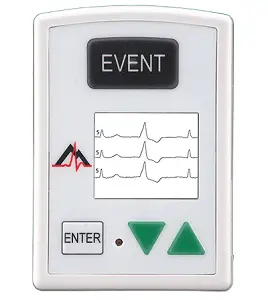 The most suitable device for those who faint when experiencing symptoms related to heart problems is the loop recorder.
A better option for those who are concerned that they may not be able to activate the heart event monitor, when necessary, is a monitor which starts automatically when symptoms appear.
You should stay away from high-voltage areas, metal detectors, electric blankets, microwave ovens, and garage door openers when you are using a heart event monitor. The reason is that this type of equipment emits signals which may interfere with the data recording device.
It is recommended to keep a detailed journal of the symptoms you experience and your daily activity.
Wearing a heart event monitor does not involve any risks. Though, when you remove the patches, your skin may irritate.
Why is heart event monitoring done?
There are many reasons why the doctor may ask you to wear a heart event monitor, such as:
to help discover the causes of certain symptoms, such as difficulty breathing, dizziness, confusion, or fainting;
to help detect irregular heartbeats (cardiac arrhythmias);
to help assess chest pain;
to help check heart activity after a heart attack;
to help check heart activity after a pacemaker has been inserted;
to help check the effect of using certain medicines.
How can I save money?
The costs of an event heart monitor should be covered as long as this is deemed medically necessary. So, make sure you contact your health insurance provider and ask about it. In case you're not under a health insurance policy or if you want to change your current one, you can search online for multiple health insurance plans.
Some doctor's offices may offer discounts to those who don't have health insurance and pay in cash.
https://www.thepricer.org/wp-content/uploads/2023/01/Heart-event-monitor-cost.png
380
610
Alec Pow
https://www.thepricer.org/wp-content/uploads/2023/04/thepricerlogobig.png
Alec Pow
2023-01-25 06:01:51
2023-01-20 07:31:38
Heart Event Monitor Cost