How Much do Granite Transformations Cost?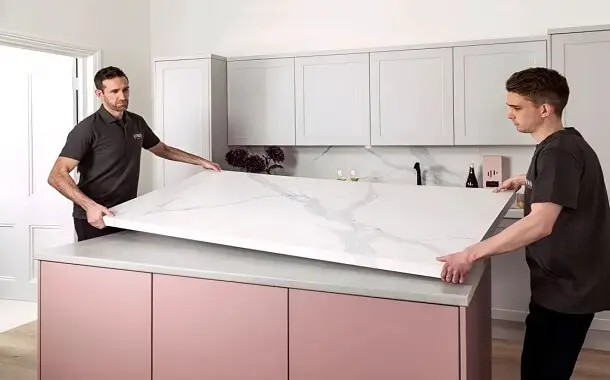 Granite Transformations is a company specialized in offering countertop solutions for your bathroom and kitchen. Your space will reach its full potential without hassle and in no time because little-to-no demolition is involved. Granite countertops are a popular choice in modern homes, as they offer a unique combination of durability, beauty, and easy maintenance.
How Much do Granite Transformations Cost per Square Foot?
Granite Transformations cost anywhere between $65 and more than $110 per square foot installed, depending on the transformation you desire and the size of the space being transformed.
The company claims that when they offer a quote this will include all the costs and no hidden charges and/or bait-and-switch techniques. Your results may vary greatly, which is why you should use this price range just as an estimate.
In the table below you will find the average costs of Granite Transformations that we were able to find online.
| City | Description | Increased Price |
| --- | --- | --- |
| Chicago, IL | 45 square feet | $2,760 |
| Los Angeles, CA | 40 square feet | $6,900 |
| New York, NY | Bathroom counter | $1,610 |
| Houston, TX | 40 square feet | $6,785 |
| Philadelphia, PA | 3×5 space | $1,725 |
| Caryville, TN |  1/2 real granite | $17,250 |
A member of the DIYChatroom.com forum said that they had to pay about $3,400 for thirty square feet. This cost also included a new Moen faucet and an under-mount granite sink. According to another member of the same forum, the cost for forty square feet is about $6,000. This price also included the backsplash up to the cabinets.
What should be included in the price?
The estimative prices presented above should include all materials, the measurement, any necessary modifications, hauling of material, and installation, regardless of whether your home improvement project involves a tile replacement, a replacement of existing countertops, or a full remodel of the kitchen or bathroom. Make sure to get everything in writing before paying because your inclusions may be different.
You might also like our articles on the cost of installing granite slabs on graves, decomposed granite, or granite countertops.
All the works are performed by contractors who are in partnership with the Granite Transformations company. You should look on their official website in order to find a contractor near to you.
It is important to mention that the initial in-home quote/design is complimentary. During this time a design expert will come to your house with sample swatches of all materials, letting you go through and pick the material that suits your kitchen setup and preferences the best.
All Granite Transformations materials come with a lifetime warranty.
Important things to consider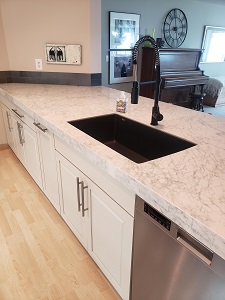 The entire job will be completed in less than one day for most average-sized kitchen projects.
It won't be necessary to have any demolition happen according to the company because the slab will be installed directly on the top of your existing kitchen counters.
The custom manufacturing of the kitchen worktop includes the following operations, which are fully included in the final price of the product: cutting the quartz plates according to the exact dimensions resulting from the measurements, the realization of edge joints and profiles (see profile types); execution of the anti-splash riser (plinth) along the relevant length; making cutouts for the stove, faucet, and kitchen sink.
This is the only manufacturer which uses ForeverSeal, which is a polymer resin infused in the countertop for helping the product resist a lifetime.
Once installed, the counters require very little maintenance. When cleaning, you need just a mild, all-purpose cleaner. This product is nonporous, which means that it will not absorb odors or colors.
It is important not to use abrasive or chlorine-based cleaning products to clean granite countertops, as they can scratch and discolor the surface. Also, avoid using brushes or toothpicks to clean granite and quartz countertops, as they can scratch the surface.
All Granite Transformations products are made in the United States of America.
The company does not offer only counters, but also various cabinet racing options for the same price.
Advantages of a Granite Countertop
it is available in a very wide range of colors
does not deteriorate in direct contact with a heat source making it great both for kitchen and bathroom
it has an extremely long lifespan
retains its appearance for a long period of time
it is very easy to maintain (does not require special treatments)
Disadvantages of Granite Countertops
at certain intervals, it must be polished to regain its luster
if not mounted correctly, it may crack
certain types of granite stain easily if they do not have a protective coating
Final words
Granite countertops are a lifetime investment. The worktop in the kitchen has a practical role first of all and only after this, an aesthetic one. But both roles can be successfully fulfilled by Granite Transformations company, which offers one of the most resistant materials in the world, which can be found in a wide variety of colors.
https://www.thepricer.org/wp-content/uploads/2023/08/granite-transformations-cost.jpg
380
610
Alec Pow
https://www.thepricer.org/wp-content/uploads/2023/04/thepricerlogobig.png
Alec Pow
2023-08-13 06:37:38
2023-08-11 05:49:49
How Much do Granite Transformations Cost?