How Much Does a Banjo Cost?
The culture and lifestyle of the population of any country are always reflected in folk art, which is distinguished by its originality. In the United States, one of the most common and popular varieties of national music is incendiary and joyful country music, which absorbed many styles and trends of the country's emigrant population, both white European settlers and African Americans.
The main musical instruments for playing country music are the violin, the guitar, and, of course, the banjo. This instrument is a musical symbol and an inherent value of the American people, among whom it is very popular.
How Much Does a Banjo Cost?
The cost of a banjo would be anywhere between $60 and $3,500, depending on the brand, its quality, and the place you buy it from. For instance, a hand-crafted banjo would cost around $3,400, especially if it is made of high-quality materials, while mass-produced banjos you can find online on websites such as Amazon or eBay, may cost anywhere between $120 and $280.
For instance, the cost of a brand-new, five-string Deering Goodtime Special Banjo would be anywhere between $750 and $1,000. On the other hand, for a Fender FB-300, you would have to pay anywhere between $320 and $500. Also, you can purchases five-string banjos from Jameson Guitar that are priced between $160 and $370.
Plan on spending $170 to $350 for a lower-end model beginner's banjo kit.
According to online sources, a beginner's set banjo costs anywhere between $160 and $320, while the cost of a mid-range banjo would be $320 to $450. Plan on spending $2,200 to $3,500 for a custom banjo.
If you want to create your own banjo, expect to spend anywhere between $550 and $2,500, depending on the type of banjo you want.
Banjo – short presentation
In general, you will find the following types of banjos on the market: a four-string, a five-string, and a six-string. Also, you may find fretless banjos or 12-string banjos, but these are rarer models. The most common type is the five strings.           
The banjo sounds very cheerful and brave. Thanks to the special membrane, the sound is very clean.
You might also like our articles on the cost of a saxophone, acoustic guitar, or bass guitar.
A very original banjo design includes an acoustic round body and a special neck.
The body of the instrument resembles a small drum. On the front, there is a membrane, tensioned with a steel ring, which is fixed with screws. The membrane on modern banjos is usually made of leather or plastic. A removable resonator is installed on the back of the instrument. A support is mounted on the membrane through which the strings are drawn.
Top brands to take into consideration
Washburn
Deering
Gibson
Fender
What are some additional expenses?
You can tune your banjo at a music store for a cost of anywhere between $30 and $60.
The majority of the banjos are sold without a case. It is highly recommended to purchase a case in order to protect your banjo from dents, scratches, and dings. A banjo case would cost anywhere between $50 and $230.
If you want to learn how to play the banjo, you will need instructional DVDs or a professional tutor. In order to learn the instrument with the help of a tutor, you will have to pay anywhere between $40 and $120 per session, depending on the cost of living in your area and the experience of the tutor.
Those who want to play guitar while standing up will need straps. Plan on spending $15 to $25 for a good strap.
Sooner or later, you will need new strings, and a good set of strings will cost around $5 to $15, depending on the brand.
In case your banjo breaks or need other repairs, you will spend $60 to more than $160, depending on the needed repair.
You can raise the overall pitch with a capo that will clamp to the fingerboard. A capo that will allow you to play songs higher than what they were written in, may cost anywhere between $15 and $25.
Plan on spending $12 to $30 for tuners.
Important things to consider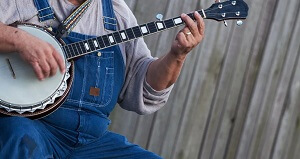 In some African states, the banjo is revered as a sacred instrument and is used exclusively by high priests or rulers.
Be careful when looking to buy banjos that are made in foreign countries and are cheaper. Make sure you do the proper amount of due diligence especially if you are charged less than $110 to $220 for a banjo.
Banjo can be played using two popular techniques: the two-finger up-pick and the clawhammer technique.
The technique of playing this instrument is similar to the guitar. The main methods are tricks and string strikes, performed with the help of special plectrums, which are worn on the fingers and are very similar to claws.
The sound of the banjo is very often used in various TV shows, for example, in the popular educational children's program Sesame Street around the world.
Tips for saving money
It is recommended to buy a used banjo if you are just starting out. You can purchase a used banjo from eBay for less than $60. You can take into consideration purchasing a higher-end unit as you progress with the instrument.
Take into consideration buying all equipment secondhand like the picks, case, and others. This way you will be able to save around 50% on your overall costs.
https://www.thepricer.org/wp-content/uploads/2023/03/banjo-cost.jpg
380
610
Alec Pow
https://www.thepricer.org/wp-content/uploads/2023/04/thepricerlogobig.png
Alec Pow
2023-03-07 06:01:19
2023-03-01 22:24:14
How Much Does a Banjo Cost?