How Much Does a Brazilian Blowout Cost?
If you like gorgeous looks, the Brazilian blowout will be exactly what you need. You'll like it just as a smoker likes teeth whitening.
Before getting into an in-depth explanation of the Brazilian Blowout cost and process, let's just say that a Brazilian Blowout will usually cost somewhere between $100 and $600, depending on factors like your hair's condition, type, and length, among others.
The Brazilian Blowout is known as a keratin treatment type that should decrease damage from the elements to your hair and increase its shine by bonding to your and eliminating frizz. It is known as a Brazilian blowout mainly because it was invented in Brazil, using camu camu, açai, and other ingredients from that country.
Although it is similar in cost to silk presses, texture releases, and even other keratin treatments, the Brazilian Blowout is actually a simpler process. Brazilian Blowouts are considered done as soon as you get up from the stylist's seat, while other treatments might require you to avoid tying your hair for a few days or keep it away from water.
How much does a Brazilian Blowout cost at a salon?  
Depending on the length of your hair, the products used, your hair type, the hairdresser, and the salon, a Brazilian Blowout may cost anywhere from $100 and $600. Brazilian Blowouts are very popular among people that have naturally curly hair are want a way to smooth their frizz. If you have longer, thicker, or curlier hair, you will spend more than if you have thinner or shorter hair, because there is less hair to treat.
If you want to find a more cost-effective way of getting it done, you can always try to purchase the smoothing chemical from a store nearby and do the treatment at home. Of course, it will usually be better to let professional stylists do it. This is a form of art and of course, it's hard to recreate any type of art in your living room. Why try to replicate the beauty of a salon blowout? You can also search around for other keratin treatments that might be more affordable.
What factors impact the cost of a blowout?
The most important factor to influence the cost of a Brazilian Blowout will be the thickness and length of your hair. The final price will usually be in direct correlation with how much hair the stylist will work with, considering that the blowout is intended to make thick or frizzy hair stay smooth and flat. The treatment will be more expensive the more hair there is to treat.
Location can also affect the final cost. Blowouts will be more expensive in areas where the cost of living is higher or when these treatments are in more demand. For example, You'll spend around 40 less in North Carolina than in California for your average appointment.
| | |
| --- | --- |
| State | Average appointment cost |
| WV | $290.4 |
| WI | $224.4 |
| WA | $290.4 |
| VA | $290.4 |
| UT | $143 |
| TX | $250.8 |
| TN | $288.2 |
| SD | $247.5 |
| SC | $118.8 |
| RI | $210.1 |
| PA | $321.2 |
| OR | $229.9 |
| OK | $266.2 |
| OH | $247.5 |
| NY | $281.6 |
| NV | $215.6 |
| NM | $330 |
| NJ | $199.1 |
| NH | $267.3 |
| NE | $220 |
| ND | $220 |
| NC | $209 |
| N/A | $232.1 |
| MO | $220 |
| MN | $211.2 |
| MI | $294.8 |
| ME | $284.9 |
| MD | $281.6 |
| MA | $299.2 |
| LA | $282.7 |
| KY | $278.3 |
| KS | $292.6 |
| IN | $209 |
| IL | $302.5 |
| ID | $278.3 |
| IA | $100 |
| HI | $322.3 |
| GA | $218.9 |
| FL | $203.5 |
| DC | $357.5 |
| CT | $198 |
| CO | $248.6 |
| CA | $250.8 |
| AZ | $182.6 |
| AR | $190.3 |
| AL | $227.7 |
This will be a life-changing hairstyle that you should try out regardless of your hair type.
Brazilian Blowout or Japanese Hair Straightening?

The Brazilian Blowout typically lasts for around 3 months, while the Japanese hair smoothing can last up to 6 months, however, what makes the Brazilian blowout better is the fact that it will give a more natural look, as the effect will fade away at the same rate as new hair will grow back. That will make the treated hair look just as the one that'll be growing back. The Japanese straightening will make the treated hair look straight and unnatural as the new, curly hair starts growing.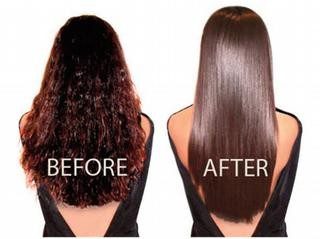 The Japanese straightened hair will look stiff and dead, while the Brazilian blowout makes the hair look straight, healthy, and silky.
Brazilian Blowout vs Other Keratin treatments
The keratin treatment will come at a greater cost, although it will make your hair look straighter, even if you have kinky, unmanageable, curly hair.
You pay $300 at first for the keratin hair treatment itself. After the initial styling, you won't be allowed to wash your hair, make any types of ponytails or use any pins for your hair for three whole days.
After they have finally washed their hair, some customers reported noticing their hair fall off, probably caused by the accumulated sweat and dust. Due to the clogging, you will probably also get greasy, stinky hair and pimples along your hairline.
When getting a Brazilian blowout you will be able to wash your hair the same day just after the treatment. You will be able to use pins to create any style you'll desire just after the smoothing treatment is finished.
On the same day after having a Brazilian blowout, you can even dye your hair safely. Although you may expect the cost to be higher, you will get all these benefits at almost the same price as for other Keratin smoothing treatments.
Another issue of other keratin treatment products is the characteristic stench, something you will never notice when getting a Brazilian blowout.
Brazilian Blowout and Formaldehyde
The FDA doesn't have restrictions on using formaldehyde in hair products, although The International Agency for Research on Cancer classifies it as a carcinogen.
Some Brazilian blowout brands will use formaldehyde when creating their products, but luckily, after many petitions, warnings, and tests, many of the products that used to contain formaldehyde have been taken out of use.
That will probably mean that when getting a Brazilian blowout at a salon, chances are that the products used will be formaldehyde-free. To be sure, don't forget to ask your stylist about this aspect, the products used, and their contents.
How long does a blowout take?
You should expect your typical Brazilian Blowout to take somewhere around 90 minutes, although depending on your hair type, it might take more or less time to get the treatment. If you have curlier or thicker hair, then you might have to stay longer in the stylist's chair than people with a thinner or shorter cut.
The actual length of the Brazilian Blowout treatment will be impacted by:
Hair texture
Condition of hair
Curliness
Hair thickness
Hair length
What happens during the appointment?
People that have straightened their hair using a flat iron have basically done a part of the Brazilian Blowout treatment. A chemical formula will also be used along with the flat ironing so that the result is locked.
This is what the usual Brazilian Blowout appointment will look like:
The stylist will wash your hair thoroughly to make sure it is clean and any product you've used is removed from it.
The hair stylist will then apply liquid keratin formula to the hair section by section, from the root to the tips.
Your hair will be treated with a flat iron to make sure the look is sealed in.
The hair will go through a second washing and then deep conditioning.
The last step is blow drying and styling of your hair.
Although your hair will be flat ironed, this doesn't mean that it will be completely straight in the end. There are people that aim for a more wavy look, and this is possible through this treatment. All you have to do is tell your stylist and they can style your hair in such a way to look exactly how you want it when the blowout is done.
How long does a Brazilian Blowout last? 
The usual Brazilian Blowout will last for about three months, as long as you use a shampoo that won't contain chlorine or sulfates. This time can even be extended if you increase the time between washes and you take proper care of your hair.
Doing these things will prolong the life of your blowout:
Deep conditioning
Avoiding swimming in salt water or high-chlorine waters
Using products that are made specifically for blown out hair
Waiting longer between washes
Is a Brazilian Blowout worth it? 
Brazilian Blowouts have both pros and cons, like all other chemical beauty treatments. While some talk highly of the treatment's capability to transform your hair almost completely, others say it will take too much money and time and could even damage the hair in time.
Pros
Safe for color-treated hair
Safe for any type of hair
Can prevent elemental hair damage
Smooths hair and prevents frizz
Cons
Is rather expensive
Formaldehyde can be dangerous
Not a permanent hair straightening treatment
Time-intensive treatment
How much does it cost to do a Brazilian Blowout at home? 
As long as you purchase the necessary keratin treatment solution, you can do a Brazilian Blowout at home. You will usually spend anywhere between $35 and $90 for these at-home treatments. The price will depend on the quality of the product and how much you'll actually need.
It is a better idea to go to a professional salon instead of doing the treatment at home, as is the case for any other chemically backed hair smoothing treatments. Professional stylists will get trained to manage and smooth hair without damaging it, giving you the best possible result. So in the end, it might be better to spend some money and time and opt for a professional hand, than spend a lot of time figuring out how to make this treatment safe at home.
Conclusion
In conclusion, you can get a Brazilian blowout for as low as $100, and up to $600. This treatment will give your hair a natural look and will be worth every penny you spend on it.
https://www.thepricer.org/wp-content/uploads/2014/06/Brazilian-blowout-cost.jpg
380
610
Alec Pow
https://www.thepricer.org/wp-content/uploads/2023/04/thepricerlogobig.png
Alec Pow
2014-06-22 22:12:01
2023-02-07 18:00:24
How Much Does a Brazilian Blowout Cost?