If you like gorgeous looks, the Brazilian blowout will be exactly what you need. You'll like it just as a smoker likes teeth whitening.
Before going to the salon, find out here what will be the full price for a Brazilian blowout. 
This will be a life-changing hairstyle that you should try out regardless of your hair type.
Depending on the products used, your hair type, the hairdresser, and the salon, you could end up spending anywhere between $100 and $600 for the Brazilian blowout.
Brazilian Blowout or Japanese Hair Straightening?

The Brazilian Blowout will only last for around 3 months, while the Japanese hair straightening can last up to 6 months, however, what makes the Brazilian blowout better is the fact that it will give a more natural look, as the effect will fade away at the same rate as new hair will grow back. That will make the treated hair look just as the one that'll be growing back. The Japanese straightening will make the treated hair look straight and unnatural as the new, curly hair starts growing.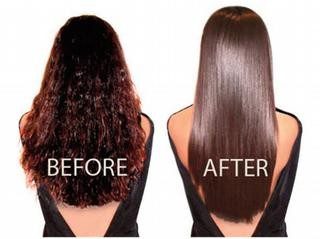 The Japanese straightened hair will look stiff and dead, while the Brazilian blowout makes the hair look straight, healthy, and silky.
Brazilian vs Keratin
The keratin treatment will come at a greater cost, although it will make your hair look straighter, even if you have a kinky, unmanageable, curly hair.
You pay $300 at first for the keratin hair treatment itself. After the initial styling, you won't be allowed to wash your hair, make any types of ponytails or use any pins for your hair for three whole days.
After they have finally washed their hair, some customers reported noticing their hair fall off, probably caused by the accumulated sweat and dust. Due to the clogging, you will probably also get a greasy, stinky hair and pimples along your hairline.
When getting a Brazilian blowout you will be able to wash your hair the same day just after the treatment. You will be able to use pins to create any style you'll desire just after the treatment is finished.
In the same day after having a Brazilian blowout, you can even dye your hair safely. Although you may expect the cost to be greater, you will get all these benefits at almost the same price as the Keratin treatments.
Another issue of the keratin treatment products is the characteristic stench, something you will never notice when getting a Brazilian blowout.
Brazilian Blowout and Formaldehyde
The FDA doesn't have restrictions for using formaldehyde in hair products, although The International Agency for Research on Cancer classifies it as a carcinogen.
Some Brazilian blowout brands will use formaldehyde when creating their products, but luckily, after many petitions, warnings, and tests, many of the products that used to contain formaldehyde have been taken out of use.
That will probably mean that when getting a Brazilian blowout at a salon, chances are that the products used will be formaldehyde-free. To be sure, don't forget to ask your stylist about this aspect, the products used, and their contents.
As a conclusion, you can get a Brazilian blowout for as low as $100, and up to $600, it will give your hair a natural look and will worth every penny you spend on it.
https://www.thepricer.org/wp-content/uploads/2014/06/blowout4.jpg
405
810
Alec Pow
https://www.thepricer.org/wp-content/uploads/2022/01/thePricer.png
Alec Pow
2014-06-22 22:12:01
2020-07-31 12:37:12
Brazilian Blowout Cost