How Much Does a Spa Day Cost?
When thinking of booking your next spa day to unwind and rejuvenate your body, one of the most important aspects in making a decision will be the price. In these hard times, everyone is looking for the best deal on goods and services. While some people consider that luxury demands a higher price and are willing to pay more for what they consider luxury, there are people looking for special deals and packages designed to cut down the price.
Where you go, what you do, and what you expect will dictate the cost of your spa day. You can also find package spa deals that will vary I'm price and offered services. So how much does a spa day cost?
How Much Does a Spa Day Cost?
The average cost of a spa day is anywhere between $100 and $200, although there are people who pay as little as $30 or as much as a few thousand dollars, depending on the promotions or coupons they snatch, the place they go to, and the services they get.
If you're looking for a great deal, then usually, the most affordable approach would be to just go on a simple day trip and enjoy a relaxing treatment on the spot, without a lot of additions.
For people who have some money to spend, it would be better to just book an overnight stay in a luxury spa and enjoy all of the services and surrounding areas. It's not uncommon for a luxurious spa day to include manicures and pedicures, a Swedish massage, sauna, a lot of relaxation, and a lot of fun, among others.
Choose the Right Spa Amenities to Lower the Average Cost of a Spa Day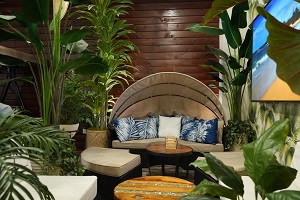 To make sure that you get the most out of a spa day or break, you will have to know what you want to get from it beforehand so that you can align your expectations to your budget and get a package that is comprised of the things that are more important to you.
You might also like our articles on the cost of Thermage, the most expensive beauty treatments, or Juvederm.
Although spa treatments would usually add to the cost of the spa break, as long as you have the budget for this, they will improve your experience and will be well worth the price. To make the most out of a spa therapy session, make sure you book at least one hour of treatment.
Whenever possible, experts recommend going for a spa package that also includes something to eat. Regardless of whether this is the afternoon tea treat, lunch, or dinner. The spa treatment should also be included, along with the use of the facilities.
To make sure you're not disappointed and you get everything you deem important, before booking a spa day, make sure you get in touch with the location directly and get an idea of what would be included in the cost.
Take Advantage of Day Spa Specials & Promotions
There are some ways in which you can save money on your spa adventure if the normal prices are a little steep for you. Many spas offer specials where you can get different treatments for less than their usual price when you either buy them inside a package or on certain days of the week.
So as long as you get multiple services inside one package, you book your spa day in a certain period, or enough people enjoy the spa experience at the same time, you might be able to spend a lot less than you would for the services bought individually and outside of the promotional price.
How much is too much?
So the prices above are averages someone would expect to spend on a spa day. But how much should you consider too much when it comes to these types of services? The answer isn't as simple as you might think. It all comes down to how much you can afford and what your personal preferences are.
You should know the difference between spending time relaxing and pampering yourself and getting these kinds of services in particular, as these are somewhat different. Although you might not be able to get the full services all the time, whenever possible, it might be a great idea to just get away and relax with a couple of friends.
Overall, anything inside the $100 to $200 price is considered decent, and as long as you don't want some special features or additional services, should be enough for a spa day.
https://www.thepricer.org/wp-content/uploads/2023/10/spa-day-cost.jpg
380
610
Alec Pow
https://www.thepricer.org/wp-content/uploads/2023/04/thepricerlogobig.png
Alec Pow
2023-11-05 06:43:22
2023-11-03 21:54:00
How Much Does a Spa Day Cost?