How Much Does a VTuber Model Cost?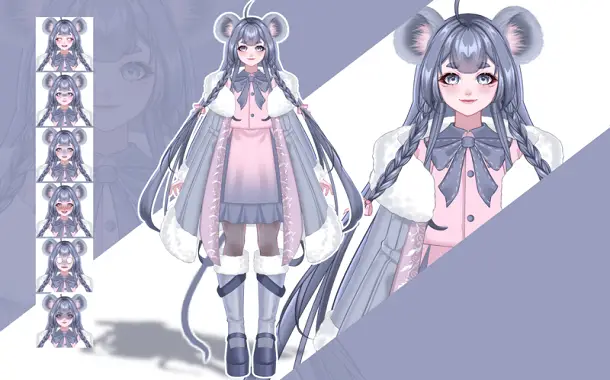 You may have heard of a VTuber if you spend a lot of time on the internet. VTubers are vloggers who appear as anime characters rather than their typical, everyday selves. They are not artificial intelligence, but rather humans with enough understanding to use software that generates anime characters and features them in YouTube videos.
A VTuber is a slang term for a "virtual YouTuber". It's the name given to a type of online content creator who uses a computer-generated avatar while broadcasting to their audience. They are mainly found on streaming and video-sharing services like YouTube and Twitch.
Building a character is an important part of becoming a VTuber. They develop a distinct personality and a way of communicating with their audience. This usually has an impact on the type of content they provide as well as their relationships with their audience. VTubers can be both male and female, adopt a variety of extraordinary traits, and blur the line between fantasy and reality.
Simply put, a VTuber is a word combination for a YouTuber or digital creator who uses a real-time digital avatar of some kind to replace a standard camera when going live in front of their fans.
How Much Does a VTuber Model Cost?
There are different types of VTuber models and each of these comes at a different cost. We will go over this in the following lines.
2D VTuber Model Cost
Plan on spending $320 to $8,500 for a 2D VTuber model. Depending on the details you want, you may have to pay a lot of money for a 2D VTuber model. If you want more body to be rugged and illustrated, you will have to pay considerably more. Also, the size will affect the cost and there are three different sizes you can choose from for a 2D VTuber model:
full body;
half body
bust (from the chest and above).
Custom 3D VTuber Model Cost
You should be prepared to pay $1,100 to $15,500 for a custom-made 3D VTuber model, depending on the artist's fame and the animation details and complexity you want for your model.
You might also like our articles about the cost of Korblox, TikTok roses, or Robux.
3D VTuber Model With Pre-Made Base Model Cost
As this is a mid-range Vtuber model, the 3D model with a pre-made base will not be that expensive. You will have to pay anywhere between $55 and $730 for it.
PNG VTuber Model Cost
The cheapest way to get into VTubing is by purchasing a PNG VTuber model. If you draw them on your own or use royalty-free images, this is practically free. Though, if you want to hire an artist for an illustration, a PNG VTuber model would cost you anywhere between $55 and $110.
VTubing overview
Most of the VTubers are Japanese and they often generate stuff in Japanese. These influencers, on the other hand, generally have a worldwide following. VTuber virtual avatars are often created to look like characters made in Japanese animated shows (in other words, they look like "anime" characters). As millions of people around the world watch anime, its audience has grown enormously outside of Japan.
Types of VTubers
3D VTuber Model
3D Vtuber comes with tons of cool features like customization panels to make your anime character look gorgeous and realistic. No need to expose your face; simply use a camera to empower your life skills while maintaining your anonymity.
More significantly, they offer a wide selection of VTuber 3D avatars and elements, as well as customization and painting, to ensure that your virtual live-streaming journey is creative and enjoyable.
2D VTuber Model
If you are looking for an anime-based VTuber streamer model, the 2D VTuber model is for you. Similar to the PNG VTuber model, the 2D model is first drawn in a program such as Illustrator or Photoshop, and after that, it is rigged by using software such as Live 2D Cubism.
2D VTuber models are used by most well-known VTubers such as Ironmouse, or by famous agencies such as VShojo, Hololive, and Nijisanji.
PNG VTuber Model
The PNG VTuber model is the basic option and all you need are only two pictures of your VTuber avatar. You can hire an artist to do these for you or you can draw yourself. One PNG picture must be of your VTuber model with its mouth open and another one with its mouth closed.
After that, using a free program such as Discord, animate your footage by switching between your VTuber model's mouth being closed and open to give the impression that your avatar is talking.
It is highly recommended to use a PNG VTuber model when you start your VTuber career, even though it may get boring for both the VTuber themselves and the viewers. This is the cheapest and easiest option to see if you like this activity.
How to Become a VTuber?
Here's a quick step-by-step guide to becoming a VTuber.
Set up your technology: Make sure you have a high-quality camera, microphone, and computer to record and edit your footage. You don't have to spend thousands of dollars. If possible, start with what you have and then upgrade your video equipment as you learn more.
Choose an avatar app: There are a lot of software platforms to choose from, so we recommend trying a few before choosing one. VRoid Studio, VRChat, and Hypermeet are some of the more popular platforms to look into. Many of them have free versions, while additional functionality may require payment.
Make Your Avatar: Creating your avatar is one of the most interesting aspects of being a VTuber. You can use 2d or 3d avatar software to build your avatar from scratch or change an existing avatar's skin color, eyes, eyelashes, and so on. Consider the long-term purpose of your VTube material while designing your avatar.
Create Your Channel: Where will you post your VTube creations? Although most of VTube's content is on YouTube, videos can also be shared on your website, Instagram, TikTok, or other social media sites.
Create a content calendar: Once you've decided on your avatar and channel, decide on the type of content you'll produce. While you don't need to upload new content every day, you should post regularly.
Make your first video: this is your moment to shine. Record the first video, then use the avatar program to convert it to an avatar and go live. Don't anticipate instant success; it takes months to get a YouTube follower count.
https://www.thepricer.org/wp-content/uploads/2023/07/VTuber-Model-cost.png
380
610
Alec Pow
https://www.thepricer.org/wp-content/uploads/2023/04/thepricerlogobig.png
Alec Pow
2023-07-07 06:13:13
2023-07-04 12:48:55
How Much Does a VTuber Model Cost?