How Much Does Daycare Cost?
You won't find a simple answer to this problem. There are multiple variables to take into account, and these are just a few of them:
How many hours a week your child spends in childcare
Your child's age
What type of childcare you choose
Where you live
The bottom line will be determined in the end mostly by where you live. Take St. Louis, for example, where Nanny care will cost a lot less than in Manhattan, and that is simply because St. Louis has a lower cost of living and so are most of the wages. And when you talk about daycare, in someone's home or in a center, you could notice prices that are double or triple per month in a big city compared to a cheaper area.
For the best prices, choose the type of daycare that you prefer and then look locally, check with friends or known caregivers near your home to determine the local prices.
Don't think that being your child's full-time caregiver will be way cheaper, there are costs that come with this situation too – one of the most important is the fact that it will be very hard to keep a steady job and take care of your child full time.
How much do daycare centers cost?
Childcare for babies and toddlers
A known fact is that if your child is a baby or a toddler, the daycare center will be more expensive. That's mainly because kids this age need a lot more care and the center must hire a bigger staff. The average cost of center-based daycare in the United States is $11,666 per year ($972 a month), but prices range from $3,582 to $18,773 a year ($300 to $1,564 monthly), according to the National Association of Child Care Resource & Referral Agencies (NACCRRA). Parents reported bigger costs that can go to $2,000 a month for infant care – in cities like San Francisco and Boston.
According to Care.com, the new data for 2022 in terms of daycare costs shows the following:
Parents have a very hard time paying for child care. It turns out that over half of all parents are very concerned about the rising costs of child care, especially considering current inflation issues. This makes most of them think about changing jobs, reducing hours at work, or taking a second job, as a way of reducing their bills. ​​
It's very hard for parents to find quality day care for their children. In fact, almost half of all parents consider it is a lot harder to find high-quality child care than it was just a year ago.
The overall costs of day care are higher for families in general. Around half of all parents have noticed an increase in the average cost of child care expenses of at least 20% of the total household income, and about three-quarters say they spend 10% more.
Some people spend more on child care than they do on college education
Oveer half of all the families in the US are spending $10,000 or more on child care every year, while the average annual cost of in-state college tuition is just over $9,300 according to EducationData.org.
In fact, all kinds of child care have become pricier than they were before the global pandemic
While just a few years before the cost of a nanny for one child was about $565 per week, nowadays it is closer to $700 per week, which translates into a monthly cost of $2,800. When it comes to day care or child care centers, the increase is from around $180 per week to over $220 per week, which takes the average monthly costs close to $900.
Family care centers on the other hand will cost around $175 per week, which takes the average child care cost in a family center to about $700.
The impact of rising day care costs
Over half of all parents needing child care have concerns regarding its costs. This led a lot of parents to consider cutting back on essentials, which also means making sacrifices and cutting back the fun- budget. So most parents will probably cut down on travel and vacations, leisure activities, new clothes, extracurricular activities, and eating out.
Some of them are also overhauling their work life and in some cases, their personal life. A lot of them have plans to make considerable work changes to account for the rise in costs. Among these plans are:
leaving the workforce entirely
changing jobs
reducing hours at work
taking on a second job
Top 10 most expensive states for hiring a nanny 
Also an Interesting Read, The Cost of Child Adoption
Picking a daycare center for your child can be tricky, especially if you live in one of the expensive states.
States that are on the top of the charts, with costs that can go over $10,000 per year for daycare, are the following: Massachusetts, New York, Colorado, Minnesota, Washington, California, Illinois, and Wisconsin.
On the other side, the least expensive states for childcare are Mississippi ($4,650 a year on average for an infant and toddler), Kentucky ($6,500), and South Carolina ($5,850).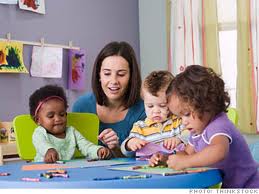 Childcare for preschoolers
In general, the daycare price for preschool-age children will be cheaper, with an average of $8,800 a year ($733 a month). You'll pay anywhere from $4,460 to $13,185 a year ($371 to $1,100 a month), depending on your local area.
The least expensive states for preschool-age care in a childcare center, with the cost of full-time care ranging from less than $4,000 a year ($333 a month) to around $7,000 a year are Mississippi, Kentucky, Louisiana, Kansas, Missouri, Oklahoma, Idaho, West Virginia, South Carolina, and Alabama.
Check Out The Price of Having a Baby
The most expensive states for preschool-age care in a childcare center, featuring costs of over $8,000 a year ($667 a month), beginning with the most expensive, are Massachusetts, New York, Minnesota, Wisconsin, Rhode Island, Colorado, and Pennsylvania.
To find out more about daycare options and costs in your area, contact your local Child Care Resource and Referral (CCR&R) agency. More than 850 CCR&R agencies throughout the country provide families with information about local childcare options and resources.
To find an agency near you, call the hotline at (800) 424-2246 or visit the Child Care Aware of America website
How can you save money on day care?
Although the cost of care continues to rise, there are a few steps you can take to reduce the expenses to a more affordable number.
Figure out your budget for day care
You will have it easier to move forward with picking the best child care option for your family and situation as long as you have a clear idea of what you can really afford. First off, try to figure out the current rates of the area you live in. There are online tools that offer you the information you need about the average costs of nannies, babysitters, licensed child care centers, or other family child care provider services near you.
Safe pre-tax dollars to use for childcare
There are some companies that have a Dependent Care account, which is an FSA, or flexible spending account. So make sure you get in touch with the Human Resources department to see whether this is the case in your company and if it is, what is the best way to get started. This account will enable you to save up to $5,000 in pre-tax dollars, going straight into that account, which can be used for dependent care costs.
Use any tax breaks or credits
You can take advantage of tax breaks and credits if you are willing to pay the caregiver on the books. You can itemize any child care costs on the federal income return. You might also be able to get a Child and Dependent Care Tax credit which is close to $600 per child.
The Child Tax credit also enables parents to save up to $2,000 per child.
Talk with your employer about care benefits
It might be worth it to check whether your employer offers any family care benefits, regardless of whether you want to utilize family leave or find help for adult care or child care. Even if they don't, you can still ask for programs to be made. They might be open to this idea, especially now, that times are harder for everyone.
Check out child care subsidies and programs
Your family might be able to qualify for one of the many cost-cutting child care subsidies. This will depend, of course, on many factors, such as employee benefits and your income range.
Should the average working Joe pay for daycare?
If both parents have full-time jobs or if you don't have enough time to take care of your child, then it should be a great idea to pay for daycare. If you don't have enough money to pay for daycare in full, then it could be a better idea to find a close relative to take care of your children, but be sure to pick someone you trust, a responsible person that knows how to raise children.
https://www.thepricer.org/wp-content/uploads/2014/06/day-care-costs.jpg
380
610
Alec Pow
https://www.thepricer.org/wp-content/uploads/2023/04/thepricerlogobig.png
Alec Pow
2014-06-08 12:56:50
2023-01-31 11:10:17
How Much Does Daycare Cost?