How Much Does Permanent Jewelry Cost?
Jewelry pieces will rarely go out of style, especially statement jewelry. When people find the right one for them, they almost never want to take it off. Permanent jewelry is the latest trend when it comes to accessories, featuring lavish-looking jewelry that requires little to no maintenance.
These welded chains are the latest iteration in the realm of forever jewelry like the Cartier lock bracelets. They are usually created in independent jewelry stores specialized in crafts, using a process that welds rings or dainty bracelets together, so they will never be removed. A tiny "jump ring" will be linked together by a trained welder to secure this custom-fit chain.
The maker of the trend is called Catbird and this whole thing was launched in 2004. But as you might know, there isn't a thing called permanent that won't come with pros and cons. We'll go over these as well as how much permanent jewelry costs.
How much does permanent jewelry cost?
Quality permanent jewelry usually costs between $100 and $200 for standard bracelets, based on quotes we received from online and physical stores. This can vary to quite a large extent depending on factors like the karat, the jewelry style, and the metal used. Necklaces and other bigger pieces can be more expensive, at about $185, while smaller ones like permanent rings will start at $55.
Is it safe to get permanent jewelry?
As long as you're going to a reputable place, these jewelry pieces are considered safe. Reputable brands like Catbird will include an in-person boot camp with your purchase, in which you will learn about welding the jewelry in a correct and safe way. You will usually notice a zapping, which is the flash of light you will see when the piece is welded. This is completely painless.
You might also like our articles about the cost of jewelry appraisal, jewelry engraving, or ring cleaning.
Don't be afraid of the permanent aspect, as although the bracelet is made to commemorate moments and represent permanence, it is made to be snipped off with a pair of scissors. Don't throw it away when you take it off, as it can be re-welded on for a small fee whenever you want to.
How long does permanent jewelry last?
So how permanent is the permanent jewelry actually? The name isn't as misleading as you might think, as many stores will tell you that the pieces can last forever. The metal you pick will influence how much it will last. To withstand daily tasks like showering or even swimming, most options are made in solid 14k gold.
It's important to know that gold and sterling silver are soft metals overall, which means they will relax over time, which is why it is very important to get the fit from the start and anticipate some wiggle room. A couple of centimeters should work.
For daintier chains, that are known to snag when too loose, this is even more important. It's always better to look for a store that includes at least one free reattachment with your purchase and has this included in their written policy.
What are the cons of permanent jewelry?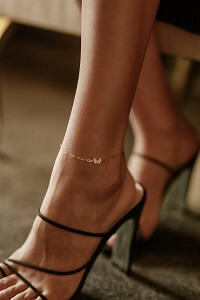 Be prepared for the permanent jewelry to be pretty hard to remove, unless you cut it off. This is why you should look for a piece that will fit into your routine of perfumes and lotions almost perfectly. Your pieces won't tarnish and should be well tolerated by any type of skin as long as you invest in quality metals and karats, like 14k yellow gold or 14 white gold.
You will risk triggering a skin reaction if you get jewelry made of high nickel materials, cheap alloys or materials, or base metals. A good sign of nickel allergy is getting a bumpy, itchy, or red rash after you try an accessory.
If you know yourself as having skin sensitivities, then it might be a good idea to avoid permanent jewelry, or at least get tested with a patch by an allergist before you buy a piece.
My wife has permanent jewelry and up until now, she had no issues going through security. MRI scans, on the other hand, can't be done with permanent jewelry on you, so you will have to have it removed before the scan. For these cases, most stores will have no issues welding it back after, for a low fee.
According to the official Catbird site, you should cut it carefully somewhere close to the small jump ring connecting the two ends of the chain. Use scissors to preserve the integrity of the bracelet as much as possible.
The most common route for most people is permanent bracelets, although permanent rings are more and more popular. While some stores say that it's ideal to zap anklets and necklaces, others say otherwise, so it will come down to what you and the store decide.
Our review of permanent bracelets
This jewelry is made especially for reckless people. It will be great for people who often lose jewelry or leave it in places like public bathrooms. This happens to a lot of people, which is why this jewelry seems to have a long life ahead.
The whole permanent jewelry is painless and includes figuring out a preferred placement of the braceless and how tight it is placed on the wrist, followed by signing a waiver.
The zapping process will only take around 20 minutes. For most people, the hardest part of the process is figuring out the best bracelet to wear forever. You will have a lot of types to go through, from chunky links to delicate gold chains.
It will take a lot of time for the solid gold piece to lose its brightness. Over time, you will probably notice some wear on the bracelet, which will depend on your daily activities while wearing it, but this is normal.
Permanent jewelry – final words
As with any fashion statement like getting a piercing or a tattoo, this permanence service will usually cost over $100. It's very important that you go for a substantial material for the piece, which although more expensive, will prevent you from getting a skin allergy, according to professional jewelry welders, jewelers, and dermatologists.
Substantial materials are also stronger, meaning they will last the test of time as well. These pieces are great for people who misplace jewelry a lot. They work great for those wanting a matching friendship bracelet with a friend or wearing simple pieces in general.
https://www.thepricer.org/wp-content/uploads/2023/10/permanent-jewelry-cost.jpg
380
610
Alec Pow
https://www.thepricer.org/wp-content/uploads/2023/04/thepricerlogobig.png
Alec Pow
2023-10-25 08:28:31
2023-10-19 08:12:25
How Much Does Permanent Jewelry Cost?