How much does warrior babe cost?
Last Updated on May 9, 2023 | Written by CPA Alec Pow
First Published on April 1, 2023 | Content Reviewed by

CFA Alexander Popivker
This past global pandemic and the restrictions it caused have forced people to move a lot of their tasks into the digital world. For people that work out regularly, while gyms were closed, a lot of virtual workout programs have blown up, and among the ones that reached a decent following is Warrior Babe.
So what is all this fuss about? Warrior Babe is advertised as one of the best online fitness programs that started to offer online services during the lockdown.
This post will go into detail about Warrior Babe and its costs, which would be great for you especially if you consider subscribing to Warrior Babe. Of course, with all the available choices, it isn't easy to go for the right online workout program for you. There are a lot of factors you should consider before going for that perfect swimsuit body.
So let's find out how much the Warrior Babe program costs and what you get for the money.
How Much Does the Warrior Babe Program Cost?
The Warrior Babe program is known as the Blueprint and costs $1,497, but the program also has a VIP version, which will be considerably more expensive and will include 12 1-on-1 sessions with the program's creator.
Based on our research with the help of some of our users, the price of the Warrior Babe VIP Program is between $2,000 and $6,000 depending on the length of time you commit, with 3-month memberships being priced at $2,000, 6-month memberships at $3,500, and 12-month memberships at $6,000.
When paying for the blueprint, you will get online access to a 7-module course with action worksheets, live Q&A calls, and a community of strong women. The program is designed to help you understand how you can get control of your body composition with the help of micronutrients and exercise, from the ground up.
Overview of WarriorBabe
The WarriorBabe program is designed in several parts, each of them made to teach women general aspects of how their bodies work and respond to different types of exercises and diets. You can cover the seven weeks of the material provided by the WarriorBabe Blueprint on your own time by scheduling the worksheets and live Q&A calls.
Becoming an active member of the program will mean that you will have to watch those videos and then go through the actionable items that have to be completed. You will also gain access to all kinds of valuable templates and tools that you can use to reach success. Among the pros of the program is that if you follow the steps, you will see results as you go and you will be able to ask questions about different parts of the blueprint.
The program will enable you to get lifetime access as well as expert mentorship that can be used to reprogram your brain so that you can actually get to those high-performance levels that seem so far away. The Warrior Babe Vip program, on the other hand, will offer some additional benefits like WarriorBabe videos sent to your account or phone and WarriorBabe meal plans.
Is this Program Effective in Helping You Achieve Your Fitness Goals?
Of course, with any fitness program, its most important aspect after the financial one is whether or not it is effective in helping you reach your fitness goals, whatever they are. Regardless of whether your goals are to build muscle or lose weight or a combination of both, this is just one of a whole bunch of online programs that promise amazing results.
You might also like our articles about the cost of Club Pilates, iFit, or Anytime Fitness.
If your goal is getting a physically fit body and looking better than ever, then this program might be for you. It is designed to help you become a better version of yourself, by controlling your body, using 4 different approaches.
Pros of WarriorBabe
This program already has an active community that you can go to for quick answers to your questions, something that many workout programs lack. It also features regular live sessions where you can get in contact with other women enrolled in the program, to get specific answers and talk about workouts and meal plans. This comes as a bonus as you won't feel the pressure of going through the program and reaching your goals independently, making the program a lot more fun.
The actual content of the course can be found on the official WarriorBabe website, so you can understand:
How to ask for expert help when setting the goals of the process, so you grow your chance of success
How much time each module will require
What you'll learn each week
Each module will have the time needed for completion listed, so you know how long each part of the course will take, right from the start. The combination of expert mentorship when needed, active community, and online content will enable its users to learn in a way that is personalized to their specific needs.
Cons for WarriorBabe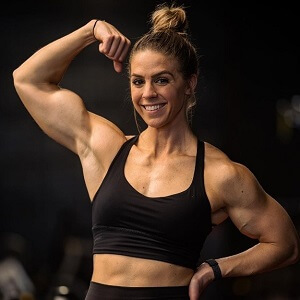 So what would be some of the most important drawbacks of the WarriorBabe program? The first bad thing about the program that people notice is that you will have a rather hard time finding the cost of this program, as they avoid listing it anywhere, and they require your name and email to send you any free materials or information.
Before you apply for the Warrior Babe program, you will be required to go through an introductory questionnaire that has 20 different questions. This questionnaire is meant to give them a better idea of why you are starting this program and what are your food, exercise, and general looks-related struggles.
It shouldn't take too much time for you to answer all of the questions and they aren't invasive in terms of personal information, so this should be a rather simple process. Ocen you finish up the questionnaire, you will receive an invitation for a free session call so you can set up a strategy, but this won't guarantee you a spot in the program, unless they know they can offer you the needed help. According to old customers, only about 20% of the applicants will move to the next phase of the program.
How Good is WarriorBabe?
Going to the official WarriorBabe Youtube channel you'll find a few videos with interviews of real users that talk about the essential part of the program and their individual experience after joining.
The program also has three different WarriorBabe Facebook groups, all run by the founder of the system, Nickiey Stott, featuring a few thousand members. WarriorBabe Blueprint group has around 2.700 members, and is currently the most active of them, with roughly 80 posts per day.
Although the program doesn't have any Facebook reviews, there are some people talking independently, not all of them having only positive words to say about it. As you'd expect, the Warrior Babe website has a lot of positive reviews, made by women on all fitness levels and of all ages.
Aside from this, you will have a hard time finding anything about the program, especially since they spend a lot of time screening prospective clients.
WarriorBabe FAQ
What Does Warrior Babe Workout Include?
The Warrior Babe workout is designed to include HIIT training, lifting, and cardio, perfectly split over the course of a week. The program will be designed for you individually, based on your particular goals and needs.
Is Warrior Babe real?
Yes, Warrior Babe is a real person, called Nickiey Stott. She has a youtube channel where she interviews her clients so they can talk about their experience with the program. If you aren't sure about the program, you can also check out the Facebook page to see some of the reviews of the women.
How do I cancel Warrior Babe?
You can cancel your subscription to the Warrior Babe program, products, or services at least five times before your next billing date. To do this, you will have to send an email to support@warriorbabe.com with a cancellation request.
What is Warrior Babe VIP?
The Warrior Babe VIP has been designed as a better version of the blueprint and is comprised of a 12-month 1:1 personal training program that will be designed to perfectly meet your specific needs. It will enable you to work with a coach that will design a plan that will include exercises, macronutrients, and any other needed adjustments, so you can reach your fitness goals as fast as possible.
https://www.thepricer.org/wp-content/uploads/2023/04/warriorbabe-program-cost.jpeg
380
610
Alec Pow
https://www.thepricer.org/wp-content/uploads/2023/04/thepricerlogobig.png
Alec Pow
2023-04-01 14:25:21
2023-05-09 05:24:10
How much does warrior babe cost?