Jiffy Lube Brake Pad Replacement Cost
You surely heard about Jiffy Lube, as they are among the top businesses out there to offer oil changes. This is a company that is known to use only the most highly trained ASE-certified technicians that are able to perform brake pad replacement for any type of vehicle, regardless of its make or model.
How Much Does a Jiffy Lube Brake Pad Replacement Cost?
The basic Jiffy Lube package for brake pad replacement alone costs around $225 per axle, on average, or around $450 for a complete brake replacement job. This cost includes the labor, although getting a "signature" brake package will easily cost $299 per axle, if not more.
The final cost for brake pad replacement at Jiffy Lube will depend on factors like the exact pad package you go for, the car you are driving, your location, as well as any additional repair and whether or not you're taking advantage of one of their promotions.
A thread from the SubaruOutback forum had one member talking about getting charged $277 for a ceramic pad upgrade, as well as rotor and front brake service at the local Jiffy Lube shop. Keep in mind that this price was for the front brake pads alone.
You might also like our articles about the cost of AC recharge at Jiffy Lube, brake pads replacement by an independent mechanic, or the price of brake bleeding.
One Jiffy Lube location based in Indiana is offering the basic brake package for a price of $249 per axle. This is according to the prices they posted online through their official channels.
| | |
| --- | --- |
| Online reports on services | Price ($) |
| Pads, shoes, and rotors (minus inspection) | 420.56 |
| Pads, rotors, and drums | 687.5 |
| Pads, wipers, and premium oil change | 540.1 |
| Front pads only | 242 |
Any additional expenses related to the brake job?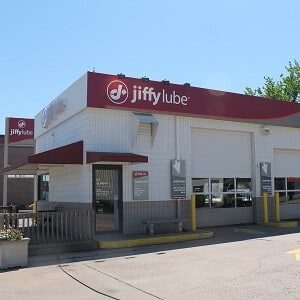 The technician can find other problems that need to be addressed, in addition to the need to replace the brake pads, such as replacing the rotors and/or calipers. If this were the case, they may find out that your brake pads are coming in contact with the rotor because it is so worn down. If your braking system reaches this state, if you're not fixing it, it might lead to an accident. Depending on your vehicle, replacing rotors can cost over $450.
While the brake calipers are designed to last about 100,000 miles and work well with your car's rotors when it comes time for them to stop your vehicle, at some point they might need replacement as well. If some symptoms of damage appear such as a grinding sound or if you feel like your brakes aren't stopping as quickly anymore then these parts may need replacing before they completely break down.
The new rear discs and calipers cost anywhere from $50 to over $450 on top of the brake repair cost, depending on the vehicle. Unlike pads that need to be replaced in pairs as they wear away, these parts can be repaired so you don't have to buy a replacement set every time one wears out.
What should be included in the price?
Before a technician will repair any brake problems, they will first perform an in-depth inspection of the linings and other brake system-related components. They'll go over the complete findings with you and make recommendations for repairs based on both manufacturer specifications as well as current component conditions. In most cases, the full inspection process is free at the shops that we managed to talk to.
Most of the Jiffy Lube locations will offer two different packages for brakes. The basic package includes just the brake pads and rotors, while a signature package offers more than what you would find in a basic one, including fixes for other parts of your braking system, like brake fluid exchange and a cleaning.
Jiffy Lube also offers a Nationwide Limited Warranty that starts the day of replacement and lasts for 12 months or 12,000 miles just like their oil changes, according to their official website.
Some mechanics will also rotate your tires and replace brake pads for free in most of the locations.
Any way to spend less on brake replacement?
Before heading to the closest Jiffy Lube, be sure to look for any deals online or in local newspapers.If you're looking for a cheap brake job, then keep in mind that this company posts coupons often on their website and you can find one to save $25 for brakes or rotors currently in the California area.
Always check the prices of brake pads at your local mechanic and dealership before choosing Jiffy Lube since you may find that some independent mechanics will be considerably cheaper than branded locations. A brake pad replacement is also pretty straightforward – most professionals will give you an estimate over the phone without even needing you to go there for an inspection.
https://www.thepricer.org/wp-content/uploads/2021/07/jiffy-lube-brake-pad-replacement.jpg
380
610
Alec Pow
https://www.thepricer.org/wp-content/uploads/2023/04/thepricerlogobig.png
Alec Pow
2021-07-03 22:05:03
2023-05-13 13:23:03
Jiffy Lube Brake Pad Replacement Cost