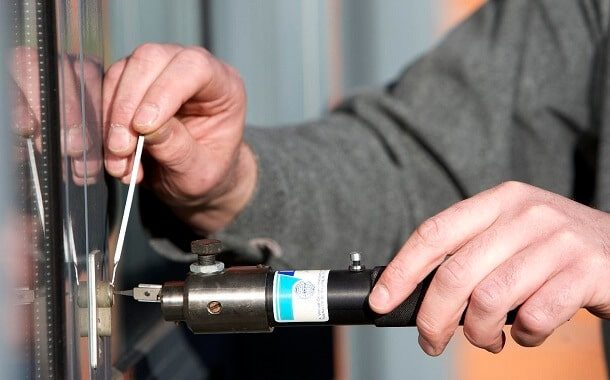 If you have ever found yourself locked inside or outside of your home or office, then you understand the importance of a locksmith. But how much will locksmith services cost?
The cost of a house call made by a locksmith will differ based on several factors like the time of day, the lock type, your location, and more, but as a minimum guideline, you'll spend at least $40 to $200. If you're living in a high priced area and need a locksmith on holidays, weekends, or late at night, expect to pay $175-$300 or even more. Check with the locksmith to see what services will be included in his house call price, because some have a minimum low price per house calls and different costs for each additional service you'll need (for example for lock drilling or replacement), while others charge a standard price for lock-out, regardless of the amount of work required.
You will spend around $1 to $5 to have one of your keys copied if it's a standard one and around $2 to $25, if not more, for specialized or harder to reproduce pieces. Keys used to start a vehicle, especially the ones that have an incorporated chip, will cost $50 to $175 or more, depending on the vehicle.
If you need someone to come to your home and make new keys for your door locks, you will spend around $45 – $120, plus an additional $5 – $25 for each lock cylinder.
For services such as installing the locks that you supply, most locksmiths will charge you at least $35 to $100, if not more.
Should all locksmiths have licenses?
The licensing requirements for locksmiths are very different across states, but all states have some sort of license for locksmiths. In some states, they are even required to pass an exam in order to practice. Look for a locksmith that has insurance on their work, to make sure that anything they break will get fixed. Also look for a locksmith that has professional tools, as they will be vital for a clean and fast fix.
Pick a locksmith only after you've asked as many as possible about their rates, to be sure you pay as little as possible for the most professional services.
If you're locked out of your car, when calling a locksmith, be sure to give them as much info as possible about the type of car, make and model, to be sure they come prepared with everything they need to open it.
Especially when your car is expensive, be sure to get a locksmith that is insured and ask if any fees will apply at the hour of your call.
Don't let the locksmith start working until you see an ID and work license. Try to avoid locksmiths that seem to work in a deceptive way or in a wide-ranging area. Many thieves will pretend to be locksmiths just to get a copy of your house or car keys.
Should the average working Joe call a locksmith to open his car or house door?
Locksmith services are usually affordable and will cost less than replacing your door or fixing possible damages that you'd create when trying to fix the problem yourself, so we definitely encourage you to call a locksmith instead of tackling the problem yourself.
https://www.thepricer.org/wp-content/uploads/2016/09/locksmith-services-cost.jpg
380
610
Alec Pow
https://www.thepricer.org/wp-content/uploads/2023/04/thepricerlogobig.png
Alec Pow
2016-09-08 03:57:40
2020-08-15 21:27:29
Locksmith Cost