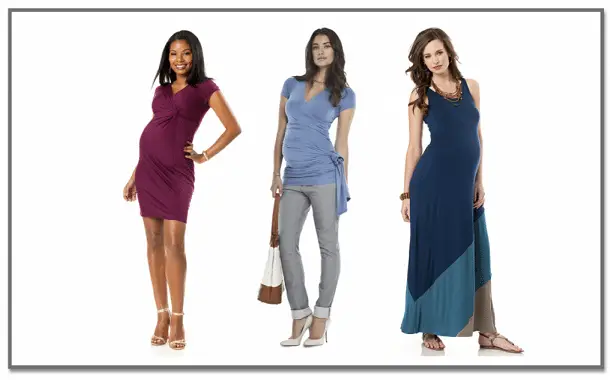 Pregnancy puts in difficulty a woman's body, through numerous changes, most obvious being the weight and waist increase. Body changes also mean changes in the closet, in your wardrobe, but it doesn't mean you can't have a fashion sense anymore. Maternity clothes can still reflect your personal style. With maternity clothes tailored to today's trends, you can keep up with fashion.
Maternity clothes give a pregnant woman the comfort and space they need when their belly grows and at the same time helps them keep the style. Maternity underwear is essential for pregnant women because they add support for enlarged breasts and for on the growing uterus. As the baby grows, the weight puts pressure on the back leading to backache which can be relieved using a "sleeve belly", maternity belt, or supportive underwear, going over the stomach till under the breasts. Maternity dresses, skirts, tops are designed according to fashion trends for functionality and comfort.
Types of maternity clothes
Women are of all shapes and sizes before pregnancy, so therefore maternity clothes also vary in size and length to suit all types of bodies. There are mini, medium, and tall lengths and small, medium, large and extra-large sizes. In addition, there are maternity clothes also for larger women. You should buy your maternity clothes depending on your size before pregnancy. This rule applies to dresses, tops, skirts, and stockings.
Looking to avoid pregnancy? Check out how much does Plan B cost, just in case.
Typical costs:
You can find inexpensive maternity clothes for about $6 to $20, at discount stores such as Wal-Mart.
A medium price for this type of clothes is around $20 to $40, per piece, at JC Penney.
High-priced maternity clothes start from $100, a single piece, at a designer boutique.
Additional costs:
For a maternity/nursing bra expect to pay a low price of about $12-$22 and a high price of about $30-$38.
You can find bikinis, thongs, and briefs separately at $6 to $9.50 each or in packages of three and four from $10 to $16.
The average price for maternity sleepwear is about $38-$88 while an expensive one is about $55-$125.
The average price for maternity swimwear goes from $68 to $88.
Do you think this is expensive? Check out how much does it cost to have a baby
Maternity dresses are spacious, but they often have tucks to be more appealing. Maternity tops are longer and wider to provide maximum coverage and to hide the belly. Skirts, long pants or shorts, have elastic on both sides, or a material tape of mixed spandex so it will allow expansion around the waist. Pants and jeans can be worn as normal clothes after pregnancy. The only difference is the elastic area from the belly, in order to rest comfortably.
During the first trimester, you may be able to continue wearing pre-pregnancy clothing. A tummy sleeve worn on the waist can keep them in place if you are unable to fix them. Once you have reached the fourth month, you will go to maternity clothes, which will fill up later. These things are very useful because your belly will grow. Maternity clothes are created to grow with your body so you're not forced to buy a new wardrobe every few weeks. The clothes should allow you to wear them for 40 weeks and can be worn also after pregnancy.
Should the average working Jane buy maternity clothing?
Seeing that pregnancy is hard on women and maternity clothes are usually inexpensive, you should buy them, to add a little comfort to your life.
https://www.thepricer.org/wp-content/uploads/2015/03/maternity-clothes-cost.png
380
615
Alec Pow
https://www.thepricer.org/wp-content/uploads/2023/04/thepricerlogobig.png
Alec Pow
2015-03-25 00:13:54
2021-05-12 21:20:49
Maternity Clothes Cost