Oak Hill Country Club Membership Cost
The Oak Hill Country Club is a historic golf club, located in Pittsford, New York, that originally started as a nine-hole course in 1901. By 1905 it had grown to 18 holes and became one of the most famous clubs for both professionals at that time as well as amateurs.
Their courses do not exist anymore these days because the club changed land with the University of Rochester. The golf course architect, Donald Ross was hired to build two 18-hole courses on the 335 acres: East and West. These famous layouts have been a mainstay of club membership ever since they were first built in 1924.
How much does an Oak Hill Country Club membership cost?
According to online sources, expect to pay anywhere between $78,000 and $100,000 for the initiation fee at this club. The annual fees are determined by your membership choice and may vary anywhere between $10,000 and $27,000.
There are various types of membership at Oak Hill. The initiation amount is based on what age you are, with the younger memberships being cheaper than those for older people.
A member of a Reddit.com forum thread, who stated to be the son of a club member, said that the initiation fee is almost $100,000 and the members have to pay a minimum monthly fee for food and beverages. On the same site, a member, who is a junior member of Oak Hill Country Club, said that he paid $63,000 to join and the dues per month are $1,000. He had to pay no minimums.
According to a member of the HuntingNY.com forum, the initiation fee for a senior member is $65,000 and the monthly costs are around $1,000.
What are the extra costs?
If you want to invite somebody to this club you should take into consideration the guest fees.
Caddy and cart fees are also applied.
Usually, special events are organized every month and these have an extra cost, depending on the type of the event.
During the year tennis camps are held for an extra fee.
Important things to consider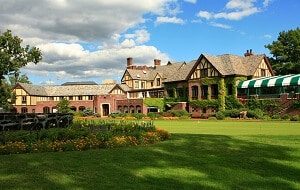 Oak Hill is a stunning, luxurious club with a membership that includes free access to their Clubhouse. The 72,000 square foot space houses ten rooms available for events, both social and professional.
In the year 2015 Golf Digest named the East Course one of America's 100 Greatest Golf Courses.
The golf season begins in late April and runs through the middle of September.
This clubhouse has a strict dress code, so be sure to follow its rules and regulations. Check out the website page for more information.
Besides the two golf courses, this club offers tennis and swimming options. They also have a dining area with many delicious foods.
Other amenities include a fitness center fully equipped with cardio machines, a strength conditioning circuit, power plates, and dumbbells. There is also an 8-lane bowling alley that offers both women's and men's leagues and is available for private events as well.
The private club is a place where rich traditions are kept alive. In keeping with these richly-traditioned memberships, the doors to this exclusive club only open for those invited and the club is available to a limited number of people at any given time.
To apply for membership, a candidate must be sponsored by three Senior members or two seniors and one junior member of the Club. The sponsors serve as liaisons between the club and potential new recruits.
The Oak Hill Country Club is a beautiful golf course that has been host to some of the most important tournaments in American history including the U.S. Open, the U.S. Senior Open, the PGA Championship, the Senior PGA Championship, and the Ryder Cup.
https://www.thepricer.org/wp-content/uploads/2021/09/Oak-Hill-Country-Club-membership.jpg
380
610
Alec Pow
https://www.thepricer.org/wp-content/uploads/2023/04/thepricerlogobig.png
Alec Pow
2021-09-27 08:02:38
2021-09-27 08:02:38
Oak Hill Country Club Membership Cost