Panoramic Dental X-Rays Cost
Until a few years ago, whenever the dentist sent us to get an x-ray, we were subjected to a lot of radiation, it was an awkward process that took a long time and did not come out properly all the time. We now have the option of a panoramic dental x-ray. It is easy to do and with less radiation.
It is an investigation method that allows the overall visualization of the dentition and the surrounding elements such as the maxillary bone and mandible, the maxillary sinus, and the temporomandibular joints. It represents a slightly distorted image, resulting from the projection of a three-dimensional body on a plane (two-dimensional).
This x-ray does not provide accurate and detailed information about every tooth or soft tissue (muscle). It is generally used as an initial assessment.
How Much Do Panoramic Dental X-Rays Cost?
Without insurance, the average cost of a panoramic dental x-ray is anywhere between $85 and $240. In case the panoramic dental x-ray is combined with a dental exam, the cost of the complete package is anywhere between $135 and $260. If you have health insurance, check with the company to see what costs are covered because in most health insurance policies the dental riders are optional.
According to Right Smile, the price of a panoramic dental x-ray is $110 to $210, but with new practices, the radiography may be combined with a cleaning, reducing the costs considerably.
The price paid for a panoramic dental x-ray can be three to five times more than the traditional bitewing x-ray series, according to PlacidWay. For example, you would pay around $45 for four bitewings, while the price for the full mouth series would be almost $260.
Panoramic dental x-rays details
The stages of making a panoramic radiograph:

When you enter the room with the equipment, you will be asked to remove all metal objects you wear (jewelry, glasses, clips, etc.);
You will be given a lead apron for protection;
The radiologist will help you position yourself correctly. You will stand with your back as straight as possible and your chin will be positioned on a straight surface. To ensure the correct position you will need an object between your teeth and hands on the handles of the appliance;
The radiologist will leave the room and the device will rotate around the head for 15-20 seconds. You will not feel any pain or discomfort;
You will then be guided outside the room where you will wait for the results for a few minutes.
What are the extra costs?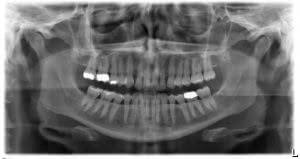 The dentist will recommend an emergency procedure or a future procedure if the x-ray reveals that there are areas that require intervention. In this situation, the costs will depend on the required procedure. A panoramic dental x-ray can show problems like tumors, jaw disorders, periodontal disease, sinusitis, impacted teeth, and cysts. The oral surgeon or the dentist will want to intervene immediately if any of these problems are present.
You might also like our articles about the cost of X-ray/Radiology Technician school, wisdom teeth removal, or cavity filling.
If a panoramic dental x-ray does not provide enough information and a more thorough evaluation is needed, your dentist may recommend that you have a CT scan or MRI (Nuclear Magnetic Resonance).
Good to know
When the dentist recommends you get this type of x-ray, he does it for the following situations:
Evaluation at the beginning of treatment – mandatory for procedures such as Sinus Lift;
Visualization of the wisdom tooth;
Observation of possible mandibular or maxillary bone fractures;
Evaluation of the periodontal structure and the supporting bone structure;
Uninterrupted bone or tooth damage;
The need to install a classic or invisible dental brace;
Before treatment with dental implants to assess bone height.
The panoramic dental x-ray subjects you to a small amount of radiation (90% less than the classic x-ray), lasts a short time, and does not cause discomfort.
Pregnant and breastfeeding women would be advised to postpone this procedure, especially if they are in the first trimester of pregnancy, even if the irradiation is located in a small area.
How many times a year can you perform a panoramic dental x-ray?
Regular visits to the dentist every 6 months may include a panoramic dental x-ray. Also, during a complex dental treatment, the doctor may recommend performing several control dental radiographs to ensure the correctness of the intervention. However, dental x-rays should not be a routine for adults, much less for children. These are done only on the recommendation of the dentist, when necessary, depending on each individual's needs.
How can I save money?
Often, first-time patients receive discounts from the dentist offices, so look for a clinic that offers these types of benefits to its clients.
There are health insurance companies that would cover the costs of this x-ray 100 percent, so check with yours beforehand.
https://www.thepricer.org/wp-content/uploads/2021/11/Panoramic-Dental-X-Ray.jpg
380
610
Alec Pow
https://www.thepricer.org/wp-content/uploads/2023/04/thepricerlogobig.png
Alec Pow
2021-11-20 07:12:01
2023-09-12 17:14:46
Panoramic Dental X-Rays Cost