Information is probably the most valuable thing today. Every company, large or small, every natural or legal person, and any existing entity, regardless of its importance, circulates information relevant to the activity it carries out. This information can become, in a very short time, a vulnerable point for any company, if it ends up in the possession of people who do not have very noble goals, such as competitors or those who use information in exchange for material benefits. Therefore, the information is very well secured, especially those papers that may prove to be a vulnerability, such as written and printed documents.
Any information on these documents, which is important to a company, should never get into the wrong hands, so most companies will usually resort to the process of destroying the documents when they become no longer necessary and relevant to the administration. Destruction of archived documents or documents that lose importance to a company is essential for informational security.
You might also like our articles about the cost of a forensic accountant, your personal data, or your vote.
As it would take hours or even days to get rid of the large piles of paper with a typical household shredder, some companies have appeared that offer shredding services and destroy the documents within minutes.
How Much Does a Shredding Service Cost?
The price you are going to pay for a shredding service will be influenced by a few factors such as the company performing this service, whether you are on a recurring contract, the amount of paper that has to be shredded, and your geographical location. If you think about using a commercial service, plan on spending around $1.25 per pound or anywhere between $45 and $110 per bin, which is in general the size of a garbage can.
According to the Angie's List website, you should expect to pay anywhere between $110 and $160 for a one-site visit and the costs may drop to $50 to $80 per visit if you agree to a recurring contract.
In the table below you will find the prices charged by some of the most popular companies in this field for the shredding service.
Company
Average Price
UPS
$1 per pound
Staples
$1 per pound
Shred-It

$10 per box if you bring it to their location.
$130 per bin if off-site
$160 per bin if on-site

ProShred

$25 to $30 per 50 pounds if you bring it to them.
$90 per bin and $40 per additional bin if they come on-site

Office Depot
$1 per pound
Iron Mountain

$10 per box – on-site with their own paper shredder, but keep in mind that there's a 300-pound minimum
$100 per bin and $40 for each additional bin brought to their premises.

FedEx Kinkos
$0.79 per pound
Shredding service details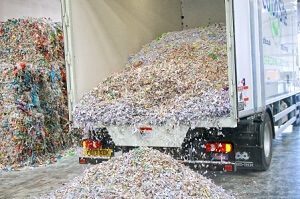 In general, shredding companies will charge by the "bin" or by the pound, as you could observe in the table above. Often, the size of these bins is the size of a garbage bin that you could set on the side of the curb. For instance, the size of the Iron Mountain bin is 25 inches wide and 42 inches tall. The majority of the companies that are specialized in this service will come to your location to pick up the paper that has to be destroyed and take it back to their business center, or they will bring the equipment to you and shred the documents on-site.
During our research, we found that if you would like to bring your documents to a retailer like Office Depot or Staples, they might work with Iron Mountain for pickups. So, in this situation, your papers will be stored in a secure box for a future pickup date, and not be shredded on the spot.
What are the extra costs?
There are companies that have hidden fees, on top of the price estimates we presented above. These may include the rush job fees, the administration fees, the carton retrieval fees, or the late fees. This is why you have to carefully read the contract before signing it.
Important things to consider
There are contractors that charge a minimum fee, so it is a good idea to ask about it beforehand.
How can I save money?
It will always be cheaper to bring the paper you have to destroy to the company instead of having them pick it up.
Take into consideration buying your own shredder if you have to destroy a small number of documents from time to time. Plan on spending around $60 or even more for a good-quality shredder.
There are companies that encourage recycling and will actually pay you to give them the paper you don't need anymore. All you have to do is to put the paper in a container they will give you and once this is filled call them to come and pick up the paper. However, this is not a solution for those who have confidential documents.
There are communities that organize free shred events for their residents. You can take advantage of this free service if you have a valid ID.
Before considering a local franchised chain look for coupons and discounts. For instance, Office Depot offers discounts on shredding paper from time to time if you print the coupon on their website.
https://www.thepricer.org/wp-content/uploads/2022/03/Document-Shredding-cost.jpg
380
610
Alec Pow
https://www.thepricer.org/wp-content/uploads/2023/04/thepricerlogobig.png
Alec Pow
2022-04-04 06:13:44
2022-04-01 05:14:30
Shredding Service Cost