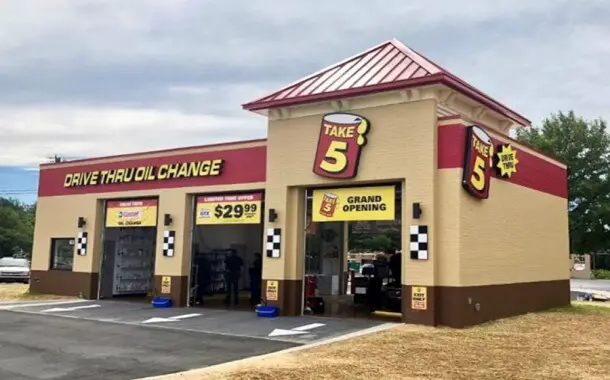 In response to a very big boost in the vehicle industry, in 1984 was opened the first Take 5 location. It was a way for the people behind Take 5 to capitalize on the need of individuals for routine maintenance, as more and more people continued to buy vehicles.
Take 5 prices are reasonable and the locations offer oil changes that are not only affordable but also completed quickly. Each location attempts to get the oil of your vehicle changed in approximately five minutes, though sometimes the oil change can take slightly longer if they notice any potential vehicle problems that they need to discuss with the vehicle owner.
How Much Does a Take 5 Oil Change Cost?
As you surely know, The company offers services meant to save time for their customers. So how are they priced compared to other businesses offering oil changes?
Compared to their main competitors, Take 5 locations offer affordable, although somewhat bigger prices. The cost of a conventional oil change at Take 5 is somewhere around $45, while synthetic oils start at around $60. These rates will still vary based on your location.
There are other businesses that either offer discounts that will push the costs below the ones provided by Take 5 or have lower prices right off the bat. But the advantage of getting your oil changed by Take 5 is the guaranteed fast service, which will surely make the few extra dollars worth it.
Take 5 Oil Change Prices:
| Oil Change Type | Price |
| --- | --- |
| Conventional Oil Change | $45 |
| High Mileage Oil Change | $65 |
| Synthetic Blend Oil Change | $70 |
| Full Synthetic Oil Change | $85 |
Why Is It Called Take 5 Oil Change?
Initially, it wasn't called the Take 5 shop. When it was first founded in 1984, the first store to be opened was called Rapid Oil Change. The initial title was really appropriate, as the company tried to offer oil changes that were as quick as possible, to accommodate the big number of drivers all around the country that wasted a lot of time on general maintenance.
They kept this goal till the present times. Take 5 also rolled out another feature called stay-in-your-car oil change. The service promised customers not only to have their oil changed in under 10 minutes, but also to enable them to stay in the car while it is done.
The concept became a big hit all around the US. It didn't take long for all Rapid Oil Change locations to adopt this speedy model. From there on, it was only a matter of time for the company to change its name to Take 5.
What Kind of Oil Does Take 5 Use?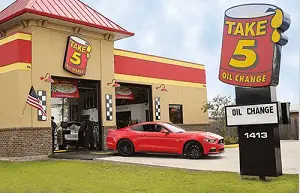 If you know a thing or two about engine oil, you surely have some preferences for oil brands. Take 5, as a brand that respects itself and its customers, has recommended brands of oils. The official Take 5 website lists Shell Rotella and Mobil 1 as the brands they prefer.
You might also like our articles about the cost of Walmart oil changes, oil changes in general, or oil leak repairs.
This company brokered a deal with a lubricant distributor called Reladyne in late 2022. This deal enabled Take 5 to offer two new products: The Drydene and the DuraMAX. Quick Lube Owners named DuraMAX the best-selling motor oil blend brand in 2018.
Considering that other businesses will have you waste about an hour to have an unscheduled oil change, the fact that Take 5 can do the same job in about five minutes is very convenient for anyone. At the moment this article is written, the Take 5 oil change prices start at about $45 when using conventional oil.
Before the technician will go ahead with the oil change services, they will go over the amount you will have to pay and the alternatives you have in terms of oil types. The price will likely depend on the type of oil, but also on vehicle mileage, as there are high mileage oil change options.
The price is set for an amount of five quarts of oil, as this is what the average vehicle will need. If you have a vehicle that will require more than those five quarts, then the oil change at Take 5 will be charged around $5,99 more per each quart needed additionally.
As soon as the technician will finish with your oil change, they will check your air filter, windshield wiper, and even tires, at no additional cost.
Is Take 5 Oil Change Worth It?
Take 5 has a business model that managed to leave the entire auto industry speechless. It helped the shop move from the local chain status to an internationally franchised business.
With a little research, you will surely find oil change shops with lower prices or great discounts for the service. But Take 5 still attracts customers with its unique approach an focus on convenience and speed.
https://www.thepricer.org/wp-content/uploads/2023/04/take-5-oil-change-cost.jpg
380
610
Alec Pow
https://www.thepricer.org/wp-content/uploads/2023/04/thepricerlogobig.png
Alec Pow
2023-04-07 16:26:35
2023-04-07 16:26:36
Take 5 Oil Change Cost