The EpiPen is a sterile solution in a pre-filled pen for emergency injection into the muscle (intramuscular).
The EpiPen is used for the emergency treatment of severe allergic reactions (anaphylaxis), caused by allergens, for example, food, medicine, insect stings or bites, or induced by exercise or unknown causes. EpiPen injection pens are intended for immediate administration in patients who present a high risk of anaphylaxis, including people with a history of anaphylactic reactions.
The active substance contained in the pre-filled pen is adrenaline, which is an adrenergic medicine. It acts directly on the cardiovascular (heart and blood circulation) and respiratory (lungs) systems, counteracting the potentially lethal effects of anaphylaxis by rapidly constricting blood vessels, and relaxing chest muscles to improve breathing and heartbeat.
How Much Does an EpiPen Cost?
You can find in pharmacies brand-name EpiPens at an average cost of $700. However, the generic versions, commonly known as epinephrine auto-injectors, are sold at half price. This high-cost drug is used to treat severe allergic reactions.
You should have health insurance that offers full coverage of EpiPens if you are facing severe allergic reactions.
The cost of epinephrine auto-injectors is covered by 98% of Medicare prescription drug plans, but most of these plans have quantity limits that restrict the amount of this drug you can purchase at one time. It can cost up to $165 for only one auto-injector, even if you already met your deductible.
EpiPens and the generic versions can be bought from your local pharmacies, but you will be required to get a prescription from your doctor. In general, these are not available over the counter, especially if you purchase the brand name EpiPen.
Usually, the epinephrine auto-injectors come in a pack of 2, that contains 0.3 mg of epinephrine. This dosage is recommended for patients who weigh 66 pounds or even more (30 kilograms or even more).
In the table below you will find the average prices of Epinephrine auto-injectors you can find in pharmacies.
| | | |
| --- | --- | --- |
| Pharmacy | Cost of Generic Version | Cost of Brand Name EpiPen |
| CVS | $375 | $750 |
| Duane Reade | $360 | $720 |
| Kroger | $400 | $800 |
| Price Chopper | $450 | $750 |
| Rite Aid | $600 | $820 |
| Stop n Shop | $700 | $780 |
| Walgreens | $360 | $800 |
| Walmart | $350 | $720 |
| Wegmans | $450 | $750 |
Cost of EpiPen Jr
Patients who weigh anywhere between 33 and 66 pounds (between 15 and 30 kilograms) are recommended to take EpiPen Jr Auto-Injector (0.15 mg).
In the table below you will find the average costs of EpiPen Jr by pharmacy.
| | | |
| --- | --- | --- |
| Pharmacy | Cost of Generic Epipen Jr | Cost of EpiPen Jr |
| CVS | $400 | $800 |
| Duane Reade | $390 | $750 |
| Kroger | $600 | $800 |
| Price Chopper | $1,000 | $750 |
| Rite Aid | $520 | $750 |
| Stop n Shop | $700 | $750 |
| Walgreens | $360 | $790 |
| Walmart | $400 | $760 |
| Wegmans | $400 | $790 |
Types of EpiPens (Epinephrine Auto-injectors)
EpiPen Jr, EpiPen, and the generic versions from Viatris are auto-injectors that come in doses of 0.30 mg and 0.15 mg. Also, other manufacturers produce EpiPens which vary by administration method and dose.
The factors that should influence the type of EpiPen you purchase are the following:
the recommendation of your healthcare provider;
the dose you need according to your weight;
whether you are bothered by the sight of the needle/the length of administration;
price, including any discount programs you are eligible for.
Here are some other available options in the United States:
Adrenalick
This is available in doses of 0.15 mg and 0.3 mg. You can find a video that presents you how to properly administer this drug on their official website. It has to be administered for ten seconds in the upper thigh.
Authorized Generic Auto-Injector Amneal Laboratories (formerly Impax)
An authorized generic version of Adrenalick is the Impax auto-injector. In order to get the Amneal Adrenalick generic you will need a separate prescription. Also, you have to hold this injector in place for ten seconds.
Auvi-Q by Kaleo
The available dosages of the generic version of EpiPen produced by Kaleo are 0.1 mg, 0.15 mg, and 0.3 mg. A voice prompt will guide you through the administration process when you activate the auto-injector.
This version of the EpiPen is the first and only injection device for babies approved by the FDA. It has the size of a credit card and is as thick as a cell phone. Also, it comes with a retractable needle. It takes only two seconds to administer Auvi-Q.
Generics of EpiPen Jr and EpiPen by Teva Pharmaceuticals
The Teva's epinephrine auto-injectors are FDA approved and come in two strengths. The 0.15 mg strength is for patients who weigh 33 to 66 lbs (green label), while the 0.3 mg strength is for patients who weigh over 66 lbs (yellow label). It takes only three seconds to administer the Teva generic version of EpiPen.
S.Y.M.J.E.P.I.
This injection device has a thin needle that is smaller than most other versions of EpiPen. The S.Y.M.J.E.P.I. come in dosages of 0.15 mg and 0.3 mg. It takes only two seconds to administer S.Y.M.J.E.P.I.
How can I save money on my EpiPen prescription?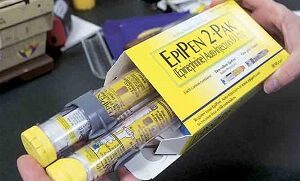 In order to help you reduce the cost of epinephrine prescriptions, many EpiPen manufacturers offer coupon programs. To save money when you need to buy more doses, you have to show the coupon to the pharmacist with a valid prescription. Though, these programs have restrictions and rules, so make sure you review them carefully.
Rebates and Coupons
It is worth looking around for valid rebate programs and coupons before buying epinephrine auto-injectors. You may be able to print a coupon right from a website, while for others you may have to complete a questionnaire or register.
EpiPen Savings Card
You may be able to save up to $300 on each EpiPen 2-Pak carton per prescription refill with an EpiPen savings card. This card can be used for six cartons per year. You have to meet the eligibility criteria to participate in this program:
have a household income per year below 400% of the actual federal poverty guidelines;
be a United States citizen or a legal resident living in the U.S.
Plus, meet one of the next conditions:
must not have prescription insurance coverage through any federally or state funded program and have commercial prescription drug coverage only for generic drugs; some verification documents will be required;
not have prescription insurance coverage through Medicare Part D, TriCare, Medicaid, a qualified plan bought on a partnership, federally facilitated exchange, state-based, or any other private or public insurer or program.
EpiPen FAQs
How to use the EpiPen?
When your doctor prescribes EpiPen, you need to make sure you understand why it was prescribed for you. You must be sure that you know exactly how to use the device. Always use this medicine exactly as your doctor or pharmacist has told you. If you are not sure how to use it, ask your doctor, nurse, or pharmacist to repeat the instructions.
Can I drive after EpiPen administration?
The ability to drive and use machines will not be affected by the administration of an adrenaline injection but may be affected by an anaphylactic reaction. If you are affected, do not drive or use machines.
Where should EpiPen be injected?
The EpiPen should only be injected into the outer thigh. It should not be injected into the buttock, due to the risk of accidental injections into a vein. If you have a thick layer of subcutaneous adipose tissue, there is a risk that a single dose of EpiPen will not be enough. A second injection may be necessary.
When is it necessary to inject EpiPen into the muscles?
You should get your epinephrine injection as soon as possible if you suspect you have a serious allergic reaction. The signs of a serious allergic reaction are: closing or blocking the airways, wheezing, sneezing, hoarseness, hives, itching, swelling and inflammation of some areas, redness of the skin, rapid heartbeat (the heart beats faster than in normal way), weak pulse (the rhythm with which the heart beats is weakened), anxiety, confusion, stomach pain, involuntary loss of urine or feces, fainting, loss of consciousness.
Call your doctor and talk to him about these symptoms and make sure you understand how to tell if you have a serious allergic reaction and if you should inject yourself with adrenaline at that moment.
Final thoughts
EpiPen (epinephrine) is recommended as first-line treatment for patients with anaphylaxis, that is, a clinical syndrome that represents the most severe systemic allergic reactions. It comes at the cost of up to $740, while the generic equivalent is sold at the price of up to $660.
https://www.thepricer.org/wp-content/uploads/2022/12/epipen-injection-cost.jpg
380
610
Alec Pow
https://www.thepricer.org/wp-content/uploads/2023/04/thepricerlogobig.png
Alec Pow
2022-12-09 06:15:54
2022-12-07 12:11:46
The Cost of EpiPens