How Much do Oysters Cost?
Appreciated both for their exceptional taste and their richness in benefits, oysters are the French people's favorite edible crustaceans. Served in the most popular restaurants, accompanied by various refined dishes, oysters are a genuine concentrate of nutrients and flavors.
Bivalve mollusks, oysters, are crustaceans of the Ostreidae family. It is an edible crustacean that lives only in saltwater and thrives in most areas of the sea.
How much do oysters cost on average?
Buying oysters can be a bit more expensive than some other types of seafood. The cost will depend on the amount you purchase, where your live, oyster size, market conditions, and who is selling them to you.
The price for one pound of shucked oyster meat starts at $10 and goes up to $16.
Depending on the size, one dozen of live oysters may be bought for $9 to $15. Or you can buy them per piece, with the cost of oysters just $1.25 to $2.5 per live specimen. The prices could double if the oysters are already prepared by the half shell.
Expect to pay anywhere around $65 for a 100-count bushel of oysters. Also, if these are prepared the price would be double.
For example, you can find on Amazon.com a 50-count box of the best quality fresh seafood oysters priced at $65 to $120, based on the time of the year.
SilverPointOysters has a wide variety of oyster meats to suit any appetite. The average price for shucked oyster meat ranges from $9.50 per pint up to $45 for a half-gallon, while live Pacific oysters cost much less, only $8.50 to $11.25 per dozen.
Oyster details
Of the dozens of varieties on the market and in restaurants, five species are more common, with the following trade names: Kumamoto, Atlantic, Pacific, European flat, and Olympia. If the first three are the most common, the last two are very rare and usually more expensive.
You might also like our articles about the cost of mussels, blue crab, or abalone.
If you want to buy fresh oysters, you can choose from shell stock, shucked, or HPP. Shell-stocked oysters have intact shells and will often sit alive inside of a case, while the other two types can be found whole as well but with their meat removed for consumption on your plate.
By eating oysters regularly, you can lose weight because they are low in calories and fat, and at the same time, a source of protein that creates satiety after eating them. Oysters are also a very good source of vitamins A, E, and C, iron, calcium, selenium, and vitamin B12. They increase energy levels, iron helping to transport oxygen faster to the body's cells.
Oysters are also said to be one of the natural aphrodisiacs.
What are the extra costs?
Most people who enjoy preparing this food know that a good oyster knife is a necessity. It's easy to cut your fingers when there are slippery wet shells and sharp edges everywhere. A significant investment in an excellent quality blade can cost around $15 but is well worth it.
You might be surprised to learn that shipping charges can add up when you order products online. Depending on the weight and value of oysters being shipped, expenses range from $15 to $35 or even less if customers have spent enough money in one go.
Good to know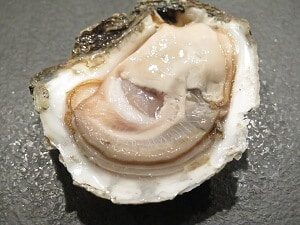 The freshness of an oyster is easily recognizable: if the oyster does not contain much water and the meat is easily detached from the shell, it means that it is no longer fresh. If the shell is open, it means that the oyster is dead and must be discarded. A fresh oyster should smell like the one from the seashore, and its flesh, when you open it, should be the color of ivory.
Be careful how you keep the oysters you bought. It's not enough to put them in the fridge. Place them on an ice bed, but not in the freezer, so that they are kept as cold as possible. It is good to buy the oysters a maximum of one day before consuming/cooking them.
The general consensus is that oysters are mostly eaten alive and raw. In this case, after removing a valve, consume the entire contents, including the corresponding liquid, often with the addition of butter, salt, or lemon juice. Luxury restaurants serve raw oysters with Mignonette sauce, having freshly chopped onions, pepper, dry white wine, lemon juice, or "sherry" vinegar as a base.
Depending on the geographical area and traditions, oysters are consumed or stored in various forms: boiled (in water or steam), baked, fried, fried, pickled, smoked, canned, or used in a variety of beverages. It should be noted that the taste of oysters also differs depending on the particularities of their living environment (salinity of water, quantity, and type of mineral salts, the structure of food, etc.).
The best oyster bar in the world is called Grand Central Oyster Bar and has been operating since 1913 in Central Station, New York. More than two million oysters are served here each year.
In 1872, New York spent more money on oysters than any other food combination. Before becoming the Big Apple, New York was called the Big Oyster.
How can you save money as a customer?
For the best deals on oysters, head to international markets.
As an oyster lover, you may find that some restaurants and stores have cheap deals during certain months of the year. For example, in winter on the east coast, where it is harvesting time, the prices come down.
Also, look for restaurants that have a seafood happy hour.
Buying oysters in bulk is the best way to save money. For example, if you buy ten dozen, then it's often cheaper than buying 1 or 2 dozen individually.
https://www.thepricer.org/wp-content/uploads/2021/09/oyster-cost.jpg
380
610
Alec Pow
https://www.thepricer.org/wp-content/uploads/2023/04/thepricerlogobig.png
Alec Pow
2021-09-23 11:22:40
2023-05-25 09:27:55
How Much do Oysters Cost?