What is Jamie Raskin's net worth?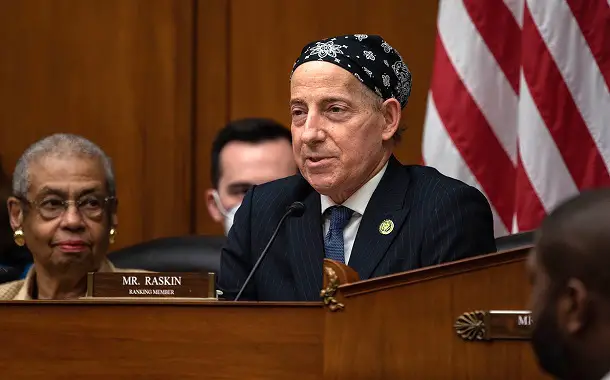 Jamie Raskin is an American attorney, writer, law teacher, and politician, well-known for representing Maryland state's 8th congressional district since 2017.
 What is Jamie Raskin's net worth?
At the time this article is written, the congressman from Maryland, Jamie Raskin has an estimated net worth of $5 million. His main income source is his salary from the United States House of Representatives. For instance, in 2022 a member of the House of Representatives was receiving around $174,000 per year. Also, Raskin made money from writing and co-writing several books, and from serving as a professor of law at the American University Washington College of Law.
Early life
Jamie Raskin, by his original name Jamin Ben Raskin, was born on December 13, 1962, in Washington, D.C. into a Jewish family. His father, Marcus Raskin Sr., was a progressive activist, co-founded the Institute for Policy Studies, and was a former staff aide to President John F. Kennedy on the National Security Council. Jamie's mother, Barbara Raskin, was a novelist and a journalist.
Jamie completed his studies at Georgetown Day School when he was sixteen years old. At the age of 21, in 1983, Jamie got his Bachelor of Arts in Government from Harvard College. There he focused on studying political theory.
In 1987, Jamie Raskin graduated with a J.D.  with honors from Harvard Law School. Also, he worked as an editor of the Harvard Law Review.
Career
Jamie Raskin has taught constitutional law at the American University Washington College of Law for more than twenty-five years, being hired in 1990. While working there, Jamie co-founded the Marshall Brennan Constitutional Literacy Project, as well as co-founded and directed the government and law LLM program.
Between September 1987 and May 1989, Jamie worked as an Assistant Attorney General for the state of Massachusetts.
Between 1989 and 1990, Jamie was the General Counsel of the National Rainbow Coalition, which was headed by Rev Jesse Jackson.
In 1996, Jamie Raskin represented Ross Perot in the trial where he was sued over being excluded from the Presidential Debates.
You might also like our articles about the net worth of Sarah Huckabee, John Fetterman, or Joe Biden.
Jamie Raskin was elected to be a senator of Maryland state in 2006. He served the 20th District, which covers areas of Silver Spring and Takoma Park in Maryland's Montgomery County. In 2012, Jamie was designated Senate majority whip as he was a member of the Select Committee on Ethics Reform and the Judicial Proceedings Committee.
In 2014, Jamie Raskin sponsored legislation legalizing medical marijuana, that was signed into law by Governor Martin O'Malley and became effective in 2015. Also, Jamie played a crucial role in the successful effort to make same-gender marriage legal in Maryland.
Books
Jamie Raskin has written several books during his career. Some of his works include "Unthinkable", "We the Students: Supreme Court Cases for and About Students" and "Overruling Democracy: The Supreme Court versus the American People".
Also, he is the co-author of "Youth Justice in America", along with Andrew G. Ferguson and Maryam Ahranjani. In 1994, co-authored "The Wealth Primary: Campaign Fundraising and the Constitution" with John Bonifaz.
Philanthropy
Besides his academic and political pursuits, Raskin is also well-known for his philanthropic activity. Over the years, he and his wife, Sarah Bloom Raskin, made donations to a lot of charitable causes. For instance, they offered their support to organizations like the National Women's Law Center, the Anti-Defamation League, and the Brady Campaign to Prevent Gun Violence.
Private life
In 1990, Jamie Raskin married Sarah Bloom. They have three children together, Tabitha Claire Raskin, Hannah Grace Raskin, and Thomas Bloom Raskin. Unfortunately, in December 2020, their son Thomas took his own life as he was struggling with mild depression.
Jamie's wife, Sarah Bloom served as the Maryland Commissioner of Financial Regulation between 2007 and 2010. Also, on April 28, 2010, she was nominated by President Barack Obama to the Federal Reserve Board. Between 2014 and 2017, Sarah Bloom Raskin served as the United States Deputy Secretary of the Treasury.
Why does Jamie Raskin wear a bandana?
Jamie Raskin had chosen to wear a bandana because it covers his head during his chemotherapy treatments. In December 2022, Jamie Raskin publicly said that he had been diagnosed with diffuse large B-cell lymphoma and needed chemotherapy and immunotherapy to treat it.
It is very common among cancer patients to wear a bandana because they lose their hair during chemotherapy.
https://www.thepricer.org/wp-content/uploads/2023/06/Jamie-Raskin-net-worth.jpg
380
610
Alec Pow
https://www.thepricer.org/wp-content/uploads/2023/04/thepricerlogobig.png
Alec Pow
2023-06-12 10:56:32
2023-06-08 06:20:49
What is Jamie Raskin's net worth?