Few things you can have in your yard bring more comfort and joy than a swimming pool. This can be an ideal place to party, a relaxing place for the whole family, or just a good reason to exercise daily.
However, in order to enjoy your pool for as long as possible, you must pay special attention to its maintenance.
An inadequate swimming pool poses a great risk to the health of all who come in contact with its water. Therefore, acid washing a pool is an activity that you must undertake regularly.
How much does acid washing a pool cost?
The cost of acid washing a pool will depend on some factors such as the size of the pool, and the company that you are using. Expect to pay anywhere from $450 to $1,000 for an average pool with a size of 12,000 gallons.
You might also like our articles on the cost of pool closing services, pool remodeling, or pool water delivery.
In the areas with a colder climate, like New Jersey, people have said that they paid anywhere between $550 and $750 per session for acid washing a pool.
According to their official website page, the Bright and Clear Pool Services company from Arizona charges more than $260 per session of pool acid washing.
For instance, a customer of this company said that he paid $700 for draining and acid washing a pool of 12,000 gallons.
Acid washing a pool details
When acid washing a pool, the contractor will remove the thin layer of pool plaster to reveal the underneath fresh surface. Before doing it, any professional service will drain the water from the pool, supply the chemical substances and sandblast the outer edge of the pool. Once this procedure is done, the pool will be refilled with water to the right levels.
People choose to acid wash their pools in order to remove any calcium buildup or hard stains. The contractor will use a special treatment to wash the edges of the pool after draining the pool. Using this buffer, the acid will not affect the pool surface or remove too much of the plaster. After removing the acid and cleaning up any left debris, the pool will be refilled with water. In order to make sure that it is safe to swim in the pool again, certain chemicals will need to be added.
Over time, an average pool will need to be acid washed two to three times.
The procedure of acid washing a pool means removing a tiny strip of plaster and revealing an extra layer underneath it. You will need to do a replastering job as well if the acid washing is done quite often. Finally, when this job is done, a cleaner and brighter finish should pop up.
What are the extra costs?
If you have a jacuzzi, you should expect to pay another $60 to $220 on top of the cost quoted.
In case you have a pool with stains that are hard to be cleaned and the job will require more work than a typical job, then you should expect to pay more.
Important things to consider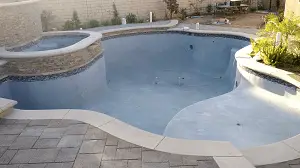 Depending on the size of the pool, it would take anywhere between one and two hours to drain it.
If you want to do this job by yourself drain the entire pool and wait for the concrete to dry. Use a broom to wipe off dirt and debris from walls and floors. Remove any loose debris and dispose of it. Spray the inside of the pool with a water hose. This will keep the concrete walls or plaster of the pool wet before washing with acid. When working with acid, you must wear protective equipment: rubber boots, gloves, and goggles.
To remove the most difficult stains, you can use a higher concentration of acid. But be careful never to exceed the ratio of 50 to 50. Acid is strong and can cause burns to exposed skin. It also produces strong fumes that can be dangerous if inhaled, so be very careful when handling it.
How can I save money?
If you want to do this job by yourself and save some money, then there are many online guides and tutorials that can help you.
Try to ask for price offers from at least three companies and choose the one that works best for you.
If you already have a company that you are working with, ask for a discount. Most companies offer discounts to loyal customers.
If you have to choose between a handyman and a pool company, always choose the company because it will usually have all the necessary supplies, while the handyman will charge much more.
In case you want to replaster a pool to make it look better, take into consideration acid washing it first. You may have to spend much more for replastering than for acid washing.
https://www.thepricer.org/wp-content/uploads/2022/04/Acid-Washing-pool.jpeg
380
610
Alec Pow
https://www.thepricer.org/wp-content/uploads/2023/04/thepricerlogobig.png
Alec Pow
2022-04-27 06:07:44
2022-04-25 20:06:59
Acid Washing a Pool Cost