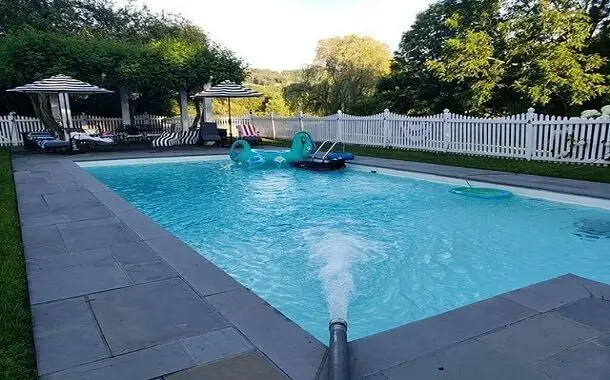 When a pool owner needs their pool filled fast, they can turn to professionals. Sometimes filling up with water from garden hoses takes days so if you want to enjoy your pool as soon as possible, the easiest way is to have your pool water delivered and poured into the pool. Doing so will only take just an hour on average.
When you need a pool fill-up, there are many variables that will determine the cost. The price of your water delivery service depends on how far away the company will have to travel to reach you, The complexity of your pool, and the amount of water you will actually need.
How much does pool water delivery cost?
In the United States, pools range in size from 15,000 gallons to 30,000 gallons. The average professional water delivery service will charge anywhere from $175 to $380 per truckload., and most trucks hold 6,000 gallons of water. With this formula, you can determine how many truckloads it takes for your pool to fill – anywhere from three to six truckloads, which means that you will usually pay anywhere from $550 to as much as $2,000 for the service.
You might also like our articles about the cost of an Endless pool, an above ground pool, 0r the cost to open a pool.
Companies that charge by the gallon usually have prices that start at $0.03 per gallon and go up to around $0.06, but if a customer only needs water topped off then it can be as little as $100. There will sometimes be a minimum travel fee, regardless of the distance, usually somewhere around $75.
One forum member on a PoolSpaForum.com thread claims that they were quoted $250 per 6,000-gallon truckload for their water delivery needs.
Pool water delivery details
A truckload of water from a reputable company will typically hold up to 6,000 gallons. For added peace of mind and convenience, most companies should offer 24-hour turnaround time with some sort of guarantee as well.
Blue Water Trucking states that they offer a service that will get your pool sparkling clean, so you can finally relax and enjoy the cool water.
Most companies will get filtered bulk water from a local treatment plant to provide an iron-free solution for your enjoyment without any worry of damage to pools or filtering systems.
Any extra costs to consider?
Same-day deliveries can be an awesome convenience, but they come with a hefty price tag for customers. The typical truck has about 500 feet of hose on it which is usually enough to reach most homes that need their pool filled, but if that won't be enough, for longer distances, additional charges may apply. As an example, consider homes that have a pool in the back and the driveway doesn't stretch enough for the truck to get close to the pool. This is where an additional hose will be required.
Some truckers set aside an allotted amount of time for their deliveries. If they go over this set limit, additional charges may apply. This is something you should ask before ordering, especially if you think that filling your pool, for some reason, will take longer than usual.
Important tips to consider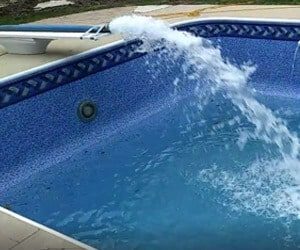 Hydrants can be tempting to use as a water source, but it is best to avoid them. Hydrants may cause the pool water to become rusty which would require days of vacuuming and filtering. If you do not know where else your pool might get filled from, contact the company that got you your pool set up and ask them if they have these kinds of services or if they can recommend you someone.
One of the most important questions you can ask your pool water delivery company is how they are going to get the water to you. In many states, a truck can only carry a maximum of 6,000 gallons of liquid.
The average garden hose disperses 540 gallons of water an hour. If you plan on filling up with a garden hose, expect to wait 37 hours before a 20,000-gallon pool is full. Never work with a company that isn't properly insured, to make sure that you're covered in case of any mishap.
Experts say that people should wait until the day their truck arrives before draining their pool. Leaving your drained pool empty for too long could cause it to shrink and only stretch back halfway, which would then damage it. This is especially true if you have a vinyl liner.
Is there any way to spend less?
You can contact the local fire department and they might just fill up your pool for a small donation.
Fill your pool with a hose and save money. If you call up the local water department, they may be able to give you a deal. Some companies can waive sewer usage for that day if it's billed together with your water bill. Regardless of how big your pool is, filling up won't cost more than $10-$35 at most.
To give you an idea of how much water costs: A 20,000-gallon pool can range anywhere between $40-$55. Seeing that delivery is so expensive when compared to using your own hoses for refilling purposes, it should only be done during times when one needs this done in a short time span. Remember that this is mostly a convenience service and will not be worth the price if you have the time to do this yourself.
https://www.thepricer.org/wp-content/uploads/2021/06/pool-water-delivery-cost.jpg
380
610
Alec Pow
https://www.thepricer.org/wp-content/uploads/2023/04/thepricerlogobig.png
Alec Pow
2021-06-07 10:28:01
2023-02-28 12:19:23
Pool Water Delivery Cost