Last Updated on September 12, 2023 | Written by CPA Alec Pow
First Published on May 15, 2021 | Content Reviewed by

CFA Alexander Popivker
For those who cannot afford or do not have enough space for a large-sized pool, there is an option: the endless swimming pool. A small and compact design that helps to provide swimmers with enough space to exercise without the need to get a humongous pool.
Endless pools are a new way for people to stay in shape or recover from injury. The endless pool's constant adjustable current makes it the perfect place for competitive swimmers and anyone who wants an alternative workout routine that doesn't involve sweating like crazy at the gym. But how much would an endless pool cost?
How much does an endless pool cost?
The cost of an Endless Pool can range from a few thousand dollars to tens of thousands.
The starting price for most models is around $6,000 but this doesn't factor in a lot of the necessary add-ons like installation and shipping which make up about 60% of the total bill when it's all said and done. From our research based on people who have owned one before, many paid between $35,000 – $45,000 after everything was taken into consideration.
Although the original Endless Pool model has a price of around $28,000, you can also get a bigger pool model that has a wider current for over $30,000. The Elite Endless Pool on the other hand costs around $40,000 but will come with a bigger engine for the price difference.
In fact, Endless Pools are part of a larger category of pools that are known as Swimspas. There are other brands that sell Swimspas and the most common ones aside from Endless Pools are Michael Phelps Swimspas and SwimEx. Among all Swimspas, Endless Pools are actually priced somewhere in the middle, with more expensive brands having models priced at $50,000 or more and cheaper models can be found below $7,500.
You might also like our articles about the cost of an in-ground pool, an above-ground pool, or a sauna.
ON USMS's website, a forum member shared what they had paid for their endless pool: The standard pool was $18,000, yet once all the installations were factored in—including cement foundation laying and digging the hole—the grand total came close to around $37,000.
The TriWives Club talked about their experience installing a prefab one. When they first started the project, it seemed like $6,500 was plenty to get through with just having some help from friends and family; however, when everything was said and done, they found that for the installation of an endless pool, you should budget at least $20,000 – if not more.
.
| Product | Initial PRICE |
| --- | --- |
| WaterWell | $10,400 |
| Original Endless Pool® | $23,900 |
| Commercial Series | $27,400 |
| 15′ E500 Swim Spa Current Exercise Pool | $31,500 |
Remember that this will be just the initial price, with no shipping or add-ons included.
Different Types of Endless Pools
You can get one of the four types of pools provided by this company: modular, single shell, commercial endless, and FastLane.
The modular pool
The modular pool system is perfect for a swimming enthusiast who wants to have full control over their water temperature. You can check out any of the six models and choose one from the original, performance, high-performance, elite dual propulsion, or water well models. The modular pool is designed to be installed both outside and inside.
The single-shell pool
A single-shell pool is a two-in-one system that combines both the benefits of swimming and hydrotherapy. Systems range from 12 ft to 20 ft in length, depending on preference.
The commercial pool
The commercial-grade Endless Pools are NSF-50 certified, and as the name implies it's designed for a commercial atmosphere.
Fastlane
The Fastlane system provides a new way to swim. The brand-new power unit resides remotely, powering the underwater current, and is paired with a Swim Unit that mounts directly near your poolside. They can be installed anywhere – no matter what kind of pool you have.
Endless pool details

Endless pools are an investment that can be delivered to your doorstep and assembled at a time of your choosing. You'll have the option of assembling it yourself or having it installed by professionals who either are known by you or recommended by the company.
Still having issues visualizing this type of pool? Check out the Endless Pools introductory video:
Incorporating an endless pool into your backyard will not only provide entertainment for the kids but also offers great exercise opportunities. This state-of-the-art system will come with add-ons like a five HP swim current generator and water quality systems in addition to a floating thermal cover, dark blueliners, and aqua aerobics bars.
Any extra costs to consider?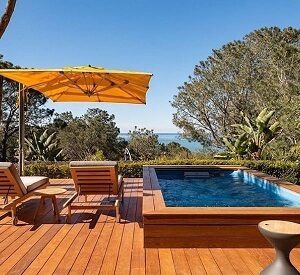 According to Myflsunroom.com, the cost of widening a pool can start at $750 per foot, and lengthening it typically costs over a thousand dollars for every foot you add to your pool's dimensions. You might also want to invest in a dual profusion system if you like swimming with others because each additional person will need their own pump which could increase an already expensive project.
It's important to consider the cost of additional features before ordering your pool. For example, a retractable security cover can run anywhere from $1,000-$2,000 and underwater lights will set you back around $500 or more for installation. A running treadmill is an option if swimming isn't enough exercise for you: however, it varies in price depending on model and location (for instance one average-priced treadmill costs about $300).
And don't forget that any new additions have their own degree of difficulty with completing construction such as adding coping finishing touches – these vary in pricing also but generally start at close to two hundred dollars.
The installation process is rather easy and can vary anywhere from $3,000 to $10,000 depending on the setup. This will include assembling steel panels; installing a vinyl liner; and hooking up plumbing features.
The cost of operating an endless pool can be compared to a hot tub or jacuzzi. Usually, it will include adding some bleach and water when low. The vinyl liner and motor won't last forever, so if either were to fail the future costs could add up quickly- such as $500 for installation on just the motor without warranty coverage.
Is there any way to spend less?
If you're looking for a cost-effective option, consider purchasing a used endless pool. While it may be difficult to find the perfect size and shape, you can save when choosing this route by only paying installation costs or transporting fees if needed.
If you're set on buying a new one, then at least go for a standard size, because custom sizes or shapes will run the costs up considerably.
https://www.thepricer.org/wp-content/uploads/2021/05/endless-pool-cost.png
380
610
Alec Pow
https://www.thepricer.org/wp-content/uploads/2023/04/thepricerlogobig.png
Alec Pow
2021-05-15 09:51:24
2023-09-12 17:07:41
Endless Pool Cost