Last Updated on March 13, 2022 | Written by CPA Alec Pow
First Published on September 30, 2021 | Content Reviewed by

CFA Alexander Popivker
Acrylic sheets are versatile and can be used for different projects like display cases or picture frames. Their transparent qualities make them perfect for aquariums since they allow you to see what's going on inside without having any opaque materials blocking your view. Acrylic also has many colors that could work well in home improvement projects; you just need the right color scheme depending on what kind of room it'll go into.
This material is more preferable than glass because it's lighter and safer to use in high winds. It also has flexibility and chemical resistance, making this perfect for protecting something from being damaged by rain or snowstorms. The versatility of this new invention will make your life much easier.
How much do acrylic sheets cost?
Your choices when it comes to acrylic sheets are vast. You can choose from different brands, sizes, and thicknesses which will affect the price per square foot accordingly. On average, a .06″ to .22" thick extruded acrylic sheet would cost somewhere between $5 and $11/sq ft., while a clear cast acrylic sheet of .30″ to 4″ thick would be $32 to $155/sq ft. The price for one square foot of colored acrylic sheet and 0.025" to 5" thick is somewhere between $7 and $55. In the table below, you can find some cost estimates for the most common custom thicknesses.
You can also find pre-sized and pre-cut acrylic sheets that are sold per sheet. For example, the price for a 48"x90" clear acrylic sheet starts at $55 and goes up to $110.
If you need to buy acrylic sheets for scrapbooking reasons, expect to pay anywhere between $12 and $35 per one set that contains 10 to 15 sheets.
Depending on the size of the sheet, the price for one acrylic plastic sheet is somewhere between $17 and $160.
You might also like our articles about the cost of tempered glass, plywood, or fiberglass boat repairs.
The cost of clear sheets starts at $7 and goes up to $80. For instance, the price for a 12" x 12" sheet is anywhere between $7 and $18.
Depending on size, the cost per glass sheet starts at $12 and goes up to $180. For example, a 12"x12" sheet would be only $7, while the price of an 18"x24" sheet is $120.
.
| Type | Thickness | Price Range (per square foot if cut to size) |
| --- | --- | --- |
| Clear Acrylic Sheet | 2.000 | $125 |
| Clear Acrylic Sheet | 1.500 | $100 |
| Clear Acrylic Sheet | 1.00 | $40 |
| Clear Acrylic Sheet | .500 | $20 |
| Clear Acrylic Sheet | .250 | $10 |
| Clear Acrylic Sheet | .125 | $8 |
| Colored Acrylic Sheets | .500 | $35 |
| Colored Acrylic Sheets | .375 | $25 |
| Colored Acrylic Sheets | .250 | $12 |
| Colored Acrylic Sheets | .125 | $7 |
| Frosted Acrylic Sheet | .25 | $19 |
| Frosted Acrylic Sheet | .125 | $10 |
Types of acrylic sheets
UV filtering
Clear
Resistant or non-resistant
Frosted
Bronze
Glittered
Non-glare
Black and white
Mirrored
Translucent or colored transparent
Acrylic sheets details
You can find acrylic sheets under the next common sizes: 0.125″ X 48″ X 120″, 0.250″ X 72″ X 120″, 0.375″ X 48″ X 120″, 0.375″ X 72″ X 96″, 0.500″ X 72″ X 120″, 3/4″x 72″x 96″ and 0.750″ X 48″ X 120″.
The wide variety of acrylic sheets include the following types: textured or mirrored, clear, frosted, and colored.
Acrylic sheets can be manufactured via cell cast or extruded.
You can choose to purchase acrylic sheets online from plastic companies like ePlastics or directly from stores like Lowe's, Home Depot, or Ace Hardware.
The well-known brands found at most stores are Plexiglass, Lucite, and Polycast.
The lifespan of these sheets is up to 10 years if it is UV coated and maintained properly.
What are the extra costs?
If you buy online, there may be extra shipping charges applied for larger pieces.
If you're looking for a custom cut, it will cost more than just picking a standard size. Anyway, at Lowe's or Home Depot, they'll make sure to give your sheets any shape needed if you purchase from them.
Important things to consider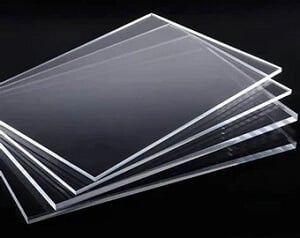 You should keep in mind that acrylic is plastic. This material is a clear plastic that looks like glass but has properties that are superior to those found in ordinary glass. Also, you should know that plexiglass is a brand of acrylic.
A 12.5 mm acrylic panel is strong enough to support up to three times the impact of a double thickness window.
Polycarbonate and PET are the strongest plastics in terms of durability, but acrylic comes close. It's known for being impact-resistant with unmatched strength that will not break after an accident or fall onto a hard surface like concrete.
If you're looking to keep your sheets clean, don't use a glass cleaning spray since the product often contains ammonia. Instead, look for special cleaners designed specifically for these kinds of surfaces.
It is possible to remove deep scratches from the sheet by using sandpaper and super duty rubbing compound.
These sheets are delicate and should not come into contact with fire as they will quickly ignite if near an open flame.
In case you are using film, paper masks, 3mil laser films, and 2mil films are recommended.
How can I save money?
The best way to buy acrylic sheets is by comparing at least two major retailers and also take into account the smaller plastic companies, which can be found by performing a simple search like "purchase precut plastics online."
https://www.thepricer.org/wp-content/uploads/2021/09/acrylic-sheets-cost.jpg
380
610
Alec Pow
https://www.thepricer.org/wp-content/uploads/2023/04/thepricerlogobig.png
Alec Pow
2021-09-30 05:28:35
2022-03-13 23:01:57
Acrylic Sheets Cost