How Much Does an American Girl Doll Cost?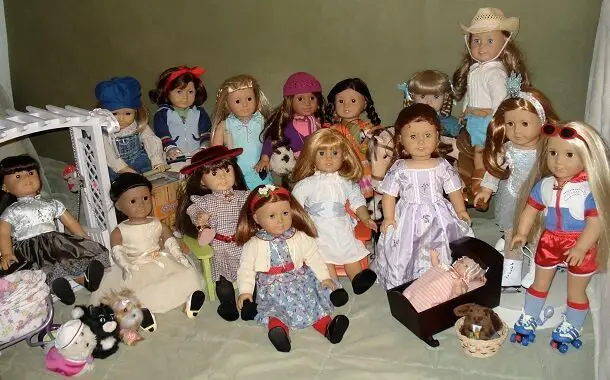 American Girl, the character doll, started from the idea of a gentleman that was looking for a Christmas gift for his nieces. He found baby dolls on which little girls could practice their maternal skills and teenage dolls on which teenagers could reflect aspirations, but no doll looked like an 8 to 12 years old little girl.
He combined this idea with that of a history tale accessible to children and thus the American girl was born, a doll accompanied by a book and a full line of accessories, telling little girls about racism, slavery, poverty, or war.
One of the most popular dolls in the series is Addy Walker, a black girl who runs from the plantation where she is a slave and heads north. There she dreams of a free life but also learns about preconceptions and racism. A book was written about Addy's life, but many other doll series also inspired several films. The last one was released in 2009.
In case you heard about the American Girl Doll you are probably aware that the costs add up pretty fast. We will give you some average prices of different doll outfits and accessories, just so you get an idea about what to expect.
How Much Does an American Girl Doll Cost?
The average price of the doll plus the single outfit she comes with it is around $110 as long as it isn't on sale, but for this price, you will also get the history book that comes with it. Any other accessories or different features you want to get for the doll will easily drive its cost up to $150 or even $350, depending on what you get.
They have all types of accessories, including historically accurate furniture, which of course you buy separately.
The most popular doll is My American Girl Doll, which you can customize entirely. Its price is $110 for the doll and the starter outfit. These dolls can be designed to look like any type of girl from every corner of the world, and if they don't have a certain ethnicity, you can make a custom design order, to have them create one exactly as you want it to be.
Additionally, needing repair services for the doll, customizing it, and going to one of the official American Girl Doll stores can increase this price even more.
Additional costs related to the American Girl Doll
ears pierced for $20;
braces for $20;
glasses for $15;
the outfits range from $35 to $55 apiece.
Most little girls want more outfits for these 18-inch dolls, so in general, parents buy around 3 outfits, meaning a subtotal of about $300.
If you purchase different outfits for your child's new doll you will also have to buy some accessories.
Here are the most desired accessories and their costs:
One pair of shoes costs from $18 to $26;
A set of earrings costs or other pieces of jewelry $14;
An underwear set costs around $14;
A manicure kit costs $14;
A hairbrush is $12;
A set of hair clips and scrunchies is $30
A purse or a watch costs $12 each.
If your little girl loves animals you can add a pet for $30 or if you choose the Service Dog expect to pay around $50.
You can buy historically accurate furniture for the American Girl Doll for costs ranging from $22 to $300.
The American Girl Doll also has a "Feel-Better Kit" including, for the amount of $45, a wrist and leg cast, stickers, bandage, ice pack, finger splint, plus a wheelchair for $50.
Usually, most buyers end up spending around $500 for the initial setup, but in the end, they keep spending more, because who wouldn't like to see their little child happy while playing with an educational toy that teaches them about their history?
What makes an American Girl doll expensive?
Children that loved their American Girl doll can confirm that they would take it everywhere with them. Family parties or parks, any place was better with the doll around you. She could even get makeup and her hair could be styled. But it's not a particular hairstyle or makeup that would fetch people a lot of cash.
When it comes to these high-quality dolls and their accessories that snatch triple figures or even more, it's more about those that are gently used or in unopened boxes altogether. Here are some other things to look for when looking for items that would sell for a high price:
It has paperwork like information cards and receipts.
It is one of the dolls that have been retired.
The doll is still in its original box.
You still have the original clothing of the doll and it is clean.
It has intact eyes.
No marks on the face.
It has the hair in its full length.
Aside from the original dolls released by the Pleasant Company, the name behind American Dolls, there are also some limited-edition dolls that snatch quite an impressive price, like the Hawaiian doll Kanani or other limited edition dolls that have been on the market for a limited amount of time.
Some of the most expensive American Dolls sold on eBay
Depending on how rare it is one doll can be worth a lot of money. Here's a list of some of the most expensive American Girl dolls and accessories that have sold on eBay:
| Description and details | Price |
| --- | --- |
| A signed American Girl Felicity doll that is still in its original box. | $1,150 |
| American Girl Samantha signed by Pleasant Rowland and its original box. | $1,450 |
| Kanani, which was the Doll of the Year in 2011, as long as it was never removed from her original box, and has all clothing pieces and more accessories. | $1,495 |
| A package of 8 American Girl dolls, containing all of the Dolls of the year between 2005 and 2010, and Lindsey, the doll released in 2001. These were all new and never taken out of their boxes. | $3,200 |
| The American Girl doll Grace Bakery that came with a bonus Grace bakery outfit. | $4,500 |
| A unique collection of three original pre-Mattel American Dolls, all signed and in their boxes, along with their complete paperwork. | $5,400 |
Repair Services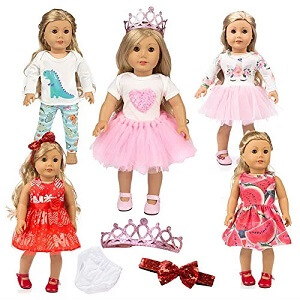 American Girl Dolls are also expensive because they can be repaired when they wear down.
Although these toys are made from very high-quality materials, they will surely break at some point, especially if you play with them a lot.
A great part about the American Girl Dolls that is surely a plus over other toys is that you can send them to the store to have them repaired when they get broken.
They are sent to the Doll Hospital. This is where a craftsman will fix the doll in all necessary ways, like putting its hair back on or repairing broken parts.
Keep in mind that these repairs are far from cheap. If you have a doll that needs serious repairs, then you might be needing the Doll Advanced Care & Repair package. Expect to pay around $88 for this service.
There are cheaper services as well, one being the Doll Refresh & Renew service, which costs $45.
Conclusion
It can get pretty expensive to shop inside the American Girl Dolls store. Although buying a doll and all her accessories and clothes can easily force you to spend over $200, the happiness of your child will make everything be worth it.
https://www.thepricer.org/wp-content/uploads/2015/10/american_doll_cost1.jpg
380
610
Alec Pow
https://www.thepricer.org/wp-content/uploads/2023/04/thepricerlogobig.png
Alec Pow
2015-10-26 01:09:24
2023-06-18 14:17:21
How Much Does an American Girl Doll Cost?