How Much Does an ARP Wave Machine Cost?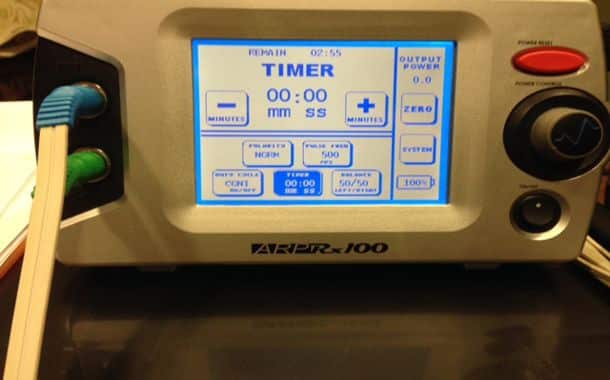 The APR Wave machine is one of the most recent innovations in the fields of medical science and technology. It is short for Accelerated Recovery Performance and is intended to help professional athletes, as well as normal people, recover from more serious injuries. It is considered an amazing piece of technology, it is classed as a class 2 medical device and most importantly, it is approved by the FDA.
The ARP wave machine is a wonderful device regardless of whether you are a normal patient suffering from a muscle injury or a professional athlete that wants to improve their form and performance.
How much does an ARP wave therapy machine cost?
On average, a brand new ARP wave machine costs you somewhere between $17,000 and $28,000, although renting an ARP machine shouldn't cost more than $150 to $250 per month. Truth be told if you only want to treat muscle pain or injury, then it doesn't make sense to buy a machine, and renting it and using it until you feel better is the wiser choice.
You might also like our articles about the cost of Torn MCL surgery, Tommy John surgery, or meniscus tear surgery.
Urban areas will likely have programs that enable people to get individual sessions of ARP wave therapy, just like in the case of other physical treatments and therapies. If you're in this situation, then you should expect to spend roughly $60 to $200 per session. The price might be even smaller if you were to buy a package with multiple sessions.
We found a news outlet called TribPapers.com, which noted that a therapy utilizing the ARP wave machine will only cost around $45 for each session.
ARPwave treatment details
According to the official website, ArpWave.org, these are the functions the ARP wave machine has:
Muscle atrophy can be prevented with the ARPWave machine, as it treats the muscle when you aren't able to use it yourself.
You can increase, or at least maintain, your range of motion in your joints, depending on your objectives and your joint health.
This machine can also improve poor blood circulation in your legs if you know you have this issue.
People that suffer from muscle spasms might find their relaxation after the ARP session.
The ARP wave machine is also great at retraining your muscles if they have been damaged and lost most of their range of motion and strength.
According to its creators, the ARP wave device will use a combination of patented bio-electrical current and direct electrical current, as well as exercise techniques and an active range of motion.
Additional costs to consider
If you need to use the machine after the leasing contract reaches its end, you might be charged additionally.
Don't think that purchasing the machine won't come with additional costs. People that have bought this device have still been charged maintenance fees monthly. These fees can easily reach $100 to $200 per month.
Issues the ARP wave machine can treat
The ARP wave device is known to help people that have herniated discs or other medical issues with their backs.
You can also avoid most surgeries related to muscles in significant joints, cartilage, ligaments, and tendons, as long as they aren't damaged past repair, with the help of the ARP wave machine.
Carpal tunnel syndrome, which impacts the joints in the wrists, can be treated with the ARP wave machine and will enable you to move normally.
Among the most common sports injuries where ARP can help patients avoid going through a painful surgery are Torn ACL and MCL.
It is also known to give the needed comfort to people that have a range of motion issues, neurological problems, and even MS.
But still, the most common use for this medical wonder is increasing the athletic capacity or preventing injuries of people that either play sports professionally or want to stay in shape.
Here are some tips to keep in mind
Ask friends that might have used the machine for therapy or search online to see what other individuals think of the treatment. Depending upon the disorder you wish to treat, it might or might not be worth the financial investment.
The ARP device might work for you or prove to be of no help, depending on your specific health problem, your goals, and how you use it. So before getting it, go over the complaints it has online and do your due diligence so you're sure this investment will be worth it for you.
This machine is known to come with quite a few benefits. Among the most important ones is the fact that this is a non-invasive therapy method that won't require recovery time once you complete it.
The second pro of the machine is that you will be able to interact with it and do exercises while it is working, something most machines won't enable you to do. Also, it will use the natural healing powers of the body, helping it heal itself instead of requiring additional treatments.
Is there any way to save some money?
It is always a good idea to talk to your insurance provider to check whether they can offer any sort of assistance. There were cases in which the insurance company reimbursed parts of the expense, but it all boils down to your specific situation.
There are some institutions that offer financial assistance for people that can't afford to buy the machine upfront.
Check eBay for any machines that are available for purchase. At the time of this writing, for example, we were able to find a couple of second-hand listings for older machines priced at $1,500 and $3,000.
https://www.thepricer.org/wp-content/uploads/2021/04/arp-wave-machine-cost.jpg
380
610
Alec Pow
https://www.thepricer.org/wp-content/uploads/2023/04/thepricerlogobig.png
Alec Pow
2021-04-01 12:05:14
2023-05-13 07:03:05
How Much Does an ARP Wave Machine Cost?