The best food for newborns and babies is, without a doubt, breast milk. Unfortunately, there are situations in which breastfeeding is not possible or is contraindicated and in this case, you should go for a milk formula to feed your baby. Scientific research on the nutritional needs of the child has led to the emergence of milk powder quite well tolerated by children.
The efforts of pediatricians have always tended to achieve, through diet with these products, the growth, and development of babies as good as with breast milk. Among the advantages of baby formula, we can mention good quality, constant composition, and the fact that it can be purchased in sufficient quantities.
The cost of baby formula
The price of a large can store-brand formula, which according to the majority of the doctors is as good as the name-brand, is around $15. Depending on how much your little one will need, it will be enough for almost seven days. Four cans are what an average baby would consume in a month, this costing around $55.
It is recommended to budget $5 to $8 per day for baby formula, depending on the amount consumed by your baby. As they grow up, they will need more.
$7 to $9 per day is how much you need for the pre-mixed formulas, that don't require any warming up.
Concentrated formulas have to be mixed with water and come packed in cans. The cost per day for this type of formula is anywhere between $5 and $8.
The well-known brands like Similac and Enfamil are more expensive; one large can retailing for around $26, resulting in a cost of almost $110 per month.
Breastfeeding Center of Ann Arbor recommends to budget around $0.22 per ounce.
| Brand | Price Range |
| --- | --- |
| Gerber Carnation Good Start Formula | $18 for a 12-ounce can |
| Similac Ready to Feed | $8 for 8 pack |
| Nestle Good Start Formula | $17 for a 12-ounce can |
| Babys Only Formula | $9 for 12.7-ounce can |
| Similac Liquid Formula | $7.50 for 32 ounces |
| Similac Supplement Formula | $26 for a 23.2-ounce tub |
| Enfamil Milk Powder | $17 per 12.5-ounce can |
| Gerber Graduates Formula | $17 for a 22-ounce can |
| Hipp Infant Formula | $25 per 800g |
| Holle Organic Infant Formula | $26 per 400g |
| Parents Choice Infant Formula | $18 per 22-ounce tub |
| Enfamil Lactose-Free Formula | $22 per 22-ounce tub |
What are the extra costs?
The cost of formula can easily add up, especially if your child needs special diets that either have to be gluten-free or have soy-based formulas. The monthly price will increase to almost $70 for store brands and can go up to more than $130 for name brands.
Depending on the place where you are living, it may be necessary to purchase distilled water for mixing the formula. A gallon of this type of liquid is usually around $1.25 per unit.
The bottle is an essential component of feeding your baby. A mother might start out with only one but will soon need to stock up on them because they are required for formula and water. Some brands can cost $3 or more each.
A sterilizer is a great investment for those who want to keep their bottles warm or sanitize them. They can cost $25-$60, depending on the model and how large of an amount you need to store at once.
Factors that affect the costs
The brand
Store brands often cost less than name brands. The baby formula needs to meet strict FDA and ADA standards, so you can be sure that their own store labels will always meet the safety measures. You can find these formulas at most grocery stores or wholesale clubs like Walmart or Costco and are even 20% cheaper.
The amount of baby formula
You might also like our articles about the cost of diapers, pacifiers, and food for a baby.
The price of baby formula is determined by the ounces listed on its container. Common sizes include 12, 25, and 33-ounce containers.
The type
With the cost of organic food being much higher than that of a generic brand, consumers may find themselves making sacrifices in order to afford it.  Organic brands will exclusively use natural ingredients for their powder blends and do not allow any artificial flavors or preservatives either.
Important things to consider

Powdered baby formula is always going to be cheaper than liquid. You can save money by switching over, but make sure you use sterile water when using the powdered form.
Ready-to feed formula will have everything mixed in, including the water. This type of bottle is by far one of the most expensive but can simply be used straight from its container making preparation very easy for parents on the go.
The formula should always be poured into bottles that have been cleaned with soap and hot water before in order for them to avoid contaminating other ingredients or having an unpleasant taste when consumed. You should do this even with the brand new ones.
The formula can be recalled for many reasons. Always make sure that you watch out and check on your baby's bottle every so often to ensure they're drinking a safe formula.
Baby formula is expensive because it has to meet high standards. The FDA requires that all baby formula has more than two dozen vitamins and minerals, which drives up production costs for food manufacturers.
How can I save money?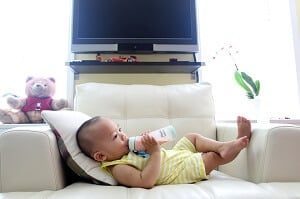 Since the formula is only usable for up to an hour, you should be careful about how much you make in order to save money.
You can save a lot of money on formula by checking for sales and coupon codes. Families who need baby supplies will be happy to know that they have many options, including Enfamil Family Beginnings' rewards program.
You can find a great deal on baby formula by checking with local grocery stores and wholesale clubs. Local brands will be FDA-approved, but they sell for less money than name-brand products do in comparison.
Breastfeeding can be a great option for you and your baby. Not only will this help save money, but the breastmilk is very nutritious. If it's not working out as an exclusive source of nutrition in the newborn phase (which starts at birth), consider talking to a local breastfeeding center about other options.
The local government offers many programs to help pay for baby formula. For instance, if you're a low-income family and your child falls under certain criteria- such as being 0 – 12 months old or having an eligible address within one of their local service areas then the state will cover all costs associated with purchasing baby formula.
Baby formula brands to consider:
Giant
Giant Eagle Baby
Similac
Enfamil
CVC
Summer Infant
First Years
Baby Basics (Club Foods, Albertsons, and others)
Rite Aid
Wegman's
Walgreens
Gerber Good Start
Up&Up (Target)
Parent's Choice (Walmart)
Simply Right (Walmart)
LittleOnes (Kmart)
TopCare (Schnuck's, Raleys, Big Y, and other stores)
Gerber Good Start
HyVee
Home 360 Baby (Sweet Baby, Food Lion, and others)
Mom to Mom (Randalls, Safeway, Vons, and others)
Bear Essentials (Weis Markets)
Comforts for Toddlers (Food 4 Less, Kroger, Fred Meyer, Baker's and others)
Meijer
Kuddles (Win-Dixie)
How can I compare prices?
When you want to compare costs it means that you have to compare different types of formulas, resulting in a lot of waste if the baby does not tolerate some of them. To avoid this situation, some companies offer free samples to try before buying the whole can. It is not such a good idea to change formulas very often, so you should try to use the one that works the best.
How to find baby formula coupons and samples?
As a new parent, it will be a good idea to sign up for as many baby-related newsletters and clubs that are out there in order to save some money as they offer free coupons when registering. There are some examples like Enfamil Family Beginnings, Similac, Nestle Good Start Program, or Welcome Addition.
You can find great coupons for your favorite store in the Sunday paper. Search online databases and browse through SmartSource or RedPlum to discover all of these savings.
https://www.thepricer.org/wp-content/uploads/2021/10/baby-formula.jpg
380
610
Alec Pow
https://www.thepricer.org/wp-content/uploads/2023/04/thepricerlogobig.png
Alec Pow
2021-10-12 08:09:10
2021-10-12 08:09:10
Baby Formula Cost