Last Updated on September 23, 2021 | Written by CPA Alec Pow
First Published on September 23, 2021 | Content Reviewed by

CFA Alexander Popivker
When you become a parent, one of your priorities is to soothe your baby, and using a pacifier can make your little one feel more comfortable. Although some babies can be calmed only by rocking or hugging them, others cannot stop sucking, even when they are not hungry.
If the little one still wants to suckle even after being fed, the pacifier can be a solution. It does not replace food and care, but it can be helpful.
Buying a baby pacifier can be more difficult than you think. There are many brands, features, and reviews to take into account before making your purchase decision, all of which will affect the final cost of each product as well.
How much does a baby pacifier cost?
Pacifiers are a great way to calm your baby while you're busy doing other things. On average, they cost anywhere from $1.5 for the cheapest version and up depending on what kind of animal or character is printed on it. Pacifier costs can vary widely based on factors such as brand and/or type/shape.
The price of a Soothie pacifier, which is one of the most popular brands on the market, is somewhere between $5 and $9.
For the First Essentials Sift Center Latex, you would pay around $6 on average.
For babies 0 to 6 months old, we recommend the Philips Avent Orthodontic Pacifiers, and the cost for this is anywhere between $7 and $15.
Expect to pay $7 to $14 for two Philips AVENT BPA Free pacifiers.
You might also like our articles about the cost of baby food, baby diapers, or prenatal vitamins.
You would pay more, somewhere between $11 to $20, for a Natursutten BPA Free Natural Rubber branded pacifier.
One pacifier, specially designed for babies who are currently teething, is The First Year Soothie, which can be bought for $5 to $12.
The price of the Razbaby RaZberry Teether pacifier is somewhere between $6 and $13 and this brand is one of the best-selling online.
| Brand | Price Range |
| --- | --- |
| Dr. Brown's Pacifier | $9 per 2-pack |
| Avent Pacifier | $6 to $10 per 2-pack |
| MAM | $9 each |
| Jollypop Pacifier | $5 |
| The First Years | $11 per 2-pack |
| Nuk | $7 per 2-pack |
| Wubbanub | $17 |
| Tommee Tippe | $9 each |
Baby pacifier details
There are different forms of pacifiers, the most popular being the butterfly type and the round one. It is your choice, but if the baby is still breastfeeding, it will prefer the round one because it will touch its nose, just like when it is breastfed.
The pacifiers come in different sizes, so you must always be careful to choose the right size for the right age category to avoid possible problems with the jaw or teeth. There are models designed for children up to 6 months, one year, 1-3 years, or 3-6 years.
Silicone is firmer than latex (natural rubber), so it has longer durability. Still, because it is a synthetic material that can undergo chemical treatments, many parents prefer latex pacifiers. They are softer, more elastic, and do not attract dust.
Pacifier brands
Philips AVENT
Nuk
Jollypop
Playtex
WubbaNub
Brown's
MAM
The First Years
TOMMEE TIPPLE
What are the extra costs?
The first thing you need to know about taking care of your new baby pacifier is that it needs a case. If the pack doesn't come with one, be sure to purchase one to avoid any risk of dirtying or contaminating anything.
It is always best to have two or three when traveling to counter the risk that a pacifier could fall on the floor and get dirty.
You have to pay $1.5 to $7 for a pacifier clip.
A baby needs a lot of attention and love, so you must replace their pacifier when they outgrow it.
Important things to consider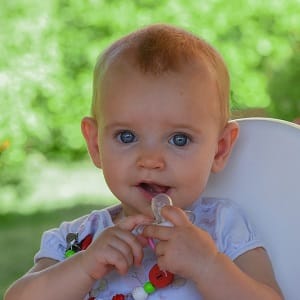 Prolonged use of the pacifier can affect the shape of the teeth and mouth. The jaw and tissue around the teeth are very malleable and constant use after two years, but especially after four years, can cause the development of an abnormal bite (malocclusion).
Make sure the pacifier is made in one piece; if there are small, removable parts, the baby can swallow them.
After multiple uses, the pacifier becomes full of bacteria and even mold because it is almost always wet. To get rid of this problem, the pacifier should be washed with warm water and soap daily or every time it is dropped on the floor. For reasons concerning hygiene, the pacifier should be replaced at least every two months.
As with baby bottles, pacifiers must be sterilized. This is the only way you can remove viruses, bacteria, or parasites. Otherwise, your little one may get sick with symptoms such as vomiting, diarrhea, or even fever.
The pacifier helps babies during flights. They do not know how to swallow dry when landing or taking off to mitigate the effects of the pressure change, and sucking helps a lot in these situations.
A suitable laces length for pacifiers is recommended. It is forbidden to be too long (danger of suffocation by strangulation) or those with decorative objects (amber stones, pieces of wood with various colors, shapes, inscribed with the child's name).
How can I save money?
It is important to compare the price of the baby pacifier brands as they will vary.
There are many places to find coupon codes on the Internet. You can look for them on Amazon or Babies R Us, but if you want a specific store's coupons, then be sure not to miss out by checking with their website first.
https://www.thepricer.org/wp-content/uploads/2021/09/baby-pacifier-cost.jpg
380
610
Alec Pow
https://www.thepricer.org/wp-content/uploads/2023/04/thepricerlogobig.png
Alec Pow
2021-09-23 12:17:56
2021-09-23 12:17:56
Baby Pacifiers Cost