BAJit Costs – Prices for Bajit per Hour, per Flight, and Memberships
Last Updated on October 20, 2023 | Written by CPA Alec Pow
First Published on April 6, 2022 | Content Reviewed by

CFA Alexander Popivker
You can use a private jet whenever you want, without having to own it. BAJit Flights offers a wide range of aircraft and services to suit your needs. But how much does BAJit cost per flight and per hour, and what are the BAJit membership prices? This article should shed light on what you should expect from this interesting private flight company.
How much does a BAJit flight cost?
The average cost of a BAJit flight is anywhere between $6,500 and $13,000. This price range includes heavy jets, mid jets, super jets, and light jets. However, you can easily spend much more than these estimates if you spend more time flying. Also, the cost is much higher for luxurious jets.
You might also like our articles about the cost to become a pilot, the price of an A&P license, and the cost of a private jet.
The cost of a BAJit flight is influenced by two main factors: the number of hours you are going to spend on the flight and the type of jet you choose.
BAJit offers five different types of private jets such as:
Heavy jets which carry 10 to 16 people;
Turboprops that carry 6 to 8 people;
Mid jets which carry 6 to 8 people;
Super mid jets that carry 8 to 9 people;
Light jets which carry 6 to 8 people.
The larger a jet is, the more people it can carry. Also, the costs will be higher for a large jet compared to a smaller jet. Moreover, we already mentioned above that the cost will be highly influenced by the amount of time you spend in the air.
So, if you spend two or three hours in the jet, the flight will be double or triple in price than in the case of one-hour flights. In the table below you will find the costs per hour for different types of private jets offered by BAJit.
| | | |
| --- | --- | --- |
| Jet types | Flight time (Average) | Hourly Rate |
| Heavy jets | 9 to 10 hours | $11,000 to $15,000 |
| Super mid jets | 7 to 8 hours | $8,000 to $10,000 |
| Mid jets | 5 to 6 hours | $6,500 to $8,000 |
| Little jets | 3 to 4 hours | $4,300 to $7,000 |
| Turboprops | 1 to 2 hours | $3,500 to $5,500 |
Estimated BAJit flight rates
| Aircraft Category | Aircraft Model | 2023 Pricing | Average Passengers | Average Speed | Average Range | Average Flight Time | Average Baggage Capacity |
| --- | --- | --- | --- | --- | --- | --- | --- |
| Turbo Props | Avanti II | $6,264 | 6 – 8 | 275 – 350 mph | 1225 – 1400 miles | 2 – 3 hours | 35 – 60 cu. ft. |
| Light Jets | Beechjet 400A | $6,274 | 6 – 7 | 460 – 480 mph | 800 – 1400 miles | 3 hours | 40 – 70 cu. ft. |
| Mid Jets | Citation Excel | $7,872 | 8 – 9 | 480 – 500 mph | 1500 – 2200 miles | 5 hours | 40 – 79 cu. ft. |
| Super Mid Jets | Challenger 300 | $10,488 | 8 – 9 | 510 – 530 mph | 2500 – 3500 miles | 7 hours | 72 – 150 cu. ft. |
| Heavy Jets | Challenger 600 | $11,536 | 10 – 16 | – | 4000 – 6000 miles | 12 hours | 127 – 240 cu. ft. |
Regardless of how many hours you spend flying, heavy jets will always be the most expensive because they can carry more passengers.
The BAJit program membership rates
You need to become a legal member of the program in order to benefit from the services offered by BAJit. Plan on spending around $15,000 for the one-time initiation fee if you want to become one of the members of the BAJit program.
However, the membership cost is influenced by the flight hour access. You will need to pay more as a member if the number of hours is higher. In the table below you will find the membership fees for different hourly access possibilities.
| Membership Type | Initiation Fee | 25 Flight Hour Access | 50 Flight Hour Access | 100 Flight Hour Access |
| --- | --- | --- | --- | --- |
| BAJ Membership pricing | $15,000 | $50,000 | $95,000 | $160,000 |
What is BAJit private aviation?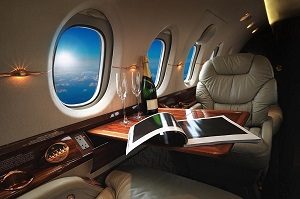 BAJit is the acronym for Book a Jet. This is a membership program that works as a flight concierge and allows you to easily access booking services to rent a private plane at a cost per hour. You will have to become a member of this flight broker program in order to get reliable services from BAJit.
Once you become a member of this program you will have the possibility to charter a private jet listed in their services, any time you want. However, the cost of these jets is influenced by the number of hours you are flying and the type of jet you choose.
BAJit is one of the trusted membership-based companies that allows you to get the best possible deal in chartering a private flight.
Bajit Prices – What are the additional costs?
There are some extra costs you may need to be prepared for when you want to fly on a private jet from BAJit. These include fees applied for the damage done to the jet due to the passenger's negligence.
Also, there are segment fees, international handling fees, airport fees, and federal fees, which a passenger has to pay.
There may be additional charges with respect to weather, mechanical, and member-related ground delays of more than two (2) hours.
These charges will only apply if OFI is charged by third parties and will be passed on to the member.
BAJit private jet review and membership benefits
When you are a member of the BAJit program you don't need to search for private air travel somewhere else or even buy a private jet of your own. Thanks to this membership you can always get door-to-door service.
There are some other advantages of being a member of this flight program such as:
There isn't a maximum number of flights you can book.
You can pay for the service as you go.
The jets are locked on an annual basis.
The costs are charged only depending on the time of use.
Every passenger on the flight is offered meals.
There are different charges for different jets and different engine sizes.
What are Bajit Free Flights?
BAJit complimentary flights are flights offered for free by an airline to a certain customer. These types of flights are pretty common in the aviation world and are usually reserved for customers who for some reason or another, have been inconvenienced by an airline. This can happen due to a canceled flight, a delayed one, or something similar.
Is BAJit legit?
The company behind it, Oneflight International, is a real, working company accredited by the BBB. The advertised services are real but as with everything else in life, be cautious. Their online reviews aren't all that great. Their Yelp page, for example, has a score of just 2 stars out of five.
Some of the bad reviews talk about higher than advertised fees, problems with booking flights, and problems with canceling flights. Even their BBB page has a single one-star review. As for now, they don't seem to have a TrustPilot review page.
Does BAJit offer private helicopters along with private jets?
Unfortunately, as of right now, BAJit doesn't offer private helicopters for rental. This might change in the future so check the official app just to make sure.
https://www.thepricer.org/wp-content/uploads/2022/04/Bajit-private-jet-cost.jpg
380
610
Alec Pow
https://www.thepricer.org/wp-content/uploads/2023/04/thepricerlogobig.png
Alec Pow
2022-04-06 08:58:01
2023-10-20 22:43:11
BAJit Costs – Prices for Bajit per Hour, per Flight, and Memberships