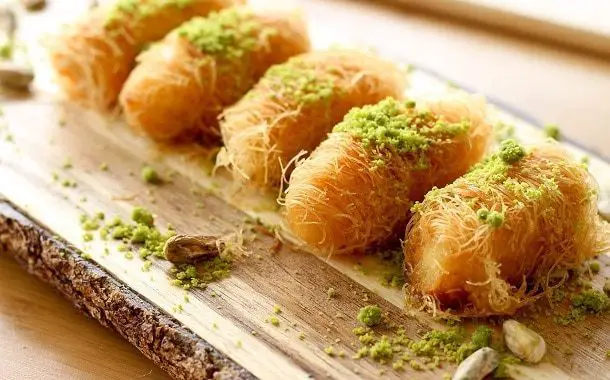 Baklava is a kind of dessert made with Phyllo dough, butter, nuts, and sugar. Each layer of baklava is sweetened with a syrup that is soaked up through its layers, and it appears to be golden brown after baking. Historically, this dessert is only prepared by rich households during very special events; nevertheless, any person who wishes to consume it will be able to bake some at an inexpensive rate.
Just how much does baklava cost?
Typically, if you were to buy it online, the cost per pack will be anywhere from $20 to $50 depending upon the number of pieces found in the package and the company/baker producing it. For example, one 28 to 30 piece baklava on Amazon retails for $18 to $20, plus $7 to deliver. You should be ready to spend about $1 per piece.
You might also like our articles about the cost of a donut, a birthday cake, or a wedding cake.
Some local pastry shops will sell baklava for $1 to $2.50 per piece. This can depend upon the bakeshop's credibility and geographical location.
Baklava explained
Baklava can be found and bought from numerous Greek and Middle Eastern dining establishments and pastry shops.
The basic components will consist of phyllo bread, which is flatbread, nuts, syrup, and/or honey. Pay very close attention to the nuts and syrup components being utilized as this can tell you more about the origination of the dish. Syrup with cardamom is known to come from Arab nations, while syrup with cloves and/or cinnamon is known to come from the Balkan peninsula.
The typical life span is 2 weeks; nevertheless, it can be refrigerated and kept for approximately 45 days. If frozen, it can maintain its freshness for approximately 120 days.
For generic baklava, one two-by-one piece will have 330 calories, 23 grams of fat, 36 mg of cholesterol, 290 mg of salt, 29 grams of carbohydrates, 10 grams of sugar, 5 grams of protein, and 2 grams of dietary fiber.
What is baklava?
Baklava is made from a Phyllo dough, nuts, butter, and sugar. After it is baked, a sweet syrup is poured on top, enabling it to soak into its layers. It's a Mediterranean dessert known to go as far back as the 8th century B.C. since, during this time, Assyrians were known to bake thin layers of dough with nuts and put honey over them. It was just made on occasion seeing that, at the time, just the rich could get hold of this meal.
What are the additional expenses?
Acquiring online can frequently come with extra shipping expenses.
Tips to keep in mind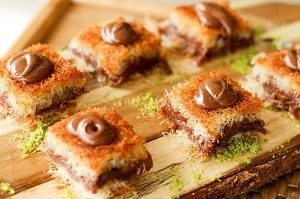 Phyllo dough, a dough that is utilized to make Baklava, can be bought from numerous regional supermarkets. Normally, you will want to check out the refrigerated area of your supermarket to get your hands on it. Remember that it can dry rather quickly if you do not cool it fast enough.
You should also try to add nuts, such as almonds, walnuts, and pistachios, to give it more taste.
Typical spices found in this meal will be cinnamon, cloves, and even cardamom.
Thebaklavaguy notes that the Americanized variation is typically sweeter than in other parts of the world.
If acquiring online, it's a good idea to see what other buyers have said about that particular product. While some sellers might have plenty of excellent evaluations, focus on the bad too to see what they are noting.
How can you save some money?
Baking your own baklava in the house isn't difficult at all. A lot of dishes need just a handful of ingredients, and when baking is included, it needs to take no longer than 3 hours to finish.
https://www.thepricer.org/wp-content/uploads/2021/02/baklava-cost.jpg
380
610
Alec Pow
https://www.thepricer.org/wp-content/uploads/2023/04/thepricerlogobig.png
Alec Pow
2021-02-18 09:21:31
2021-02-18 09:21:31
Baklava Cost