How Much Does the Butterfield Country Club Membership Cost?
Last Updated on November 11, 2023 | Written by CPA Alec Pow
First Published on May 23, 2021 | Content Reviewed by

CFA Alexander Popivker
Reverend John Code and a group of his friends were the idea-makers behind one of Chicago's most beloved clubs. It was in 1920 that they opened the Butterfield Country Club, which would be home to more than 700 members for decades after its opening day.
How Much Does the Butterfield Country Club Membership Cost?
The cost to join the Butterfield Country Club in Oak Brook is a hefty one, with membership fees starting from $10,000 up to more than $100,000. The initiation fees average more than $100k and monthly dues are from $750 to $10,000 or more. But it's well worth the cost if you want access to their unparalleled facilities. Membership costs at this private club are based on the numbers we found online and may not be accurate so talk with them about it first.
The golf and country club offers a range of membership options from individual, family, corporate, social, and junior membership.
You might also like our articles about the cost of memberships with the Dedham Country Club, Bellerive Country Club, or Exmoor Country Club.
The Chicago Tribune article noted this country club offers a high-end resort experience. All types of memberships require sponsorship, and new members must gain approval from the Board of Governors who are all current members of this private equity club.
The membership options
Regular membership – Regular members are given the opportunity to use all of the club's facilities, such as golfing, tennis, and swimming. They also receive an invitation to social activities exclusive to them. Once you pay your initiation fees and equity is paid in full then you'll be considered a club owner with voting rights! You'll get back some of your equity when deciding it's time to leave the club because someone new will take over membership in your place.
Social membership – A Social Member will not have ownership, no voting rights, and no access to the golf course or its amenities. However, a Social member does have access to all of the tennis courts, swimming pool, and dining options as well as social events and activities for their family members.
Butterfield Golf Club amenities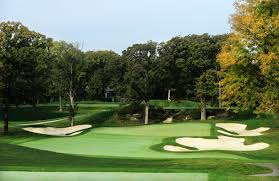 The club's golf course was designed by William Langford and opened in 1922. The three 9-hole golf courses are the Red, Blue, and White Courses. You can find a detailed hole-by-hole description on their official website.
With a full-size indoor virtual golf simulator for golf enthusiasts, driving range, putting green, and practice chipping greens – the club has everything you need to improve your game. The pro shop is stocked with all of your favorite gear and apparel. Plus they offer a variety of programs and host tournaments so that members can enjoy their favorite game while competing.
The clubhouse has a main pool with three diving boards and a small toddler pool for the little ones. The facility also includes an all-new fitness center, complete with weights and cardio equipment, to keep you in shape.
The tennis club has four private courts for members to enjoy. Members can also play paddle games inside the special hut when it's too cold outside, or partake in lessons and programs that teach them how to be even better at their game.
Dining amenities at the Butterfield Club include fine dining in the Butterfield Room and casual dining in either of two other rooms, one called The Grill Room and another called The Pub Patio. Moreover, members are allowed to host special celebrations such as weddings or meetings on behalf of their friends while using club facilities for themselves.
Any extra costs to consider?
This club has a food and beverage minimum, but the fees are unknown at this time. When upgrading from regular to social membership status, one has to pay full initiation and equity dues.
Members and guests are responsible for paying green fees, cart rentals, and club storage costs. Private lessons, clinics, and tournaments may also come with an additional price.
Important tips to consider
An article from ClubHub.com emphasizes the notable members of their club, including former Dallas Cowboys player and Chicago Bears coach Mike Ditka who is one of its most prominent members.
Social Members may be able to apply for Regular Membership upon application to the Board of Governors.
This exclusive club also has one of the best caddy programs you can find around the US.
Cell phones must be silenced or on vibrate mode and are not allowed at dinners in the Grill Room or Butterfield Rooms. Those receiving an incoming call during dinner should go to the lobby or beverage areas of your club where they may take their call. Since most cell phone cameras have video capabilities, rules prohibit/restrict the use of a cell phone while swimming as well as inside locker rooms with showers (men's & women's).
https://www.thepricer.org/wp-content/uploads/2021/05/butterfield-country-club-cost.jpg
380
610
Alec Pow
https://www.thepricer.org/wp-content/uploads/2023/04/thepricerlogobig.png
Alec Pow
2021-05-23 07:31:51
2023-11-11 11:02:25
How Much Does the Butterfield Country Club Membership Cost?