A carpet without edges is unsightly and can be a headache. It can create inconvenience and lead to damage and its disintegration over time. Binding is our recommendation to avoid fraying the edges of carpets while giving them an elegant appearance, as it is possible to choose the right shade of stitching.
If you find a rug in a store that you really like that doesn't fit in size, instead of giving it up for a less beautiful model, you can buy it and cut it to the desired size. In this way, you will enjoy the carpet that impressed you instead of making a compromise and buying another model, which fits in size, but you do not like as much.
Also, if you redecorate the house, an old carpet, washed and refreshed, can be used in another space, once it is cut to the size of the respective room. In this way, you save the money you would have spent on a new carpet.
How Much Does Carpet Binding Cost?
You should be prepared to pay anywhere between $2 and $6 per linear foot for binding a carpet, depending on the type of job that needs to be done. One of the biggest factors that will affect the cost of carpet binding is the type of tape that is used in the "binding" process. Some of the most popular tapes are fabric, tapestry, and leather.
In case you want to get an exact quote for your job, take into consideration looking online for more price offers for free from licensed contractors in your area.
You might also like our articles on the cost of Home Depot carpet installation services, Rug Doctor, or vinyl plank flooring.
According to a few of the previous customers, you can bind your carpet at Home Depot and pay anywhere between $2 and $5 per foot, depending on the factors that we mentioned above.
Also, you can bind your carpet at Gary's Carpet Binding, which is located in Florida. They charge anywhere between $2 and $2.5 per foot, depending on how thick is the tape. For instance, 7/8-inch tape costs around $2 per foot, while tape that is 1-1/4-inch-thick costs almost $2.5 per foot.
In case you want to do this job yourself, you should be prepared to get anywhere between $0.75 and $1.5 per foot out of your pocket for a roll of carpet binding. In general, companies sell bulk rolls of 50 feet or even more.
Carpet binding – short presentation
Carpet binding is normally done with a professional, special thread. Usually, the workshops and stores that do carpet binding have a limited range of colors for professional thread, which means there is a risk that it will not match your carpet. A carpet can be bound, however, with an ordinary thread, which you can buy from a haberdashery.
Not all carpet binding workshops offer customers the opportunity to purchase their own sewing thread instead of the one supplied. That's why it's important to ask in several places, even if you can't find the right thread for your carpet from the beginning. If the carpet is large, you will need a means of transport.
Which are the additional expenses?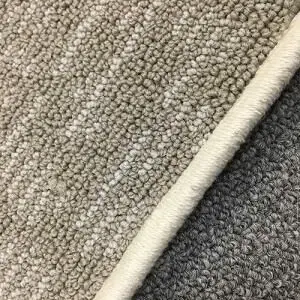 If you need to have the carpet delivered, you will have to budget anywhere between $60 and $120 for this service, depending on the distance.
In case you want to cut your carpet, you will need to budget anywhere between $15 and $25 per cut. Also, custom cuts on the job, like octagons and ovals, come at an additional cost. Be prepared to pay around $15 for a custom cut.
Expect to pay anywhere between $2 and $5 per square foot for adding a felt backing. The non-skidding backing costs 20% to 30% more. However, it is worth the investment because it will you avoid slipping while also keeping you safe.
Important things to consider
Carpet-binding services exist in several areas of each city, some of them even being neighborhood businesses. Normally, you will find carpet binding services in stores that sell carpets. However, even furniture stores that do not sell carpets have a carpet binding machine and offer this service for a fee.
Write down the dimensions of the carpet, its thickness, color, or type of material somewhere. You can find the information on the back label. With this information, you can clearly find out if in the place you go to the person who binds the carpet can help you or not. Also try to search on the internet, because there are websites that advertise this service for carpets and rugs.
How can I save money?
If you want to save some money on carper binding, you can do this job yourself. You will need only a few supplies such as tape, hot glue, and scissors.
https://www.thepricer.org/wp-content/uploads/2022/10/Carpet-Binding.jpg
380
610
Alec Pow
https://www.thepricer.org/wp-content/uploads/2023/04/thepricerlogobig.png
Alec Pow
2022-10-24 06:18:00
2022-10-20 17:09:14
Carpet Binding Cost