CarShield claims to be the number one USA vehicle protection service, offering a large variety of vehicle service plans which protect car owners in the unfortunate situation of an expensive repair.
Besides these protection plans, CarShield also offers 24/7 roadside assistance, rental vehicles, and towing. Flexible monthly payment plans and month-to-month coverage are available to meet your needs.
How much does CarShield cost?
There are several factors that will affect the cost of CarShield per month such as the type of policy you want, how much you use the car, the type of car you use, and what you want to be protected against. As there are so many factors we need to consider, it is pretty difficult to offer an exact cost, but we are able to offer an estimated price based on what other clients shared online. Though, you should keep in mind that you will be connected with CarShield company through a third-party company as they do not offer plans by themselves. If you want to get an exact quote for your needs, you can call 1-800-974-9385 or you can click on the button you can find at the top of their official website.
During our research, we found that the cost of CarShield starts at around $135 and goes up to more than $240 per month, with a deposit of $210 to $320 you need to pay right at the start for activating your account. In the table below you will find some quotes for CarShield, so you can get an idea about how much you should budget in your particular situation.
| | |
| --- | --- |
| Car Make/Model | Quoted Costs |
| Unknown | $1,400/yr |
| 2011 Chevy Impala | $145/month |
| Unknown | $200/mo plus $300 down payment |
| Unknown | $220/mo plus $300 activation fee |
| 2004 Chevy Silverado | $145/mo |
| 2007 Lexus LS 260L | $65/mo with $185 deposit |
How does it work?
According to the FAQs section from the official website of the company, CarShield does not offer a warranty, but they will connect you with a third-party administrator that works with companies like United Car Care and American Auto Shield, for example.
You might also like our articles on the cost of car insurance in general, commercial auto insurance, or SR22 insurance.
When you will work with CarShield for the first time, they will ask you some questions in order to establish which company will meet your needs.
Protection plan offerings
Motorcycle
This option offers protection plans for most of the vehicle's parts including the transmission, engine, and water pump, to name a few. Also, it offers protection for off-road vehicles like ATVs.
New car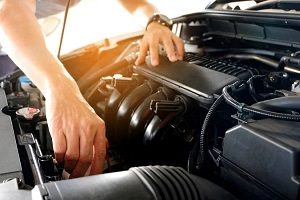 Like the warranty offered by the manufacturer for a new car, this protection plan is made to cover everything from starter breakdowns to engine or fuel pump failures. As their official checklist says, this provides protection for the radiator, engine, water pump, transmission, power windows, drive axle, alternator, transfer axle, starter, A/C, factor audio, fuel delivery system, GPS, fuel injector, instrument cluster, fuel pump, wiring harness, steering, electrical, suspension, and brake system.
Power Train
This is considered to be the most affordable option offered by the company. It provides coverage for the most important parts of the vehicle, including the transmission, engine, water pump, drive axle, and transfer case.
Power Train+
This option offers protection for both minor and major car parts, including the power windows, engine, air conditioner, transmission, starter, and alternator. Also, this plan offers coverage for the water pump, drive axle, A/C, transfer axle, fuel pump, and fuel delivery system.
Comprehensive
According to the company, this is the best option for clients who already drive a car with miles on it. This plan offers protection for the water pump, engine, fuel pump, transmission, starter, A/C, electrical components, and others. This plan is similar to the New Car protection plan, except for the fact that it does not offer coverage for wiring harness failures.
Important things to consider
CarShield offers coverage for vehicles with up to 300,000 miles and this limit is higher than most insurance companies provide. So, it would be a good idea to choose CarShield if you drive a car with high mileage.
One of the downsides of CarShield is that the rental car reimbursement is not included with all plans offered.
Before signing a deal with CarShield make sure you carefully read the contract and you understand what it covers. You should know that most CarShield contracts are also transferable, which means that the car is still covered by the warranty even when you sell it. The value of your car is increased thanks to this.
Is CarShield worth it?
Depending on your warranty needs, CarShield may be a good option as it provides a large variety of plans. Plus, their contracts are also available in Spanish, which is great if you are not fluent in English.
https://www.thepricer.org/wp-content/uploads/2022/10/Carshield-monthly-costs.jpg
380
610
Alec Pow
https://www.thepricer.org/wp-content/uploads/2023/04/thepricerlogobig.png
Alec Pow
2022-10-25 06:51:41
2023-09-15 10:19:44
CarShield Cost per Month