Chiropractor and Chiropractic Treatment Cost
Last Updated on November 4, 2020 | Written by CPA Alec Pow
First Published on November 4, 2020 | Content Reviewed by

CFA Alexander Popivker
It happens too often that the expense of an episode of disabling neck and back pain or debilitating migraines is an unintended, unbudgeted expenditure. Not surprisingly, even before needing a chiropractic specialist, you'll wish to know just how much consultation from a chiropractic physician will cost and what kind of monetary budget you should prepare.
A Chiropractic Doctor at Back2Balance does most of the research for you and provides their findings below. Regrettably, there is no easy answer as expenses differ. This is typically due to the differing expenses of living around the US. For instance, an appointment with a chiropractor (or with any other certified specialists) costs more in some areas of the US or UK than others. Nevertheless, each specialist has different experience, strategies, and competence and this will possibly reflect in the cost.
You should learn what the cost is made from, the length of time for a session, and any other extra expenses that might come into play. In some cases, a longer session will cost more, often including western acupuncture, and so on. You will wish to learn about ways of payment, i.e. do they have card facilities or is it simply cash/cheques, or do you need to pay in advance for a course of treatment. There is almost always a higher rate for the preliminary consultation and evaluation, which generally takes a lot longer than follow up sessions.
You might also like our articles about the cost of chiropractor school, radiology technician school, and health insurance.
The last and most important factor to consider about the cost is the number of sessions you will need to fix your problems. All individuals are different one way or another, and each has a personal treatment requirement. The range of expected sessions must be talked with you before you go through any treatment. The range of treatments you might need depends upon a number of elements: Your particular illness, how old you are, the length of time you have actually had it, how serious it is, the number of areas and tissues that are affected, how healthy are you, and so on. Your specific treatment requirements will be pinpointed throughout your preliminary assessment.
Sometimes, an individual gets back discomfort after picking up a paper some time ago, and they presume that their issue has actually just started when the pain got stronger. Sadly, this is typically not the case. The body has not just unexpectedly broken down since that paper is so heavy, it's chosen to break down because of accumulative issue. Just like if you manically try to break a spoon it will not budge, but, if you put enough pressure, and carefully bend the spoon, with time the metal of the spoon fatigues, and soon after that it will break. The spoon might break quicker if it's hot or cold, or if you put some sort of chemical on it and then flex it.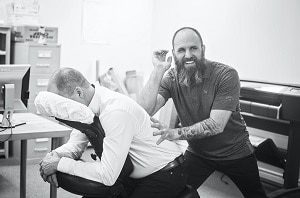 Your back also has things that make it weaker – the absence of strength and workout, bad nutrition for the muscles, joints, and nerves, bad posture, and tension. This is why a chiropractor needs to take a comprehensive assessment to establish the number of these health issues that are occurring before telling you how many sessions will be needed.
The bright side is that pain relief is generally the very first improvement you will feel, long before any rehabilitation. You must talk about what your requirements are with your chiropractic specialist. If you want just to get over the pain, then they should not advise a year course of care. If you wish to get help to enhance your strength and function and restore your body back to health then, yes, this might take longer, however, your chiropractor needs to encourage you every step of the way, and provide you homework/exercise program or work carefully with a physiotherapist or personal fitness trainer. For instance, a young and healthy individual with a week history of neck and back pain might just need 2 to 4 sessions, whilst an older person who has a 5-year history of neck and back pain might need 6 to 12 sessions, or even more.
United States rates for a chiropractic specialist
Regular Treatments
In general, chiropractic services vary from roughly $30 to $200 per session. Obviously, every type of treatment has a different price. For instance, an initial assessment with a chiropractor might be offered at no charge, while a common treatment session can usually cost about $65. Extensive or higher care will more than likely contribute to the rate of treatment, as will the frequency that you go to chiropractic treatment.
With insurance coverage
If you have insurance coverage, your expenses might be much lower. Before you get to your consultation, you must do 2 things: 1. Check if the clinic or chiropractor works with your insurance provider. You can usually find out this by simply giving the clinic a call and telling them about your insurance provider. If they work with your company, that's great news. When you talk about your appointment, make certain to bring your insurance coverage card so the clinic can process with your insurance coverage supplier. With insurance coverage, your copay can be as low as $20. You can always ask the physician what you should expect the copay to be before you get to your appointment.
Just how much does chiropractic expense in the UK?
Nationally, the NHS site states ₤20 to ₤33 per session, but the price page is 2 years old and we believe it's a little bit out-of-date nowadays. If you look below we have actually done a few of the leg work for you and compared numerous costs mentioned on sites (some didn't put their costs up which makes it look like they have something to hide).
Chiropractor in the UK – Preliminary ₤45- ₤60; treatment ₤33-₤43.
Osteopathy in the UK – Inital ₤35-₤58; treatment ₤30-₤40.
Physiotherapy in the UK – Preliminary ₤45- ₤55; treatment ₤32-₤45.
Whatever the expenses are, you need to always feel like it's your own choice, that you aren't required or stressed into continuing chiropractic care. You need to feel like your chiropractor is doing everything in their power to aid your body to return on track towards optimum health. Your chiropractor ought to be friendly, sincere, and open to questions and remarks.
https://www.thepricer.org/wp-content/uploads/2020/11/chiropractor-cost.jpeg
380
610
Alec Pow
https://www.thepricer.org/wp-content/uploads/2023/04/thepricerlogobig.png
Alec Pow
2020-11-04 09:13:53
2020-11-04 09:13:53
Chiropractor and Chiropractic Treatment Cost