How Much Does a Chocolate Lab Cost?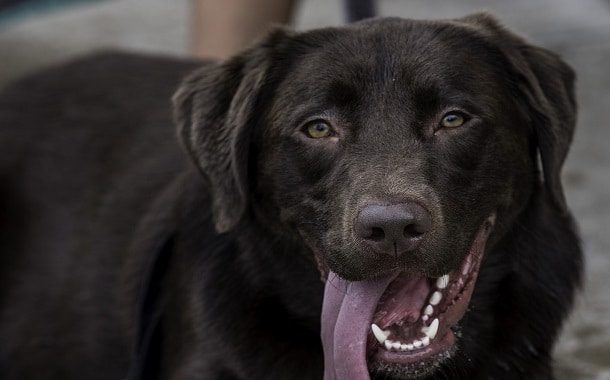 The chocolate lab is one of the most popular variations of the Labrador breed. It was first discovered in the 1930s.
These dogs have a similar temperament as their relatives from the Labrador breed, although the chocolate lab has a rather different appearance. The Chocolate Labrador is known as a very loyal dog, which is why it is one of the best breeds of dogs out there. It has a weight of around 100 pounds.
How much does a Chocolate Lab cost?
The average cost of a chocolate lab is somewhere between just $800 and as much as $1,500 for purebred puppies that are older than six weeks. If you're looking for an older dog, you might be able to find one for around $600, as long as it is older than two-three years.
As with other breeds, this price will likely depend on factors like the quality of the dog, the breeder selling it, as well as the history of the pet's parents, registration papers, and what will be included in the price of the acquisition.
While looking for the perfect dog, you will come across breeders that breed Lab puppies for money, often resorting to lying to the customers for a quick buck, as well as others that simply do this for fun.
At the time this article is written, online marketplaces for puppies like Puppies.com have around 2,000 listings, with Chocolate Labrador prices as low as $200, and as high as $1,300.
You might also like our articles about the cost of a Golden Retriever, Irish Setter, or Greyhound Dog.
TheLabradorSite.com has an extensive price guide that states that in the United States, these dogs cost around $800 to $1,200, a price similar to what you'd spend on a Yellow Lab or a Black Lab.
Things that are included in the adoption cost
When you buy a puppy from a reputable breeder, you are likely to get registration paperwork, a travel crate when having the dog shipped, up-to-date vaccinations, a health checkup by a licensed vet, some type of health guarantee, and sometimes, even a basket of toys.
Reputable breeders might also include spay/neuter services, a microchip, or a starter pack with toys, food, and even coupons for dog treats.
What are the extra costs?
As with most pets, when buying a Labrador retriever, you will have to consider recurring costs, that can include things like routine or surprise vet visits, toys, accessories, a shelter, and of course, food.
The Chocolate Labrador puppies will eat more than your average dog, as they are pretty big, which means that you'll likely spend more than $50 per month on food alone to feed the dog.
It isn't unusual for dogs of this breed to weigh 80 pounds or more. You should expect to spend, on average, around $800 annually for a healthy dog. If the pet were to come down with a serious illness, then this number changes, easily doubling or even tripling, depending on the severity of the illness.
If you never had a dog before, then you should also consider the cost of food and water bowls, puppy crate, bedding, leashes and collar, toys, and training products.
You should approach leash training as soon as possible, as they are easier to train when they are puppies, according to most owners. You can also try some local obedience classes so that the dog learns the basic commands like stay, sit, and lay down.
They are known as very clumsy dogs, as there are labs that really have no idea how strong they are when moving in small areas and even wagging their strong tail.
Most of the time, you should brush your chocolate lab around once per week, although you should do it twice when you notice that the dog is shedding. A professional grooming session will also help from time to time, even if you brush the pet consistently.
You will also spend between $250 and $500 additionally if you need to have the Labrador Retriever puppy shipped through an airline, depending on the traveling distance and the airline.
Keep in mind that some breeders will refuse to ship their puppies by plane. Instead, they will ask you to pick up the puppies at their address or meet halfway.
Labrador Pet Insurance
When looking to buy a new Labrador puppy, you should also consider pet insurance. There are quite a few Pet Insurance companies that have customizable plans so that you can get one specific for the breed you're getting and its needs. Although most plans will cost somewhere between $10 and $35 per month there are also plans that cost less.
Most people choose to forgo insurance for their family pet, but it can take a big financial burden off your shoulders if your Labrador Retriever were to come down with a serious illness. Many procedures can cost thousands of dollars, so the price of insurance will surely be worth it.
Tips on owning a Labrador Retriever puppy
You can expect your average healthy purebred lab to live up to 13 years, being perfect for both cool and warm climates, although this is a dog that prefers to live indoors with its owner and family.
This Labrador is just like any other Labrador Retriever, having a very mellow personality. It gets along with all kinds of people, children, and even other household pets and different breeds of dogs.
This very calm personality makes them often really bad watchdogs. The American Kennel Club states that they are known to be lovable, happy, and very loyal.
It has a short, thick, and dense coat, that can resist most types of weather. Chocolate labs, as you'd expect, have a brown to chocolate fur color, although they often have very slight white markings on the front of their chests.
Most labs will reach a shoulder height of between 20 and 25 inches, while the average weight of these dogs will be between 60 and 90 pounds, males being slightly heavier than females.
This dog breed won't be very suitable for small apartments or condos, as it is known to need decent amounts of exercise. It is a dog that loves swimming in the water, playing all kinds of games with its owner, like fetch, and going for long walks daily.
As it is a larger dog breed, it will be prone to different medical disorders like hip or elbow dysplasia, ear infections, eye disorders, and PRA. They can also develop obesity, which is why aside from enough movement, you will also have to enforce a well-balanced diet.
Make sure you see the location you're getting the dog from when buying from a breeder. Don't accept any made-up excuses or refusals, as this could be a big red flag pointing toward bad living conditions or puppy mills.
How can I on the Labrador retriever cost?
Rather than spending time looking to buy the perfect dog from a reputable breeder, consider the option of adopting it. Consider going to a local rescue group or even getting in touch with your local Humane Society to ask for dogs that are available for adoption.
This is a great way of spending considerably less money than when going to breeders, while also giving an older dog a chance at a new home and a new family.
https://www.thepricer.org/wp-content/uploads/2021/02/chocolate-lab-cost.jpg
380
610
Alec Pow
https://www.thepricer.org/wp-content/uploads/2023/04/thepricerlogobig.png
Alec Pow
2021-02-04 08:11:58
2023-07-19 07:02:56
How Much Does a Chocolate Lab Cost?