Corrugated Metal Fence Cost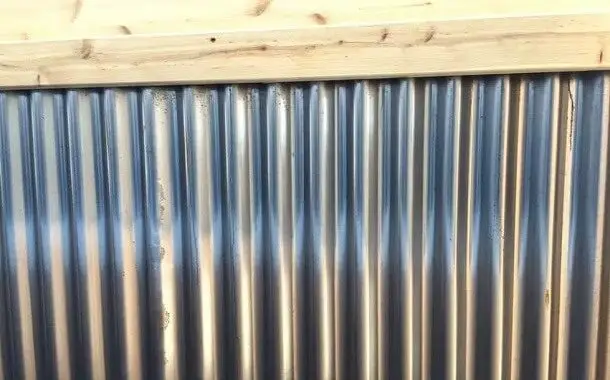 Corrugated metal fencing can be used in a variety of ways, ranging from adding an environmentally friendly touch to your garden border or enclosing your yard with style. Strong and lightweight, this type of fencing is also rustproof so it will last for decades without needing any repairs.
The cost of corrugated metal fencing
Corrugated metal fencing can vary greatly in price, depending on the contractor you choose and your geographical region.
You might also like our articles about the cost of barbed wire fences, chain link fences, or wooden split rail fences.
The cost of corrugated metal fencing ranges from $7 to $15 per sheet, depending on the height and quality. The labor costs can range anywhere between a low $5 for every square foot up to about $7 or so if there are complications with your property's terrain. Add both those numbers together and you'll find that it will be anything between $4 and $8+.
What exactly is corrugated metal?
Corrugated metal is used for many different purposes, one of them being fencing. This type of material can be made from either corrugated galvanized iron or other metals such as aluminum and copper. It's affordable, lightweight, recyclable with the ability to resist extreme weather conditions. This is due to its zinc coating that helps it drain water off its surface quickly while also protecting it against rusting in wet environments.
This strong material can also be used for roofing, siding, or any flat panel application which needs a sturdy surface such as privacy screens that are often found with entrances of homes and business establishments. Different sheets will usually range from 8-12 feet in length depending on where you purchase them from; however, your results may vary based on how big each sheet is needed for usage purposes.
The cons of corrugated metal fencing
Panels are often sharp and need to be protected once installed. Not a popular choice for fencing, so you may find the selection limited in your area depending on what color or style is desired. Heat can also become an issue if it's not properly installed or maintained.
The pros of corrugated metal fencing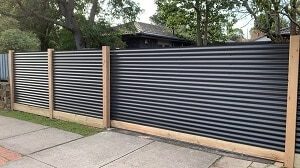 Corrugated metal is one of the most durable types, due to its corrugation properties. It's lightweight and strong because it can resist mold and rust with ease as long as installed properly; this makes it last decades without any need for maintenance such as painting or staining. Unlike wood which needs regular upkeep like stainings, paint jobs, etc., Corrugated Metal doesn't require a lot of maintenance since insects cannot damage it nor does weather affect its appearance- so they'll always be looking new.
Most brands are made of a highly recyclable material which makes it an environmentally friendly option. You can install them virtually anywhere in any climate without worry because they're designed to withstand the harshest environments with little maintenance.
Sharp edges may be seen as a deterrent for intruders.
Tips to remember
Houzz recommends that you use galvanized bolts or screws to prevent rust when the metal is attached to other materials. To make sure they don't cause any injuries, always consider framing the edges so it's out of reach for pets and children. This type of fencing can also be a great choice for not only fences but raised gardening beds as well. For garden beds, panels have an even heating effect on soil which reflects sunlight towards your crops – leading to higher yields.
https://www.thepricer.org/wp-content/uploads/2021/05/corrugated-metal-fence-cost.jpeg
380
610
Alec Pow
https://www.thepricer.org/wp-content/uploads/2023/04/thepricerlogobig.png
Alec Pow
2021-05-06 06:28:45
2021-05-06 06:27:37
Corrugated Metal Fence Cost