Cost Of Leather Jacket Dry Cleaning
Last Updated on October 8, 2020 | Written by CPA Alec Pow
First Published on October 8, 2020 | Content Reviewed by

CFA Alexander Popivker
Due to the complexity of the leather material, cleaning will have to be done by an expert to guarantee that the quality of your jacket remains the very same while the coat is being cleaned up and pressed.
Expert leather jacket cleaning requires years of experience, great skills, and persistence, and the cleaning methods will considerably differ depending upon the kind of leather, the size of the stain areas, and the design construction.
A knowledgeable dry cleaner who has the ability to clean your leather coat needs to have the ability to clean up the jack, bring back the initial color, eliminate any discolorations and recondition any indications of split leather.
Just how much does dry cleaning cost for a leather jacket?
Depending upon the dry cleaner and the size of the coat, the expenses of dry cleaning a leather jacket will usually be somewhere between $35 and $100. The expenses, nevertheless, can be much greater if you were to need any modifications, repair work, and/or colors remade.
NY Organic Dry Cleaners in Rego Park, NY, provides leather jacket dry cleaning services for prices that start at $40, according to their main rates sheet.
You might also be interested in our articles about the cost to clean a fur coat, the price of the most expensive coats, and the cost to dry clean a comforter.
At the same time, CleanersToYourDoor states that the typical expense to clean up a normal leather jacket of a smaller size than 30 inches will cost $40 to $50, whereas a full jacket, down to your knees, can cost as much as $90, or even more.
Factors impacting the expense of leather jacket dry cleaning
Experience and knowledge: In fact, it takes the experience of several years, persistence, and great skills to know the techniques required and reach the point where people actually call you an expert to dry clean leather jackets. The cost of dry-cleaning leather coats can greatly depend on the kinds of methods utilized, and on the quality and type of leather, style of the jacket, and the size of stains and discolorations. The dry cleaner you pick to get your coat clean must be experienced enough to get rid of all kinds of spots, recondition the damaged leather of the jacket and also restore its initial color while cleaning it completely.
Size of the jacket: The cost of cleaning up a leather coat can depend on its size and construction complexity. It can increase even more if any sort of repair work or modification is also needed. The cost of dry cleaning a smaller jacket can be around $30 to $40, whereas the expense of cleaning larger jackets can be somewhere between $50 and $80.
Geographical location and general reputation of the company: If your dry cleaner is situated in a high-end area and does these kinds of services for a very long time, then their costs can be substantially bigger than what others might charge for the same type of work.
Dry cleaning leather jackets
When you take your leather jacket to the dry cleaners, the very first thing that they will do to it is to tag it so that it does not get mixed with any of the other materials. Your leather jacket will be carefully cleaned up, dried, and only then the natural oils, which are lacking from the skin will be renewed, throughout a natural cleaning technique. Color touchups and/or repair work, if required, might be done to rejuvenate the jacket or coat.
The whole treatment can take anywhere from 24 to 72 hours, depending upon how caught up the dry cleaner is.
What are the additional expenses?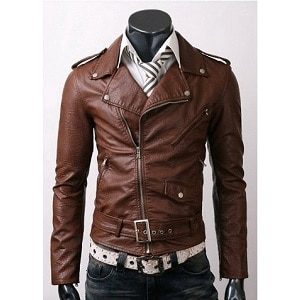 Any tears, holes, or rips can be fixed for an extra $25 to $50, usually.
If the leather coat has to be re-colored, this can usually end up costing an extra $40 to $80 on top of the fees pointed out above.
Lots of clothing delivery businesses can get your garments for a small charge, depending upon the distance they need to travel to reach your house. These costs are usually around $20 to $30.
Any changes or alterations, if needed, can also be done. This might consist of adding a zipper, making the sleeves shorter, or changing the lining. All of these modifications can cost $40 to $80, depending on the kind of work carried out.
Tips to keep in mind
It is suggested that the leather coat is dry cleaned at the very least once a year in order to maintain its quality and guarantee its durability.
You should try to avoid leaving leather jackets inside a plastic bag. As quickly as it gets to you from a dry cleaner, get rid of the plastic immediately to enable the leather to breathe and to prevent trapping any moisture in the material.
How can you save some money?
Look around, particularly if you live in a big city. You shouldn't concentrate on just the price, play very close attention to their cleaning processes and any reviews you can find online.
If you take several products to the dry cleaners, you will probably be charged less per product.
Dry cleaning, according to the EditbyDesign, can be machine cleaned, however, just like anything, do it at your own risk.
https://www.thepricer.org/wp-content/uploads/2020/10/black-leather-jacket-dry-cleaning-cost.jpg
380
610
Alec Pow
https://www.thepricer.org/wp-content/uploads/2023/04/thepricerlogobig.png
Alec Pow
2020-10-08 08:23:49
2020-10-08 08:23:49
Cost Of Leather Jacket Dry Cleaning