Cost to Dry Clean a Comforter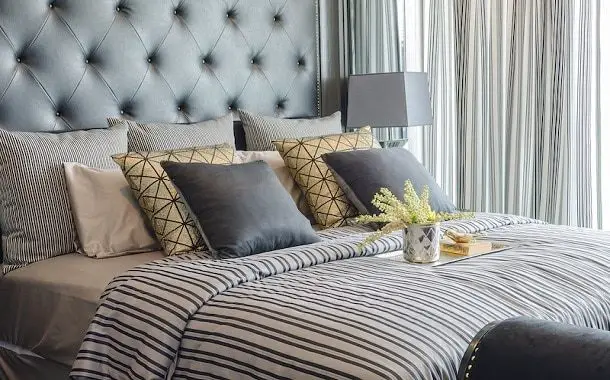 When purchasing different clothes or any products made from fabric, it is very important to take some time to check out the tags that are put on the inside of the said clothes or materials. You will often see the "Do not iron", "Hand-wash only", "Do not bleach" and other similar signs. These are indicators or particular instructions on how to clean the fabric to keep its quality so you can make use of them for a longer time.
However, when the fabric has a label with the "Dry clean only" sign, you will understand on the spot that you are stuck with an additional expense and hard hit on your spending plan the minute you purchase it and up to the moment when you stop using it.
Dry cleaning is the technique used by cleaners on fabrics that are too fragile to be cleaned with water and any water-based cleaning solutions or for a washer/dryer machine.
So in case you have fabrics that have to be dry cleaned and especially comforters, you might be asking yourself just how much will it cost to clean them.
The General Cost to Dry Clean a Comforter
Be ready for the dry cleaning companies to have different prices depending on a number of factors such as the dry cleaners you opt for, the geographical location, and so on. However, according to FirstQuarterFinance, the typical dry clean comforter rate varies from $20 to $40.
Just how much does it cost to clean down comforters seeing that they are also made from fragile materials? The Wash Depot Laundromat's rate for down comforter dry cleaning will start at $40.
What Will Be Included?
Just how much it costs to dry clean a comforter would generally depend on the expense of the solvent used, the service itself, the electrical power needed, and some other factors.
Unlike standard laundry cleaning which makes use of water and solutions like detergents to wash the clothing and other fabrics, dry cleaning will use the help of chemical solvents. Obviously, water wonàt be used, although this cleaning technique will use another kind of fluid which is extremely combustible and can be harmful if the dry cleaners use some of the old chemicals that are now being regulated. Due to this, more dry cleaners avoid using these dangerous solvents and only make use of a more environmentally friendly process.
Extra Expenses
Normally, those very filthy comforters and those with excessive pet hairs are quoted a bigger price while those which are pet stained are charged double the cost due to being processed individually and due to the included expense for sterilizing the equipment required.
If you are too busy to leave your laundry or to get it back after cleaning, a lot of cleaners will pick up the laundry from your home at an additional expense of around $20 or so.
Normal dry cleaning takes around a couple of days to get done. However, you can also ask for an express dry cleaning service if you have to use the comforter faster, but this will double or even triple the market price and you might get it just as fast as with a standard service or just a few hours faster.
Some dry cleaners likewise provide premium services that consist of multi-level or multistage procedures, hand-finishing, and small repair work, in addition to the addition of insurance protection.
Searching For Comforter Dry Cleaning Services
The majority of Laundromats have a full line of cleaning services that will include dry cleaning for comforters.
You will also be able to find some laundry services close to you through websites like FindLaundry.org and other search engines and directories.
We also have articles on the cost of an Alaskan king bed, a quality mattress, and dresser mirrors.
If you're thinking of doing your own dry cleaning in the comfort of your home, there are a number of dry cleaning kits readily available online that you could get your hands on.
Elements Affecting the Price to Dry Clean a Comforter
Laundry or dry cleaning services would generally be charged in a different way depending upon a few factors that are usually present in any other type of service operations, and some unique factors as well. A few of these factors are:
The solvents and chemicals being utilized – the variety of products that the dry cleaner makes use of will greatly affect the prices, especially if the state law regulates the usage of these particular chemicals. That is why you can see a great deal of laundry and dry cleaning service providers going for natural and eco-friendly cleaning services which obviously will take a toll on the final price.
Size of comforter – most dry cleaners charge by the size of the comforter which might be single, queen, or economy size. The bigger the size, the pricier the service of cleaning the comforters will be.
The kind of fabrics or materials – the cleaner would also take a look at the fabrics that each item is made from as there are some materials that are too fragile and delicate to clean than others. The best example is for down comforters which are normally more pricey to dry clean compared to normal comforters.
The cost of labor – this includes all the expenses that are required for the operation of a business such as the leasing of the location, the wages of the staff members, and the electrical power expense, to name just a few. You should know that these will impact the final price of the dry cleaners.
The expense of living in that particular city – when you are living in an area where the cost of living is high, all rates within that area would surely reflect this.
The dry cleaning equipment – the kind of tools and equipment being used in getting the job done would also impact the final price and places that use a hi-tech method would surely cost a lot more when compared to their competitors.
Local taxes and other charges – aside from the normal taxes on sales and services, the policy on using solvents and chemicals would also increase the dry cleaner's tax fee and permit-related expenses which are naturally handed down to the customers in the form of the final price for service.
Additional services – the cost of dry cleaning a comforter is quite straightforward and it would certainly increase if you choose to get some additional services such as express cleaning, repair for small fabric damage, and extra insurance.
Extra Info
If you believe you would have problems with the dry cleaning of any products when they get dirty, do not purchase them in the first place. It is very easy to find those materials that need dry cleaning. Look at its tag. If it says dry cleaning only, then just leave it or look for something similar but made from a different fabric.
If you have no alternative, as some products must have been just given to you as a gift, it truly does not hurt to wash a comforter as long as you are extremely careful.
If you believe you would be needing this type of service often enough like a couple of times a month, ask the dry cleaners for a discount rate for recurring services.
As a safety measure, always take pictures of the items before turning them over to the dry cleaners as this would be your proof in the future if you find any damage on your comforters or any other materials.
https://www.thepricer.org/wp-content/uploads/2020/09/comforter-dry-cleaning-cost.jpg
380
610
Alec Pow
https://www.thepricer.org/wp-content/uploads/2023/04/thepricerlogobig.png
Alec Pow
2020-09-24 12:11:09
2023-09-12 13:42:11
Cost to Dry Clean a Comforter